Results and Scorers:
RLWC 2021 WRAP: Pool Matches - Week 1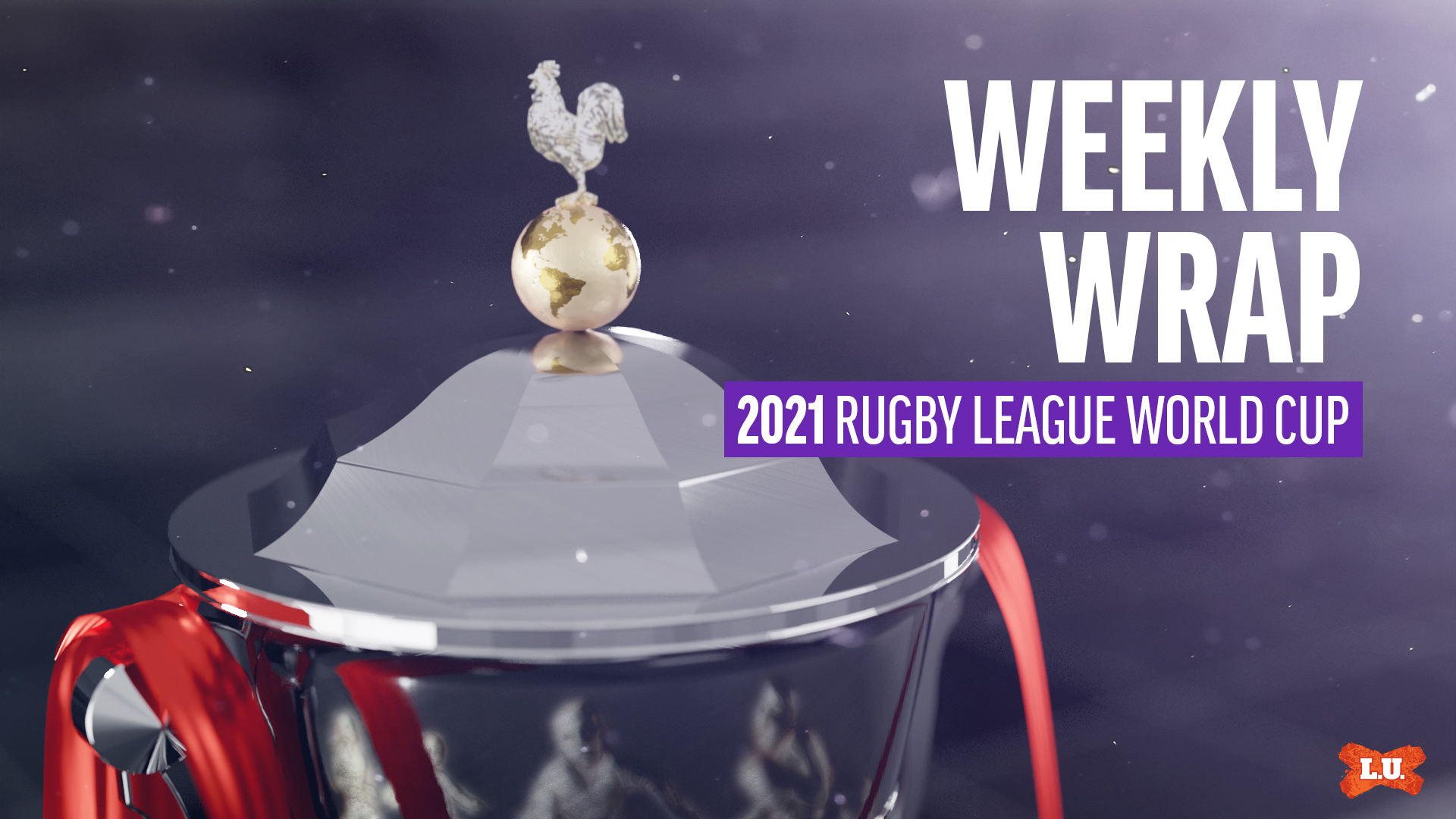 As the opening week of the Rugby League World Cup unfolds, here's your one-stop shop for results, reports and tables from each match and group.
All listed times are AEST (NSW/QLD/VIC/ACT) - subtract 10 hours for BST (UK local time)
---
RELATED: See the full list of 2021 Men's Rugby League World Cup Draw and Results.
---
England Men 60
Samoa Men 6
Group A
Venue: St. James Park, Newcastle
Crowd: 43119
Date: Sunday 16 October 2022 at 12:30am
ENGLAND MEN (60)
Tries: Tom Makinson, Jack Welsby, Dominic Young (2), Kallum Watkins, Herbie Farnworth, Elliott Whitehead (2), George Williams, Thomas Burgess
Conversions: Tom Makinson (8/10)
Penalty Goals: Tom Makinson (2/2)

SAMOA MEN (6)
Tries: Izack Tago
Conversions: Stephen Crichton (1/1)

England get their World Cup campaign off to the perfect start
AJ Lucantonio | October 16 2022 2:47AM
The 2021 Rugby League World Cup got off to an entertaining start this morning as England put 60 points on a disappointing Samoan side at St James Park to officially open proceedings.
The match was filled with bruising forward battles, which promise to be a feature of the upcoming festival of football that will be on display in the coming weeks. Just when you thought we couldn't wait any longer, a sudden power outage delayed official proceedings just like Billy Idol at the NRL Grand Final in 2002.
It was England who secured the first points of the tournament when Anthony Milford took out Elliott Whitehead in pursuit of a grubber kick. Milford survived going into the sin-bin, but Tom Makinson added a gift of two points to put England on the board. Samoa survived several early misses as England was warming into the game.
Eventually, the pressure took its toll on the Samoan side and in the twenty-fifth minute, the first try came. It was a great run from George Williams who ran onto a great ball from Sam Tomkins, from there Williams found Jack Welsby and the young St Helens star raced away to score the first try of the tournament to open up an 8-0 lead. Off the next set, Welsby was in the thick of it. It was a brilliant ball from Welsby who exposed a 3 on 2, Dominic Young was able to race down the touch-line and beat the cover defence from Joseph Suaalii to cross and extend the lead to 14.
It was going from bad to worse for the Samoan side when Kelma Tuilagi forced an unnecessary pass, leading to another England try. Young was having a field day and the man from Newcastle crossed in Newcastle for his second try and England was up by 18-0. Samoa was able to stem the tide when Suaalii made a strong run upfield, before unfortunately losing it. However, luck started to shift when Izack Tago intercepted Welsby's pass and the young Panther raced 50 meters to score to reduce the gap to 12 at the change of ends.
Samoa was hammered by injuries with Braden Hamlin-Uele and Hamiso Tabuai-Fidow injured in the first half. Their injury woes continued when Tyrone May fell awkwardly in a tackle and left the match on a stretcher. While many Australian viewers suffered through a technical problem, England added to their scoring blitz. The host nation chanced their arm on the last tackle and it was Kallum Watkins who hit a hole to extend the margin.
From there, the points came in a surge. Anthony Milford was sent to the sin-bin for an awful late shot on Sam Tomkins and England ran in three tries during this ten-minute period where Milford was off the field. Herbie Farnworth crossed strolling through some pedestrian defence before the elder statesman Elliott Whitehead crossed for two tries in two minutes, one from close range. While the other was an effort started by Makinson and the Raiders forward backed up in support. Minutes later, Makinson collected a Williams grubber to put the icing on the cake, before Williams crossed for a well-deserved try as the Samoan defence was surrendering to the might of the three lions. Tomkins nailed a 40/20 which led to Tom Burgess getting the try he was denied in the first half to seal a comprehensive victory to put the rest of the World Cup on notice.
For England, the tournament got off to the best possible start with a big victory over their perceived strongest competition. Meanwhile, Samoa have a truck-load of problems, they looked flatter than a map at times in attack and lacked direction. Their task doesn't get easier with the aforementioned injury crisis.
LeagueUnlimited.com Players of the Match:
3 points - Victor Radley
2 points - Jack Welsby
1 points - Herbie Farnworth
---
Australia Men 42
Fiji Men 8
Group B
Venue: Headingley Stadium, Leeds
Crowd: 13366
Date: Sunday 16 October 2022 at 5:30am
AUSTRALIA MEN (42)
Tries: Jeremiah Nanai, Josh Addo-Carr (2), Angus Crichton, Latrell Mitchell, Harry Grant, James Tedesco
Conversions: Valentine Holmes (7/7)

FIJI MEN (8)
Tries: Semi Valemei, Sunia Turuva
Conversions: Brandon Wakeham (0/2)

Aussies win big over gallant Fiji Bati
LeagueUnlimited Media | October 16 2022 7:57AM
The reigning World Cup holders Australia started the defence of their title with a predictably comfortable 42-8 win over Fiji at Headingley Stadium, Leeds on Saturday.
A rampaging double from Canterbury winger Josh Addo-Carr headlined a slow procession of Australian tryscorers in a performance that never hit any spectacular heights - perhaps an odd thing to say about such a sizeable win.
Incredibly it was the Fijians who troubled the scoring first, defying Australia by capitalising on some early poor discipline. Five-eighth Sitiveni Moceidreke put in a pinpoint kick which Canberra back-liner Semi Valemei pounced on. Brandon Wakeham could not convert.
A few minutes on and Australia looked to be on the board, Murray Taulagi denied by some superb defending from both Valemei and Maika Sivo.
On debut, Jeremiah Nanai would eventually return serve for the Australians around the 15-minute mark, Valentine Holmes' conversion - the first of a perfect 7/7 from the Cowboy - put the Aussies ahead by two.
He almost had a double after 22 minutes, but Moceidreke was on hand to stop him along with Ben Nakubuwai.
They didn't have to wait long to extend their lead, Addo-Carr scoring the first of his brace with a long-range effort after some well-created space by Latrell Mitchell.
Just after the half-hour marker Brandon Wakeham looked to have snatched up an Api Koroisau kick but he couldn't get the ball cleanly and a chance to narrow the margin went begging.
The third try for Australia came from Angus Crichton, his 36th-minute effort seeing the lead stretch out to 18-4, which they took to halftime.
Man-of-the-match Cameron Munster kept the scoreboard ticking over shortly after the break, setting up Latrell Mitchell for the fourth Australian try, but the stand-out individual effort of the game was from Harry Grant, who kicked a 40/20 then scored himself on the 53rd minute and suddenly the reigning champions were up 30-4 and the floodgates seemed ready to open.
Indeed Australia it would be Australia only picked up two more tries in the remaining 25 minutes - James Tedesco with a short-range effort into Addo-Carr's second.
The 42-4 lead was narrowed slightly with four minute left when Penrith rookie Sunia Turuva scored a consolation try for the Fijians thanks to a Wakeham grubber.
Next week the Kangaroos are off south to Coventry while the Fiji Bati are in Newcastle to play Scotland. The Kangaroos will have to do it without newly capped forward Reuben Cotter who failed a HIA after a head clash with Fijian prop Tui Kamikamica.
LeagueUnlimited.com Players of the Match:
3 points - Cameron Munster
2 points - Josh Addo-Carr
1 points - Harry Grant
---
Italy Men 28
Scotland Men 4
Group B
Venue: Kingston Park, Newcastle
Crowd: 6206
Date: Monday 17 October 2022 at 12:30am
SCOTLAND MEN (4)
Tries: Lachlan Walmsley
Conversions: Ryan Brierley (0/1)

ITALY MEN (28)
Tries: Luke Poiselli, Dean Parata, Jake Maizen (3)
Conversions: Jack Campagnolo (4/5)
Italy continue the shocks downing much fancied Scotland
AJ Lucantonio | October 17 2022 2:27AM
Italy have continued the shocks in the Rugby League World Cup downing Scotland by 28-4 at Kingston Park in Newcastle on an artificial surface.
This match was one that brought together the two perceived sides that would fail to make the knock-out stage. But, these sides were trying to prove the doubters wrong with a strong showing here today in the battle of the 'Big Blue' (as both sides worse distinctively blue kits).
After an opening of ten minutes that ironed out the rust and errors. Scotland had the opportunity to score, but as would be a trend in this match, Calum Gahan spilt the ball at the final moment. Off the ensuing set, Italy pounced to cross for the first try. It was a great kick from Radean Robinson and his kick was rewarded with a strong chase, Luke Poiselli wins the race to ground the ball just inside the touch-in-goal line which are very narrow in English stadiums.
Coach Leo Epifania wouldn't be happy with the Azzurri's discipline, giving away four penalties in the space of four minutes. Luckily, the Italian players avoided a spell in the sin-bin and helped avoid a try being conceded on their own line. Off a reliving penalty of their own, the Azzuri made the Scottish side pay for falling asleep around the ruck as Dean Parata sprinted out of dummy half to give the Italians a 12-0 advantage.
Fortunately for Scotland, the margin could've been so much worse with the Italians bombing several scoring opportunities. Jake Maizen will be having nightmares about that dropped ball over the line for the rest of the tournament. Things went from bad to worse for the Scots when captain Dale Ferguson was sin-binned for striking Dan Atkinson's calf before half-time, the score-line didn't change though with Italy leading 12-0.
Ferguson's sin bin would hurt the Scotland side at the beginning of the second half and Leo Epifania's side continued their parade of success. Jack Campagnolo had his hands in everything and set Maizen away down the sideline and the winger was able to redeem himself from his earlier howler. Even when Ferguson returned, the Italian dominance continued. Four minutes after crossing for his first, Maizen had a second when it was silky skill from Poiselli to get it onto Maizen who tip-toed down the sideline to cross for his second to give his side a 22-0 lead.
From there, the second half deteriorated into a sketch from the Benny Hill show. Both sides had prime scoring chances but kept getting in their own way at the critical moment. In the final ten minutes, both sides finally remembered the fundamentals of attacking footy. Maizen had gone from villain to hero, racing 90 meters to score off a scrum deep in their own half. Off the ensuing set, Scotland recovered the short kickoff and were able to cross for their only try when Lachlan Walmsley, but it was consolation for the Scots in the final analysis.
LeagueUnlimited.com Players of the Match:
3 points - Nathan Brown
2 points - Jack Campagnolo
1 points - Radean Robinson
---
Ireland Men 48
Jamaica Men 2
Group C
Venue: Headingley Stadium, Leeds
Crowd: 6320
Date: Monday 17 October 2022 at 3:00am
JAMAICA MEN (2)
Penalty Goals: Kieran Rush (1/1)
IRELAND MEN (48)
Tries: Ed Chamberlain, George King, Brendan O'Hagan, Louis Senior (2), Innes Senior, Toby King, James McDonnell, James Bentley, Frankie Halton
Conversions: Ed Chamberlain (1/4), Joe Keyes (3/6)
Ireland thump Jamaica in Group C opener
Justin Davies | October 17 2022 4:49AM
Ireland have kicked off their World Cup campaign in style with a 48-2 win over Jamaica in the first game of Group C. 
It was a dominant performance from Ireland as they thumped Jamaica in both team's first game of the World Cup. Roosters five-eighth Luke Keary pulled the strings for the Wolfhounds on a good night for the Senior family. 
An occasion to remember at Headingley Stadium where Jamaica made their World Cup bow against an Ireland side which has high hopes headed into the rescheduled tournament and started off in style. 
From the opening whistle, Ireland were on their game. They spread it out to their wings wide and found some success. Louis Senior opened the scoring with a simple move from the scrum which made it 4-0. 
Next it was the Irish captain that got on the board. George King kept the legs moving and was able to touch down after it was confirmed by the video referee. Brendan O'Hagan who was the center of some interchange drama pre-match found space to make it 14-0. 
Ed Chamberlain was errant from the boot but he was precise when it counted. He finished off another slick backline movement from the Wolfhounds and touched down in the corner but sprayed his own effort wide of the mark. 
We finished the first half with a piece of history. Jamaica were awarded a penalty right on the whistle and opted for the sticks. Kieran Rush stepped up and raised the flags for the first two points in the Reggage Warriors time at the World Cup. 
Jamaica started the second half with a rush of attack but were unable to convert. Ireland went the length of the field and it ended with Innes Senior joining his brother on the scoresheet and extending the Irish lead. 
It was one-way traffic in the rest of the game. Toby King finished off another smooth move which saw Harry Rushton show off his kicking game for the centre's four-pointer quickly followed by Louis Senior getting a double. 
Richie Myler worked tirelessly for Ireland in the game and he set up the next Irish score. He sliced through the line then found a rampaging James McDonnell who dived over the line quickly followed by fellow forward James Bentley with a solo effort. 
Ireland wrapped up the game with their tenth four-pointer. Frankie Halton ran a classic forward line and went over untouched with Joe Keyes, who took over kicking duties at half-time, missed the chance to make it 50. 
LeagueUnlimited.com Players of the Match:
3 points - Luke Keary
2 points - Richie Myler
1 points - James Bentley
---
New Zealand Men 34
Lebanon Men 12
Group C
Venue: Halliwell Jones Stadium, Warrington
Crowd: 5453
Date: Monday 17 October 2022 at 5:30am
NEW ZEALAND MEN (34)
Tries: Kenny Bromwich, Jordan Rapana, Nelson Asofa-Solomona, Peta Hiku, Dylan Brown, Joseph Manu
Conversions: Jordan Rapana (5/6)
LEBANON MEN (12)
Tries: Josh Mansour, Abbas Miski
Conversions: Mitchell Moses (2/2)
New Zealand surge past Lebanon in opener
Justin Davies | October 17 2022 7:20AM
New Zealand got their World Cup campaign off to a winning start with a 34-12 win against Lebanon at Halliwell Jones Stadium on Sunday night.
They took their time to get going, but most of the best work for the Kiwis came off the back of Joseph Manu. The fullback was everywhere and showed all the skills in a dominant performance to help his side over the line.
Coming into this game as huge underdogs, Lebanon struck the first blow. They went short off the kick-off then got a fortunate four-pointer when Josh Mansour picked up the scraps after a Mitch Moses kick. 
New Zealand, who came into the tournament as the top ranked team, took their time to get going. Kenny Bromwich got their first points when he twisted his body enough to touch down without being a double movement. 
That sparked the side into life. Hulking forward Nelson Asofa-Solomona charged onto a short ball and he wasn't being stopped from close range which made it 12-6 for New Zealand in a close contest. 
Once they got on top New Zealand looked to be humming. It was another strong solo effort which got the third score for the side. Peta Hiku spotted a gap in the defence and burrowed underneath to extend the lead out to 18-6. 
It was a sense of deja vu to start the half. Lebanon got the ball back with some spirited work then spread it to a winger to score. This time it was to Abbas Miski who flew over in the corner to reduce the deficit back to six points. 
Enter Joseph Manu. The superstar centre turned fullback showed all the full range of skills to give the Kiwis a buffer. He broke through the defence before he sent Dylan Brown over then went for a solo effort. 
Manu went the audacious route for his own score. The fullback chipped for himself, regathered and shrugged off some slack defence from Lebanon and walked in the score to make it 30-12. 
Things went from bad to worse for Lebanon when off the short kick-off, Adam Doueihi who has been a star, was sent off for dissent. New Zealand profited immediately with Jordan Rapana scoring in the corner to add to his five goals already in the contest. 
LeagueUnlimited.com Players of the Match:
3 points - Joseph Manu
2 points - Kenny Bromwich
1 points - Adam Doueihi
---
France Men 34
Greece Men 12
Group A
Venue: Eco-Power Stadium, Doncaster
Crowd: 4182
Date: Tuesday 18 October 2022 at 5:30am
FRANCE MEN (34)
Tries: Jordan Dezaria, Arthur Mourgue, Tony Gigot, Benjamin Jullien (2)
Conversions: Arthur Mourgue (5/5)
Penalty Goals: Arthur Mourgue (2/2)
GREECE MEN (12)
Tries: Siteni Taukamo, Nick Mougios
Conversions: Lachlan Ilias (2/2)
Textbook French cruise to win over Gutsy Greeks
Andrew Ferguson | October 18 2022 7:18AM
France played smart, patient football, picking their moments well all game in their opening World Cup clash against a spirited Greece side, who refused to quit in a 34-12 result at Doncaster.
France opened the scoring in the eighth minute when Jordan Dezaria received a crash ball on the Greece line and smashed through two middle defenders to score next to the posts. Arthur Mourgue converted.
Fouad Yaha made a break down the left wing in the 16th minute but he was brought down with a brilliant cover tackle by Lachlan Ilias.
In the 22nd minute Peter Mamouzelos received a late offload and ran up to the retreating French defensive line before grubbering ahead for himself, but he fell over in the traffic.
Two minutes later, France received a penalty and Mourgue kicked a penalty goal.
In the 30th minute, Mourgue grubbered into the Greece in-goal, where Sebastian Sell fumbled his attempt to clean up the kick. Tony Gigot reached outand grounded the ball for a try. Mourgue converted.
France scored again just 5 minutes later when Benjamin Jullien scored off a crash ball play close to the Greece line. Mourgue again converted and France went into the sheds with a 20-0 lead.
France continued the scoring 7 minutes after halftime when Mathieu Laguerre stepped infield and through a huge gap before linking with Mickael Goudemand, who quickly got the ball along to Mourgue, who scored a try under the posts despite a determined try saving effort by Mamouzelos. Mourgue converted his own try.
Greece scored their first World Cup try in the 56th minute when a Jordan Meads grubber to the left side found an unmarked Siteni Taukamo, who regathered and dived over to score untouched. Ilias converted from out wide.
Mourgue added another penalty goal in the 66th minute before Jullien scored again after a crisp passing movement in the 75th minute. Mourgue again converted.
Greece then saved the best for last. Right on fulltime Ilias chipped from inside his own half, to the left wing where Nick Mougios caught the ball on the full, then turned the retreating cover defence of Morgan Escare inside out with good footwork before racing 40 metres to score a glorious try. Ilias added the extras from the sideline.
LeagueUnlimited.com Players of the Match:
3 points - Arthur Mourgue
2 points - Benjamin Jullien
1 points - Benjamin Garcia
---
Tonga Men 24
Papua New Guinea Men 18
Group D
Venue: Totally Wicked Stadium, St Helens
Corwd: 10409
Date: Wednesday 19 October 2022 at 5:30am
TONGA MEN (24)
Tries: Viliami Penisini, Isaiya Katoa, Moeaki Fotuaika, Keaon Koloamatangi
Conversions: Isaiya Katoa (4/4)
Penalty Goals: Isaiya Katoa (0/1)
PAPUA NEW GUINEA MEN (18)
Tries: Rhyse Martin, Lachlan Lam, Daniel Russell
Conversions: Rhyse Martin (2/2), Lachlan Lam (1/1)
Tonga get out of jail against spirited Kumuls
Andrew Ferguson | October 19 2022 7:51AM
A 77th minute try has given Tonga a very hard earned 24-18 victory over a Papua New Guinea side who never gave up and it could even be argued, were a bit hard done by in their World Cup clash in St Helens on Tuesday.
Papua New Guinea opened the scoring in just the sixth minute when Rhyse Martin ran onto a brilliant short ball from Kyle Laybutt close to the Tongan line. Martin stormed into a gap and strolled over for a try. He then converted his own try.
Tonga responded by turning up their defensive pressure for the next 6 minutes, keeping the Kumuls trapped deep in their own half. After one such set resulted in Lam kicking on the last, 20 metres from his own line, the ball was fielded by Tolutau Koula just inside his own half, he ran right and then put on a huge step to beat Nene Macdonald, ran into space and then got a great ball to Will Penisini who strolled in to score a good try. Isaiya Katoa converted from in front.
Daniel Russell very nearly scored for the Kumuls 10 minutes later, but his foot grazed the sideline on his way to scoring.
Tui Lolohea made a good break in the lead up to Tonga's second try in the 35th minute. The following set saw Moeaki Fotuaika storm onto a nice inside ball to score under the sticks. Katoa again converted.
From the restart, Tonga continued their attack. On the third tackle, Moses Suli stepped inside the defence and burst through a gap, drew the fullback before passing to Isaiya Katoa who raced 40 metres to score. He converted his own try and at halftime Tonga had an 18-6 lead and looked to be taking control of the match.
Papua New Guinea had other plans though. Within the opening 2 minutes after play resumed, Edwin Ipape made a powerful bullocking run before getting a great offload away to Lachlan Lam who raced away to score under the posts. Lam then converted his own try.
In the 53rd minute, Rodrick Tai set sail to score in the corner when he was hit by Koula with what appeared to be a very clear shoulder bump. The video ref looked at the grounding of the ball several times before finding that the ball touched the sideline and thus, ruled no try.
In the 61st minute, David Fifita on a typical barnstorming run, bulldozed his way over the tryline but the committed Kumuls defence, especially that of Lam, denied him a try.
A knock on at dummy half by Tonga, just a metre from their own line saw Papua New Guinea awarded a scrum in the 67th minute. From the back of the scrum, the ball was fired to the left out to Alex Johnston who sent a beautiful pass along to Russell who scored untouched in the corner. Martin converted from the sideline to level the scores.
A late low tackle by Ipape in the 72nd minute 10 metres inside the Kumuls half saw Tonga receive a penalty where they opted to take a shot at goal to break the deadlock, but Katoa's long range kick was unsuccessful .
With 3 minutes left in the game, Tonga looked lost in attack and were throwing offloads everywhere but going nowhere, until Siosiua Taukeiaho received the ball, grubbered into the Kumuls ingoal area where Keaon Koloamatangi regathered and scored the match winning try. Katoa converted and Tonga scraped home with a 24-18 victory.
LeagueUnlimited.com Players of the Match:
3 points - Edwin Ipape
2 points - Keaon Koloamatangi
1 points - Tolutau Koula
---
Cook Islands Men 18
Wales Men 12
Group D
Venue: Leigh Sports Village Stadium, Leigh
Crowd: 6188
Date: Thursday 20 October 2022 at 5:30am
WALES MEN (12)
Tries: Rhodri Lloyd, Ollie Olds
Conversions: Matty Fozard (2/2)

COOK ISLANDS MEN (18)
Tries: Anthony Gelling, Steven Marsters, Davvy Moale
Conversions: Steven Marsters (2/3)
Penalty Goals: Steven Marsters (1/1)
Cook Islands hang on against a tough Wales side
Lachlan McIntyre | October 20 2022 7:45AM
The Cook Islands have just scraped out a win to start off their tournament, downing a spirited Wales side 18-12 in Leigh. After trailing at half-time, they were forced to rally, and in the end it came down to a last minute defensive effort that secured the two points for them. 
The game started out evenly, with both teams feeling each other out and going set for set. Both sides' kicking games forced the other to work it out from inside their own 10 or 20 metres, and the ball was in play for a long time with minimal errors and penalties. Just when it looked like the Cook Islands were beginning to get on top, they gave away a penalty that gave Wales their first attacking opportunity of the match.
Wales forced a handful of repeat sets, and it wasn't long until they found the opening points of the match. A Josh Ralph grubber for Rhodri Lloyd to steam on to perfectly put the Welsh side in front, and the kick was converted by Matty Fozard from next to the posts. A good set from Wales after points put Cook Islands under heaps of pressure, and the Welsh team looked well in control.
But they then conceded a penalty, followed by two six agains, and suddenly the momentum was all in the favour of the Cook Islands. Tepai Moeroa stormed over under the posts, but was denied by the video referee. But the Cook Islands only had to wait a few more minutes to open their account, when Esan Marsters scooted out of dummy half and created an opportunity out of nothing for his team. He found Gelling on the inside, who dived over under the posts in the 22nd minute. 
With the score back on level terms, both sides were looking dangerous. Wales struck next though, when Ollie Olds sold the whole of the Cook Islands' defence a dummy and strolled over in the 27th minute. Everything seemed to be going in the favour of the Welsh side, with a successful captain's challenge winning themselves a penalty in their set following points, but they couldn't convert their field position into another try.
Cook Islands were well on top in the final minutes of the second half, with the tiring Welsh defence giving away a number of six agains. They were again denied by the video referee in the 38th minute, and although they couldn't convert the possession into a four pointer, Steven Marsters slotted a penalty goal on the stroke of half-time to bring the score to 12-8, Wales in front. 
Both teams came out firing in the second half, with offloads and line breaks galore in the first handful of minutes. The game settled back into a rhythm, with both teams' defences holding up to inspection. The Cook Islands got the first proper attacking chance of the second half when the video referee denied them for a third time in the 56th minute.
A piece of individual brilliance from Davvy Moale brought about the first points of the second half. The Cook Islander beat about five players to storm his way to the line, and the try was subsequently converted to give Wales the lead for the first time in the match. Suddenly, it was all Cook Islands. Making metres from will out of their own end, it was only a few minutes until they struck again, this time through winger Steven Marsters. He failed to convert his own try, and the Cook Islands led 18-12 with 15 minutes on the clock.
Despite Cook Islands continuing to apply pressure, Wales held on. They were gifted a number of attacking opportunities in the dying minutes, with the Cook Islands giving away two 20m restarts. But Wales couldn't convert, and with just 1 minute left on the clock the game looked well and truly over. 
But Rhodri Lloyd came up with a huge play for the Welsh, charging down a kick and giving his team one final attacking set. With the Cook Islands' defence retreating, Wales looked like they were in for all money on the left hand side, but they just couldn't get it over the line. Cook Islands held on, and Welsh hearts were broken.
The Cook Islands will be eyeing off a clash with PNG next week, with a quarter-final spot on the line. Wales will face the might of Tonga next up, and they'll need to step it up a few levels if they're going to challenge them. 
---
Group standings
The top two nations in each group proceed to the Quarter Finals
Group A
| | | | | | | | | | |
| --- | --- | --- | --- | --- | --- | --- | --- | --- | --- |
| Pos | Nation | P | W | D | L | F | A | Diff | Pts |
| 1 | ENG | 1 | 1 | 0 | 0 | 60 | 6 | +54 | 2 |
| 2 | FRA | 1 | 1 | 0 | 0 | 34 | 12 | +22 | 2 |
| 3 | GRE | 1 | 0 | 0 | 0 | 12 | 34 | -22 | 0 |
| 4 | SAM | 1 | 0 | 0 | 1 | 6 | 60 | -54 | 0 |
Group B
| | | | | | | | | | |
| --- | --- | --- | --- | --- | --- | --- | --- | --- | --- |
| Pos | Nation | P | W | D | L | F | A | Diff | Pts |
| 1 | AUS | 1 | 1 | 0 | 0 | 42 | 8 | +34 | 2 |
| 2 | ITA | 1 | 1 | 0 | 0 | 28 | 4 | +24 | 2 |
| 3 | SCO | 1 | 0 | 0 | 1 | 4 | 28 | -24 | 0 |
| 4 | FIJ | 1 | 0 | 0 | 1 | 8 | 42 | -34 | 0 |
Group C
| | | | | | | | | | |
| --- | --- | --- | --- | --- | --- | --- | --- | --- | --- |
| Pos | Nation | P | W | D | L | F | A | Diff | Pts |
| 1 | IRE | 1 | 1 | 0 | 0 | 48 | 2 | +46 | 2 |
| 2 | NZL | 1 | 1 | 0 | 0 | 34 | 12 | +22 | 2 |
| 3 | LEB | 1 | 0 | 0 | 1 | 12 | 34 | -22 | 0 |
| 4 | JAM | 1 | 0 | 0 | 1 | 2 | 48 | -46 | 0 |
Group D
| | | | | | | | | | |
| --- | --- | --- | --- | --- | --- | --- | --- | --- | --- |
| Pos | Nation | P | W | D | L | F | A | Diff | Pts |
| 1 | CKI | 1 | 1 | 0 | 0 | 18 | 12 | +6 | 2 |
| 2 | TON | 1 | 1 | 0 | 0 | 24 | 18 | +6 | 2 |
| 3 | PNG | 1 | 0 | 0 | 1 | 18 | 24 | -6 | 0 |
| 4 | WAL | 1 | 0 | 0 | 1 | 12 | 18 | -6 | 0 |
For comprehensive historical statistics on the Rugby League World Cup, make sure you check out Rugby League Project.
---
Match Review
Suspensions
Anthony Milford (Samoa): Grade A Dangerous Contact, 1 match penalty notice
Entered guilty plea. Suspended 1 match
Adam Doueihi (Lebanon): Grade A Foul and/or abusive language to a Match Official, 1 match penalty notice
Disputed charge at tribunal, charge upheld. Suspended 1 match.
APPEAL: hearing Thursday night BST
Cautions
Dom Young (England): Tripping
Dale Ferguson (Scotland): Other Contrary Behaviour
Edwin Ipape (Papua New Guinea) - Dangerous Contact.
---
Player of the Tournament leaderboard
Our LeagueUnlimited volunteer writers assign 3-2-1 points after each match. Here is the tally after one week of matches.
3 points - Joseph Manu (New Zealand), Arthur Mourgue (France), Edwin Ipape (Papua New Guinea), Jonathon Ford (Cook Islands), Nathan Brown (Italy), Luke Keary (Ireland), Cameron Munster (Australia), Victor Radley (England)
2 points - Keaon Koloamatangi (Tonga), Benjamin Jullien (France), Matty Fozard (Wales), Jack Welsby (England), Kenny Bromwich (New Zealand), Josh Addo-Carr (Australia), Richie Myler (Ireland), Jack Campagnolo (Italy)
1 point - Steven Marsters (Cook Islands), James Bentley (Ireland), Herbie Farnworth (England), Tolutau Koula (Tonga), Benjamin Garcia (France), Adam Doueihi (Lebanon), Harry Grant (Australia), Radean Robinson (Italy)
---
Crowds
England Men (60) v Samoa Men (6)
Sun 16 Oct 12:30AM at St. James Park, Newcastle (Crowd: 43119)
Australia Men (42) v Fiji Men (8)
Sun 16 Oct 5:30AM at Headingley Stadium, Leeds (Crowd: 13366)
Scotland Men (4) v Italy Men (28)
Mon 17 Oct 12:30AM at Kingston Park, Newcastle (Crowd: 6206)
Jamaica Men (2) v Ireland Men (48)
Mon 17 Oct 3:00AM at Headingley Stadium, Leeds (Crowd: 6320)
New Zealand Men (34) v Lebanon Men (12)
Mon 17 Oct 5:30AM at Halliwell Jones Stadium, Warrington (Crowd: 5453)
France Men (34) v Greece Men (12)
Tue 18 Oct 5:30AM at Eco-Power Stadium, Doncaster (Crowd: 4182)
Tonga Men (24) v Papua New Guinea Men (18)
Wed 19 Oct 5:30AM at Totally Wicked Stadium, St Helens (Crowd: 10409)
Wales Men (12) v Cook Islands Men (18)
Thu 20 Oct 5:30AM at Leigh Sports Village Stadium, Leigh (Crowd: 6188)
Week 1 aggregate: 95,243
Week 1 match average: 11,905
---
Next week - Pool Matches Week 2
Australia Men v Scotland Men
Sat 22 Oct 5:30AM at Ricoh Arena, Coventry
Fiji Men v Italy Men
Sun 23 Oct 12:30AM at Kingston Park, Newcastle
England Men v France Men
Sun 23 Oct 3:00AM at University of Bolton Stadium, Horwich
New Zealand Men v Jamaica Men
Sun 23 Oct 5:30AM at MKM Stadium, Hull
Lebanon Men v Ireland Men
Mon 24 Oct 12:30AM at Leigh Sports Village Stadium, Leigh
Samoa Men v Greece Men
Mon 24 Oct 3:00AM at Eco-Power Stadium, Doncaster
Tonga Men v Wales Men
Tue 25 Oct 5:30AM at Totally Wicked Stadium, St Helens
Papua New Guinea Men v Cook Islands Men
Wed 26 Oct 5:30AM at Halliwell Jones Stadium, Warrington