Results and Scorers:
RLWC 2021 WRAP: Pool Matches - Week 2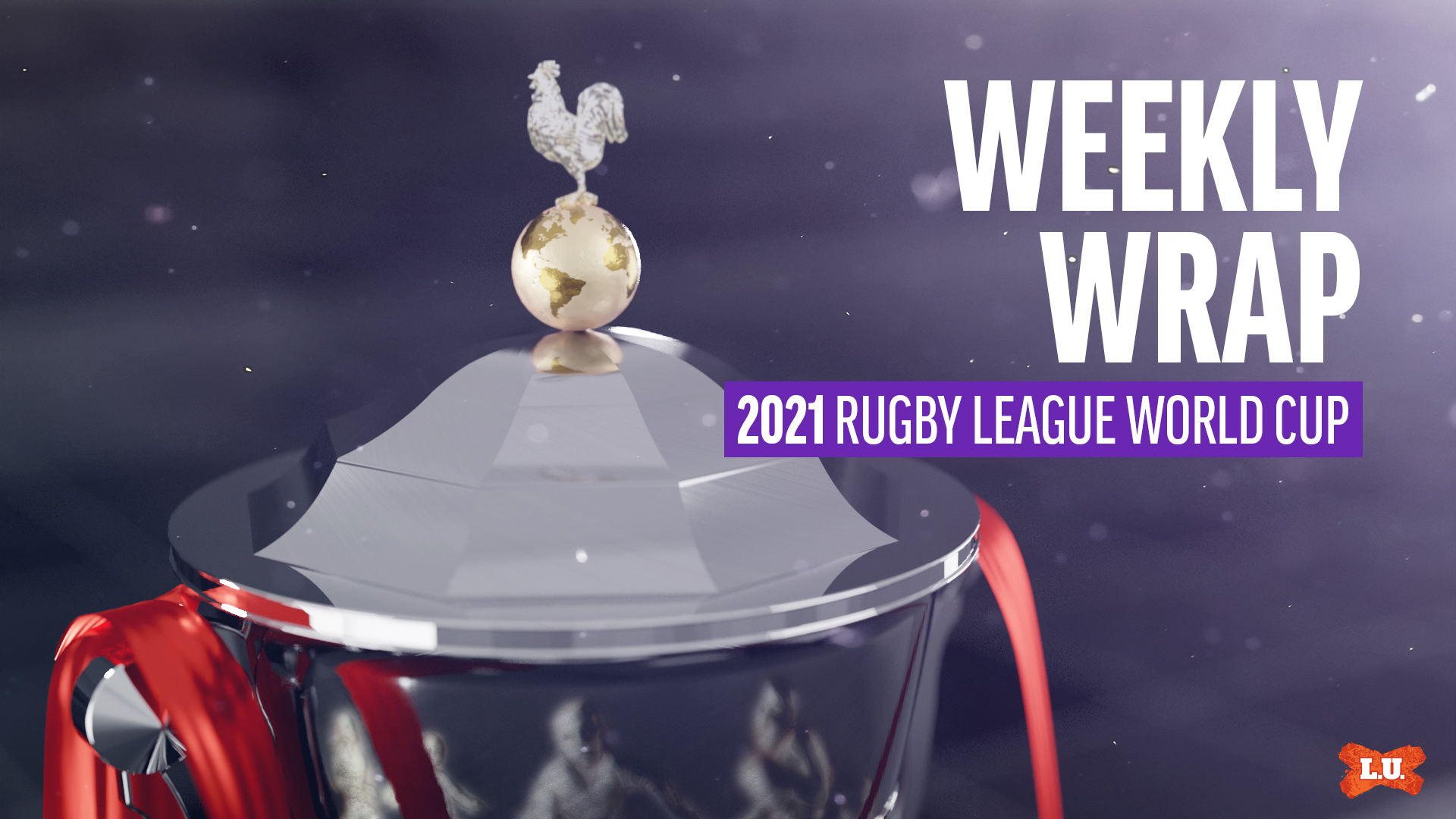 As the Week 2 of the Men's Rugby League World Cup unfolds, here's your one-stop shop for results, reports and tables from each match and group.
All listed times are AEST (NSW/QLD/VIC/ACT) - subtract 10 hours for BST (UK local time). All matches are broadcast live on Fox League & Kayo Sports in Australia, and on BBC & the RLWC App in the UK.
---
RELATED: See the full list of 2022 2021 Men's Rugby League World Cup Draw and Results.
---
Australia Men 84
Scotland Men 0
Group B
Venue: Coventry Building Society Arena, Coventry
Crowd: 10276
Date: Saturday 22 October 2022 at 5:30am
AUSTRALIA MEN (84)
Tries: Josh Addo-Carr (4), Nathan Cleary, Jack Wighton (2), Angus Crichton, Campbell Graham (3), James Tedesco, Ben Hunt, Matt Burton, Isaah Yeo
Conversions: Nathan Cleary (12/15)

SCOTLAND MEN (0)

Australia's World Cup charge in good shape as they down Scotland
Lachlan McIntyre | October 22 2022 7:54AM
The Kangaroos have thrashed the Scottish Bravehearts 84-0 in Coventry to open week 2 of the Men's Rugby League World Cup.
Despite having the game wrapped up early on, Australia didn't relent, with their defence in particular looking impressive. In slippery wet conditions, the ballplayers looked slick in attack, with Mal Meninga facing some tough decisions in regard to who is in that best 17 for the Kangaroos. 
It was an awkward start to the game, with Australia's kick-off going too deep, but Scotland were ruled to have caught it before stepping dead in-goal, and thus conceding a drop-out. Australia got close to opening the scoring in their first set, but Nathan Cleary was denied by the video referee.
It was instead the 6th minute when they opened the scoring - a Cleary cut-out pass hitting Addo-Carr on the left wing. Cleary would get another try assist just a few minutes later, when he hit Jack Wighton on a short ball to crash over. Next, it was Angus Crichton who joined the scoresheet, with the Cleary conversion making it 16-0 after as many minutes.
Any time Scotland found themselves in possession they just couldn't gain any metres. The Australian defence was like a brick wall, and the Kangaroos continued to attack as the first half progressed. Campbell Graham and Nathan Cleary both crossed for their first tries, and Australia led 28-0 after 30 minutes. 
An uncharacteristic error on the set after points from the Kangaroos gave Scotland their first attacking set, but they turned it over almost straight away before Josh Addo-Carr streaked away down the sideline to score his second. Wighton then got his second in the following set, making it 40-0 with a handful of minutes remaining in the first half.
Scotland tried to turn the momentum on a few occasions, with some successful short kick-offs and dropouts working in their favour. They managed to stem the flow in the final minutes of the opening half, and so it was 40 points in 40 minutes from the Kangaroos at the break. 
Australia wasted no time adding to the scoreboard in the second half, with James Tedesco making a break up the middle in their first set, before crossing the line a few tackles later. In their second set of the half, it was a second try, this time from Ben Hunt fresh off the bench. Things settled down slightly, with Scotland forcing a few stops, but their errors just kept inviting Australia back on the attack.
Josh Addo-Carr reached his hat trick in the 49th minute off an attacking scrum play. Some nice hands showcased the developing Kangaroos combinations, and it was Munster this time with the cut-out ball to his winger. Australia had 18 points from the first 11 minutes of the second half, but Scotland seemed to find some defensive resolve, and it wouldn't be until the 60th minute that Australia crossed again.
Kane Linnet was sin-binned for Scotland after tackling a player without the ball, and Graham crossed for his second in the succeeding tackles. Things started to get fiery, with both teams' forward packs exchanging some pushing and shoving, but Australia just kept playing great footy and Burton crossed for a debut try in the 66th. 
Up 68-0 with 13 minutes remaining, Australia kept tearing through Scotland's tired middle forwards, and beating their edges with slick hands and speed. Graham sealed his hat-trick and Yeo bagged his first in consecutive sets to bring up the 80 for Australia. But it was the fourth and final Josh Addo-Carr try which will light up highlight reels for years to come.
A cross field kick from the Kangaroos was miraculously kept in by Matt Burton, who threw it back between his legs to the waiting Addo-Carr. With defenders in front of him, he put in a grubber for himself, beating his opposing winger to ground the ball and put the cherry on top for the Australians.
With that win, Australia now have 14 RLWC victories in a row. A win against Italy next week would make it 15, and would become the outright longest World Cup winning streak - surpassing their own record set in 2008. The Kangaroos are on a charge for the World Cup, but the question remains - can anyone get in their way?
LeagueUnlimited.com Players of the Match:
3 points - Josh Addo-Carr
2 points - Jack Wighton
1 points - Nathan Cleary
---
Fiji Men 60
Italy Men 4
Group B
Venue: Kingston Park, Newcastle
Crowd: 3675
Date: Sunday 23 October 2022 at 12:30am
FIJI MEN (60)
Tries: Viliame Kikau (2), Kevin Naiqama, Penioni Tagituimua (2), Apisai Koroisau, Ben Nakubuwai, Maika Sivo (2), Taniela Sadrugu
Conversions: Brandon Wakeham (7/7), Apisai Koroisau (2/2), Henry Raiwalui (1/1)
ITALY MEN (4)
Tries: Jake Maizen
Conversions: Jack Campagnolo (0/1)
Fiji slaughter Italy to snatch second place in Group B
AJ Lucantonio | October 23 2022 2:21AM
The Fiji Bati have redeemed themselves after their last start loss to Australia, downing Italy by 60-4 in a one-sided match at Kingston Park in Newcastle on Saturday afternoon.
It was a physical start to this contest and Fiji were asserting itself at Italy's end. Eventually, the pressure took its toll. An error from Luke Polselli off a Brandon Wakeham bomb gave Fiji a great starting field position. From there, it was big Viliame Kikau who crashed over for the first try of the afternoon and early six-point advantage.
A poor error coming out of yardage from Italy's Dean Parata gave Fiji their next points. Kevin Naiqama scooped up the loose ball to race 50 meters to cross and the margin was quickly out to 12-0. Another mistake saw the Bati collect their third try when the Roosters duo of Naiqama and test debutant Vuate Karawalevu took Jake Maizen over the sideline. From there, dummy half Penioni Tagituimua caught the Azzurri asleep on their line and it was looking very ugly for the Italian side.
Italy was able to stop the scoring for a brief moment, but big Kikau had his second try when he was able to get past a poor attempt of tackle from Brendan Santi and it was one-way traffic in the opening half for the Bati. Italy was able to secure some possession and stop the rot. Taniela Sadrugu was lucky to stay on the field after an awful late shot on Nathan Brown, but the Italians were unable to cross the stripe in the first half.
Just before the break, the spirit of the Azzurri was broken when Apisai Koroisau was able to skip his way past the defence and cross virtually untouched for a 30-0 score-line. Fortunately for Italy, it could've been worse as Fiji were playing a game of 'Hot Potato' at half-time and it nearly delivered a try until Sadrugu slipped at the final moment. This meant the margin remained 30 points at the change of ends.
Fiji began the scoring in the second half. It was set up by the kick return of Karawalevu beating 4 Azzurri to turn defence into attack. From the ensuing tackle, it was a great offload from Koroisau and Tagituimua crossed for his second try and extended the score-line. Four minutes later, a clever banana kick from Brandon Wakeham delivered a horror bounce for Poiselli and it sat up for the big forward Ben Nakubuwai who charged over the top of the young fullback to score. Off the ensuing set, Maika Sivo crossed after Kikau reeled in a kick from Wakeham and found the flying winger to make it 48-0.
Italy went short and following an illegal shot by replacement Henry Raiwalui, they were able to cross for their first try. They stripped the Fiji right-hand side for numbers and it was hattrick hero Jake Maizen who crossed for Italy's only try and add some respectability to the scoreboard. The revival didn't last long as Sivo was on the receiving end of a Kikau offload to cross for his second try and hit the half-century. The Bati crossed for the last try when Naiqama showed and goed before finding Karawalevu who basketball passed back to Taniela Sadrugu and the NQ Cowboys backrower crossed to give Fiji a 56-point victory.
LeagueUnlimited.com Players of the Match:
3 points - Viliame Kikau
2 points - Penioni Tagituimua
1 points - Vuate Karawalevu
---
England Men 42
France Men 18
Group A
Venue: University of Bolton Stadium, Horwich
Crowd: 23648
Date: Sunday 23 October 2022 at 3:00am
ENGLAND MEN (42)
Tries: Ryan Hall (2), Luke Thompson, Elliott Whitehead, Victor Radley, Dominic Young (2)
Conversions: Marc Sneyd (7/7)
FRANCE MEN (18)
Tries: Arthur Mourgue, Eloi Pelissier, Arthur Romano
Conversions: Arthur Mourgue (3/3)
England stroll past France in Bolton
Justin Davies | October 23 2022 4:51AM
England continued their strong start to the Rugby League World Cup 2021 campaign with a 42-18 win against France in Bolton tonight.
It was another strong performance from the hosts, who top Group B with back-to-back wins. Dom Young and Ryan Hall both scored doubles in the win which saw them inch closer to making the Quarter Finals of the tournament. 
England just continued on after their dominant win against Samoa, rucking forward with ease. A high kick was batted back by Herbie Farnworth and Marc Sneyd before England's all-time scorer Ryan Hall touched down. 
It was a sense of deja vu for England's second four-pointer. Another quick move on the left side ended with Hall crossing without being touched. England looked like the side which was one of the favourites to lift the trophy again. 
That thought continued to build amongst the crowd in Bolton, as England raced to an 18-0 lead. Victor Radley who was one of the big talking points before the tournament for his selection broke the line and linked up with Luke Thompson to stroll over the line. 
At 18-0, it looked a long way back for France. They found some light just before the break with back-to-back tries. First, Arthur Mourge kicked through and chased his kick to continue his strong start to the tournament. 
Their belief grew just moments after. Some sloppy work from the English on their own line gifted them some possession. Interchange utility Eloi Pelissier snuck over from close range to make it 18-12 at the break despite some late English pressure. 
The belief created by the French was snuffed out like a torch on Survivor quickly in the second half. Fromer Raiders team mates John Bateman and Elliot Whitehead combined for the former to restore the 12 point lead. 
Next it was a good moment for Radley in an England shirt. Andy Ackers pushed through the kick which saw the Roosters forward just stroll towards the ball and touch down after some video confirmation. 
Jack Welsby was a tactical switch at the back from England coach Shaun Wane, and he provided the assist for Dominic Young's third four-pointer of the tournament. England broke down the right, used the numbers and the Knights winger had the score for 36-12. 
One of the stars of the first round of games was back in action. France were on the attack but a loose pass from Pelissier is snatched in the air by Young who was celebrating on the way to the try line with his second of the game. 
France got some late consolation through Arthur Romano. Tony Gigot weaved through the defence then found the winger in stride and he got himself on the scoresheet and made it 42-18 for the well beaten side. 
LeagueUnlimited.com Players of the Match:
3 points - George Williams
2 points - John Bateman
1 points - Victor Radley
---
New Zealand Men 68
Jamaica Men 6
Group C
Venue: MKM Stadium, Hull
Crowd: 6829
Date: Sunday 23 October 2022 at 5:30am
NEW ZEALAND MEN (68)
Tries: Dallin Watene-Zelezniak (4), Peta Hiku, Marata Niukore, Sebastian Kris, Jeremy Marshall-King (2), Charnze Nicoll-Klokstad, Briton Nikora, Brandon Smith (2)
Conversions: Dallin Watene-Zelezniak (2/3), Kieran Foran (6/10)
JAMAICA MEN (6)
Tries: Ben Jones-Bishop
Conversions: Kieran Rush (1/1)
New Zealand dominate Jamaica to secure Quarter Final berth
Adam Huxtable | October 23 2022 6:40AM
New Zealand have expectedly continued their cruise to the top of their group, a 68-6 win over Jamaica the latest installment in their quest for world cup glory.
It was an ambitious start for the Jamaicans, who went short on the opening kickoff and were able to regather in a trend that would continue throughout the match. They forced a goal-line dropout in their first set, but New Zealand would easily keep them away from the tryline. 
The Kiwis would go up the field easily in part due to some help from a set restart. Their class shone through as Joseph Manu threw a cutout pass to Dallin Watene-Zelezniak, who had an acre of open space in front of him and scored the try. 
There were some highlights for Jamaica over the next 5 minutes, another short kickoff regathered and a one-on-one steal among them, however New Zealand asserted their authority soon after, with DWZ assisting this one instead of scoring it, Peta Hiku finishing it off this time. 
Jamaica looked to be generating some momentum through second-phase play, but the Kiwis were simply too good after taking possession back. They again spread the ball to the right and DWZ had too much speed, going in for his second try in 15 minutes. 
The Dallin Watene-Zelezniak show continued, the winger again showing incredible speed to return a kick 75 odd metres past 2 or 3 defenders, securing a first quarter hat-trick. 
New Zealand became a bit sloppy from that point, going twelve minutes before scoring another try in a period which included multiple errors. Eventually, Marata Niukore took advantage of some tired and backtracking defence, scoring a simple try. 
It looked as though Jamaica had done enough to keep New Zealand to 24 points at the half, but some poor scrum defence close to the line allowed Seb Kris to score a simple try.
Jamaica abandoned the short restart in the final minute and it proved costly. Watene-Zelezniak again found space down the right-hand side before kicking back infield. Jeremy Marshall-King was there in support and he managed to stay inside the dead ball line and ground the ball. It meant the score was 34-0 at the half time break. 
It didn't take long for New Zealand to get things going in the second half, with Charnze Nicoll-Klokstad dummying his way over the line to extend the lead to 40. 
10 minutes later, New Zealand went bang bang with two tries in as many minutes. The first came when the two back-rowers, Bromwich and Nikora, combined, with Bromwich putting Nikora through a hole to score a relatively straightforward try. 
Off the (long) kickoff, New Zealand went the length, and it was a carbon copy of an effort from earlier in the match, with Watene-Zelezniak finding space down the edge once again and kicking inside for Jeremy Marshall-King, who scored his second try in eerily similar fashion. 
DWZ's night would finish during the act of scoring his fourth try, a "regulation" put-down in the corner. Brandon Smith would burrow his way over for two late tries from dummy-half, making the score 68-0. 
The moment of the match came in the 75th minute, when Jamaica finally crossed for their first ever Rugby League World Cup try. Brandon Smith was unable to hold onto a 5th tackle kick and the veteran fullback Ben Jones-Bishop was there to toe the ball ahead, pick it up and score. It was the last scoring play of the match, meaning the final result was 68-6 to the Kiwis. 

LeagueUnlimited.com Players of the Match:
3 points - Dallin Watene-Zelezniak
2 points - Peta Hiku
1 points - Ben Jones-Bishop
---
Lebanon Men 32
Ireland Men 14
Group C
Venue: Leigh Sports Village Stadium, Leigh
Crowd: 6007
Date: Monday 24 October 2022 at 12:30am
LEBANON MEN (32)
Tries: Reece Robinson, Jacob Kiraz, Brandon Morkos, Elie El Zakhem, Abbas Miski
Conversions: Mitchell Moses (4/5)
Penalty Goals: Mitchell Moses (2/2)
IRELAND MEN (14)
Tries: Louis Senior (2), Ed Chamberlain
Conversions: Ed Chamberlain (1/3)
Lebanon's fate in their own hands after downing ill-disciplined Ireland
AJ Lucantonio | October 24 2022 2:24AM
Lebanon has their fate in their own hands at the Rugby League World Cup, disposing of a poorly disciplined Ireland side by 18 points in their Group C clash in Leigh this afternoon.
This match had a lot on the line for both sides. A win for the Irish side would seal their position in the quarter-finals. While if Lebanon got up they'll have the box seat to progress into the next stage for the second World Cup in succession.
It was a frantic start to the game and it was the Cedars who had the first scoring opportunity. Mitch Moses was held-up after promising play from debutant half Khaled Rajab. The opening fifteen minutes were marred by incredibly poor discipline from both sides with Adam Gee blowing his whistle seven times within that period. Lebanon capitalised on a cannonball tackle from Liam Byrne and shot for goal, Moses was successful from in front to give the Cedars an early lead.
Six minutes later, the elder statesman of this Lebanon side Reece Robinson crossed for the first try of the afternoon. The try came about off the back of a superb offload from Khalil Rahme which allowed Moses to expose the right-hand side of the Ireland defence. Moses found Robinson who slid over in the corner and the Cedars had an eight-point advantage.
Another penalty for offside against Ireland saw Lebanon capitalise. It was a simple inside-outside play sees Moses turn it back on the inside to Jacob Kiraz, the Bulldogs fullback had way too much pace for Richie Myler and Ireland was down 14-0. The game had the potential to blow over as Ireland was more interested in settling personal scores than playing the game. Off a short dropout, Josh Mansour was able to get a basketball pass to Brandon Morkos who had too much pace for Toby King and Lebanon was running riot.
Ireland took advantage of an opportunity just before the break, when Luke Keary provided a wonderful pass to Louis Senior who finished it off in the corner to reduce the margin to 16. The tempers that threatened to boil over in the first half, boiled on the siren and both sides started the second stanza with 12 men after Jalal Bazzaz and Robbie Mulhern were dispatched to the sin bin.
Ireland started the second half with a point to prove and they made Lebanon pay early for a touch of complacency. It was a wonderful pass from Joe Keyes and Louis Senior was able to beat the cover of Kiraz to cross for his second try, what was 20-0 just before the break was 20-10 inside the first ten minutes of the second half. Unfortunately, a cheap error from the Irish allowed Moses to skip and dance his way around the Ireland defence and he linked up with his Parramatta team-mate Elie El Zakhem to extend the margin out to 16.
Lebanon was able to seal the result with just over an hour to go after Rajab and Kiraz combined to send Wigan winger Abbas Miski to score in the corner and extend the margin out to twenty points. Both sides then limped into the finish of this fixture, the harder Ireland tried, the worst things were getting in the attacking phase. Unfortunately, their discipline wouldn't improve, and Byrne took things into his own hands when he hit Mitch Moses late off the ball and was sin-binned. Moses converted a chip shot penalty to lead by 22. Ireland grabbed the last try when Keary created an overlap and Ed Chamberlain crossed to make the margin more respectable at 18 points.
For Lebanon, their odds of progressing into the next round have drastically improved. They'll get Adam Doueihi back and they're taking on last place Jamaica. Ireland has it all to do meanwhile, they need Lebanon to not put on a convincing score AND defeat New Zealand (the world's number one side) if they want to secure a place in the knock-out stage. 
LeagueUnlimited.com Players of the Match:
3 points - Mitchell Moses
2 points - Khaled Rajab
1 points - Luke Keary
---
Samoa Men 72
Greece Men 4
Group A
Venue: Eco-Power Stadium, Doncaster
Crowd: 4415
Date: Monday 24 October 2022 at 3:00am
SAMOA MEN (72)
Tries: Brian To'o, Stephen Crichton, Junior Paulo, Danny Levi (2), Chanel Harris-Tavita (2), Royce Hunt, Jarome Luai, Tim Lafai (2), Fa'amanu Brown, Mathew Feagai
Conversions: Stephen Crichton (10/13)

GREECE MEN (4)
Tries: Lachlan Ilias
Conversions: Lachlan Ilias (0/1)
Samoa thump Greece to get back on track
Justin Davies | October 24 2022 4:46AM
Samoa piled on the points in a 72-4 win against a gallant Greece side in Doncaster tonight. 
It was the Jarome Luai show. The Panthers half just orchestrated the Samoan attack in style and had a hand in the majority of their points and even got himself on the scoresheet as Samoa still aims to qualify from the group. 
Embarrassed last week, Samoa got off to the perfect start in their second pool game. They strolled downfield in the first set then a kick high saw Brian To'o touch down. 
Jarome Luai who had a quiet game last week, sprung into life in this game. He broke the line well before finding Eels front rower Junior Paulo, who showed off some smarts to chase down a pass which hit a Greek defender for 12-0. 
It seemed like Samoa found their mojo this week against Greece. Once again, Luai had his hands all over the play, weaved past the defence before he found Raiders bound Danny Levi for the third score of the first half. 
Next it was Luai's halves partner that got into the action. Chanel Harris-Tavita finished off another slick backline move from Samoa and the ghosts from last weekend were truly erased. 
On the half hour mark, Royce Hunt rumbled his way over quickly followed by Luai, who was the provider in much of the half got himself on the scoresheet after a quick check to see if he touched the line but it was 36-0. 
Tim Lafai rounded off an almost perfect half from Samoa. He was drafted into the squad after some injuries this week and the veteran spied some space behind the ruck and made it 42-0. 
Greece might not leave the World Cup with a win but they will leave it with some highlight reel tries. They got off the duck egg in style, a pair of chip kicks, one from their own end ended with Lachlan Ilias getting over the line. 
Samoa produced a quick one-two punch to go past the half century. Fa'amanu Brown burrowed over from close range then Stephen Crichton who was kicking them from close range finished off a move that included a between the legs pass. 
The points kept coming for Samoa. Harris-Tavita got a double when he chased through a Luai kick then Dragons winger Mathew Faegai had the simple job on the end of a slick Samoa backline to make it 62-4. 
Levi got himself involved with the doubles in the main game. He sniffed around the ruck and took the offload from Oregan Kaufusi to dive over then Lafai also made it two tries being on the end of a smooth move to take Samoa past 70 points. 
The only downside for Samoa, was a late sin bin to Dragons back rower Jaydn Su'A. He was dismissed for a shoulder to the head on a Greek player who was working the ball from their own line. 
LeagueUnlimited.com Players of the Match:
3 points - Jarome Luai
2 points - Stephen Crichton
1 points - Joseph Suaalii
---
Tonga Men 32
Wales Men 6
Group D
Venue: Totally Wicked Stadium, St Helens
Crowd: 7752
Date: Tuesday 25 October 2022 at 5:30am
TONGA MEN (32)
Tries: Daniel Tupou (3), David Fifita, Keaon Koloamatangi, Siosifa Talakai
Conversions: Siosiua Taukeiaho (0/1), Tuimoala Lolohea (3/4), Siosifa Talakai (1/1)
WALES MEN (6)
Tries: Kyle Evans
Conversions: Kyle Evans (1/1)
Tonga secure Quarter Final berth against brave Welsh outfit
Adam Huxtable | October 25 2022 1:11PM
Tonga have set up a Quarter Final matchup that will most likely come against Samoa, beating Wales 32-6 in a sloppy encounter.
Wales looked good in defence early on, turning Tonga away from the tryline on two separate occasions before Konrad Hurrell knocked on. The sloppy start continued when Taukeiaho dropped the ball while making a carry out of his own end, giving Wales a chance to score first. 
Wales were unable to breach the Tongan defensive line despite three attacking sets, with Ollie Olds' pass pass flying over the sideline. 
Despite the strong defensive showing, Tonga still couldn't get out of their way in attack, with Talakai knocking on. The ball was picked up Josh Ralph, who found his winger Kyle Evans in support and Wales, against the run of play, had the first try of the match. 
The one try advantage didn't last long though, with Caleb Aekins unable to hold onto Tonga's next bomb. Off the scrum win, they shifted it left, with Daniel Tupou finishing off the movement for Tonga to hit back. Taukeiaho was unable to convert though.
The rest of the half was shaping up as an arm wrestle, with both teams defending well. In the 37th minute however, David Fifita produced a signature David Fifita effort to barge his way to the line, making it 10-6 to Tonga with about 2 minutes left in the half.
That was all Tonga needed to score another one. They went up the field with ease in a set that concluded with Keaon Koloamatangi running through a hole right past Josh Ralph to extend their half time lead to 10. 
It took 7 minutes of gametime in the second half for Tonga to get on the board again, with Tesi Niu changing the direction of the attack to scamper past three Welsh defenders and score the try. 
They were again able to extend their lead 10 minutes later after a series of errors from both sides. They shifted the ball left and found numbers yet again, with Tupou once more the beneficiary, going over for his second try of the match. 
It looked like Tonga had a contender for try of the tournament in the 66th minute, when Tolu Koula dived head first to try and keep a kick in the field of play. It found a support player who passed inside to Lolohea, who thought he'd scored. Replays however showed that that tip of the ball had come into contact with the touchline, negating the play. 
It didn't matter a whole lot, with Tonga rolling up the field with ease 5 minutes later, resulting in, you guessed it, Daniel Tupou going over for another try. That was all she wrote scoring wise, Tonga winning the match by a score of 32-6.
Next week, Tonga will face the Cook Islands before turning their attention to the finals, while Wales' only chance to survive is if Papua New Guinea beat the Cook Islands tomorrow and then they win against PNG by enough to usurp them in the standings, an event which seems unlikely.
LeagueUnlimited.com Players of the Match:
3 points - Daniel Tupou
2 points - David Fifita
1 points - Siosifa Talakai
---
Papua New Guinea Men 32
Cook Islands Men 16
Group D
Venue: Halliwell Jones Stadium, Warrington
Crowd: 6273
Date: Wednesday 26 October 2022 at 5:30am
PAPUA NEW GUINEA MEN (32)
Tries: Rodrick Tai (2), Rhyse Martin, Kyle Laybutt, Lachlan Lam, Justin Olam
Conversions: Rhyse Martin (4/6)

COOK ISLANDS MEN (16)
Tries: Paul Ulberg, Anthony Gelling, Kayal Iro
Conversions: Steven Marsters (1/3)
Penalty Goals: Steven Marsters (1/1)
Papua New Guinea all-but clinch Quarter Final berth
Adam Huxtable | October 26 2022 3:11PM
The PNG Kumuls have all but sealed a trip to the quarter finals of the Rugby League World Cup, overcoming a slow start to convincingly defeat the Cook Islands 32-16.
It was all the Kumuls early on in terms of possession and field position, however they lacked attacking polish and couldn't quite go the extra distance required to put points on the board. This was summed up when the Cook Islands made an error in the 8th minute to give PNG a golden opportunity to strike first, but instead, Lachlan Lam threw an intercept to Anthony Gelling, completely changing the momentum of the game.
Gelling didn't quite have the speed required to get all the way to the line, and when Papua New Guinea gave away a penalty on tackle four, they saw the Kuki's opting to take the two as a win for their defence. 
The Kuki's weren't without opportunity to extend their lead, but Esan Marsters blew it when his grubber soared over the dead ball line. They paid the ultimate price when speedy winger Rodrick Tai wasted no time taking the tap, sprinting past two lazy defenders and going the length for the first try of the match. Rhyse Martin was kicking for the record of most consecutive successful conversion attempts of all time, so he of course missed to the right. 
Cook Islands got back into good field position courtesy of a charge down, but poor handling once again let them down. The Kumuls received a piggy back up the field due to a crusher tackle, and there was no lack of polish present when Kyle Laybutt whipped out a lethal step to dive over for their second try of the game. 
Three minutes later, PNG's Mckenzie Yei made a high tackle and was sent to the bin. It took the Kuki's a further seven minutes, but they eventually found an overlap to score, with winger Paul Ulberg strolling in untouched. Steven Marsters' sideline conversion meant it was only a two point deficit at the break. 
The Cook Islands came out of the sheds with a terrible attitude defensively, allowing Yei to make an easy line break and put the Kumuls right on the attack. They completed the dream start to the half when Rhyse Martin spun his way over the tryline, extending the lead to 8 points with the successful conversion. 
A penalty shortly after the try allowed the Kumuls to once again advance up the field, and Lam's attacking kick was too much for the Cook Islands, with Alex Johnston having the ball tapped back to him before setting Rodrick Tai up for try number two. Just like that, the 2 point halftime lead had ballooned out to 12 in just sevn minutes. 
Cook Islands had their chances over the next little while, but poor fifth tackle options and an overall lack of direction in attack proved costly. 
The dagger from Papua New Guinea came in the 57th minute, when Justin Olam made half a break and was able to get an arm free to offload to Lachlan Lam in support, the young playmaker running away to the tryline and making it a three score game. 
The Cook Islands weren't about to give up hope though, getting penalties for consecutive high shots and finding an overlap which allowed Anthony Gelling to score. The green light was given from the video referee despite question marks on the grounding. 
Any renewed hope they had was dashed 8 minutes later though, with Justin Olam getting the ball with nothing but green grass and the tryline in front of him. 
The Kuki's got a consolation try with a minute to go when Kayal Iro was on the end of a nice backline movement. The missed conversion gave us the final score of 32-16 in favour of the Kumuls. 
PNG have a match against Wales in which they can seal a trip to the quarter finals with a victory in, while the Cook Islands will have a mountain to climb against Tonga in the final week of the group stages. 
LeagueUnlimited.com Players of the Match:
3 points - Rodrick Tai
2 points - Edwin Ipape
1 points - Lachlan Lam
---
Group standings
The top two nations in each group proceed to the Quarter Finals
Group A
| | | | | | | | | | |
| --- | --- | --- | --- | --- | --- | --- | --- | --- | --- |
| Pos | Nation | P | W | D | L | F | A | Diff | Pts |
| 1 | ENG | 2 | 2 | 0 | 0 | 102 | 24 | +78 | 4 |
| 2 | SAM | 2 | 1 | 0 | 1 | 78 | 64 | +14 | 2 |
| 3 | FRA | 2 | 1 | 0 | 1 | 52 | 54 | -2 | 2 |
| 4 | GRE | 2 | 0 | 0 | 2 | 16 | 106 | -90 | 0 |
Group B
| | | | | | | | | | |
| --- | --- | --- | --- | --- | --- | --- | --- | --- | --- |
| Pos | Nation | P | W | D | L | F | A | Diff | Pts |
| 1 | AUS | 2 | 2 | 0 | 0 | 126 | 8 | +118 | 4 |
| 2 | FIJ | 2 | 1 | 0 | 1 | 68 | 46 | +22 | 2 |
| 3 | ITA | 2 | 1 | 0 | 1 | 32 | 64 | -32 | 2 |
| 4 | SCO | 2 | 0 | 0 | 2 | 4 | 112 | -108 | 0 |
Group C
| | | | | | | | | | |
| --- | --- | --- | --- | --- | --- | --- | --- | --- | --- |
| Pos | Nation | P | W | D | L | F | A | Diff | Pts |
| 1 | NZL | 2 | 2 | 0 | 0 | 102 | 18 | +84 | 4 |
| 2 | IRE | 2 | 1 | 0 | 1 | 62 | 34 | +28 | 2 |
| 3 | LEB | 2 | 1 | 0 | 1 | 44 | 48 | -4 | 2 |
| 4 | JAM | 2 | 0 | 0 | 2 | 8 | 116 | -108 | 0 |
Group D
| | | | | | | | | | |
| --- | --- | --- | --- | --- | --- | --- | --- | --- | --- |
| Pos | Nation | P | W | D | L | F | A | Diff | Pts |
| 1 | TON | 2 | 2 | 0 | 0 | 56 | 24 | +32 | 4 |
| 2 | PNG | 2 | 1 | 0 | 1 | 50 | 40 | +10 | 2 |
| 3 | CKI | 2 | 1 | 0 | 1 | 34 | 44 | -10 | 2 |
| 4 | WAL | 2 | 0 | 0 | 2 | 18 | 50 | -32 | 0 |
For comprehensive historical statistics on the Rugby League World Cup, make sure you check out Rugby League Project.
---
Match Review
Following the most recent meeting of the RLWC2021 Match Review Panel which took place on 24 October, the following sanctions have been issued:
Tui Kamikamica (Fiji): Grade A Dangerous Contact, 1 Match Penalty Notice - accepted
Liam Byrne (Ireland): Grade A Dangerous Contact, 1 Match Penalty Notice - accepted
Jaimin Jolliffe (Ireland): Grade A High tackle, 1 Match Penalty Notice - challenged, failed
Liam Byrne (Ireland): Grade A Dangerous Contact, 1 Match Penalty Notice - accepted
The following players received cautions:
Taniela Sadrugu (Fiji): Dangerous Contact
Liam Byrne (Ireland): Other Contrary Behaviour
The final sitting of the Match Review Panel on October 26 determined two Grade A charges:
Mackenzie Yei (PNG): Grade A Careless High Tackle, 1 match penalty notice
Reubenn Rennie (Cook Islands): Grade A Dangerous Throw, 1 match penalty notice
---
Player of the Tournament leaderboard
Our LeagueUnlimited volunteer writers assign 3-2-1 points after each match. Here is the tally up to the Tonga v Wales match:
5 points - Edwin Ipape (Papua New Guinea), Josh Addo-Carr (Australia)
4 points - Victor Radley (England), Luke Keary (Ireland)
3 points - Viliame Kikau (Fiji), Jarome Luai (Samoa), Joseph Manu (New Zealand), Mitchell Moses (Lebanon), Dallin Watene-Zelezniak (New Zealand), Nathan Brown (Italy), Rodrick Tai (Papua New Guinea), Jonathon Ford (Cook Islands), Cameron Munster (Australia), George Williams (England), Daniel Tupou (Tonga), Arthur Mourgue (France)
2 points - Jack Wighton (Australia), John Bateman (England), Peta Hiku (New Zealand), Khaled Rajab (Lebanon), Matty Fozard (Wales), Penioni Tagituimua (Fiji), Benjamin Jullien (France), Richie Myler (Ireland), Jack Campagnolo (Italy), Jack Welsby (England), David Fifita (Tonga), Kenny Bromwich (New Zealand), Stephen Crichton (Samoa), Keaon Koloamatangi (Tonga)
1 point - Joseph Suaalii (Samoa), Lachlan Lam (Papua New Guinea), Siosifa Talakai (Tonga), Steven Marsters (Cook Islands), Adam Doueihi (Lebanon), James Bentley (Ireland), Radean Robinson (Italy), Harry Grant (Australia), Benjamin Garcia (France), Tolutau Koula (Tonga), Vuate Karawalevu (Fiji), Nathan Cleary (Australia), Herbie Farnworth (England), Ben Jones-Bishop (Jamaica)
---
Crowds
Week 2
Australia Men (84) v Scotland Men (0)
Sat 22 Oct 5:30AM at Coventry Building Society Arena, Coventry (Crowd: 10276)
Fiji Men (60) v Italy Men (4)
Sun 23 Oct 12:30AM at Kingston Park, Newcastle (Crowd: 3675)
England Men (42) v France Men (18)
Sun 23 Oct 3:00AM at University of Bolton Stadium, Horwich (Crowd: 23648)
New Zealand Men (68) v Jamaica Men (6)
Sun 23 Oct 5:30AM at MKM Stadium, Hull (Crowd: 6829)
Lebanon Men (32) v Ireland Men (14)
Mon 24 Oct 12:30AM at Leigh Sports Village Stadium, Leigh (Crowd: 6007)
Samoa Men (72) v Greece Men (4)
Mon 24 Oct 3:00AM at Eco-Power Stadium, Doncaster (Crowd: 4415)
Tonga Men (32) v Wales Men (6)
Tue 25 Oct 5:30AM at Totally Wicked Stadium, St Helens (Crowd: 7752)
Papua New Guinea Men (32) v Cook Islands Men (16)
Wed 26 Oct 5:30AM at Halliwell Jones Stadium, Warrington (Crowd: 6273)
Week 1 aggregate: 95,243
Week 1 match average: 11,905
Week 2 aggregate: 68,875
Week 2 match average: 8,609
Tournament aggregate: 164,118
Tournament match average: 10,257
---
Next week - Pool Matches Week 3
New Zealand Men v Ireland Men
Sat 29 Oct 5:30AM at Headingley Stadium, Leeds
England Men v Greece Men
Sun 30 Oct 12:30AM at Bramall Lane, Highfield
Fiji Men v Scotland Men
Sun 30 Oct 3:00AM at Kingston Park, Newcastle
Australia Men v Italy Men
Sun 30 Oct 5:30AM at Totally Wicked Stadium, St Helens
Lebanon Men v Jamaica Men
Sun 30 Oct 11:00PM at Leigh Sports Village Stadium, Leigh
Tonga Men v Cook Islands Men
Mon 31 Oct 1:30AM at Riverside Stadium, Middlesborough
Samoa Men v France Men
Mon 31 Oct 4:00AM at Halliwell Jones Stadium, Warrington
Papua New Guinea Men v Wales Men
Tue 1 Nov 6:30AM at Eco-Power Stadium, Doncaster