Results and Scorers:
RLWC 2021 WRAP: Pool Matches - Week 3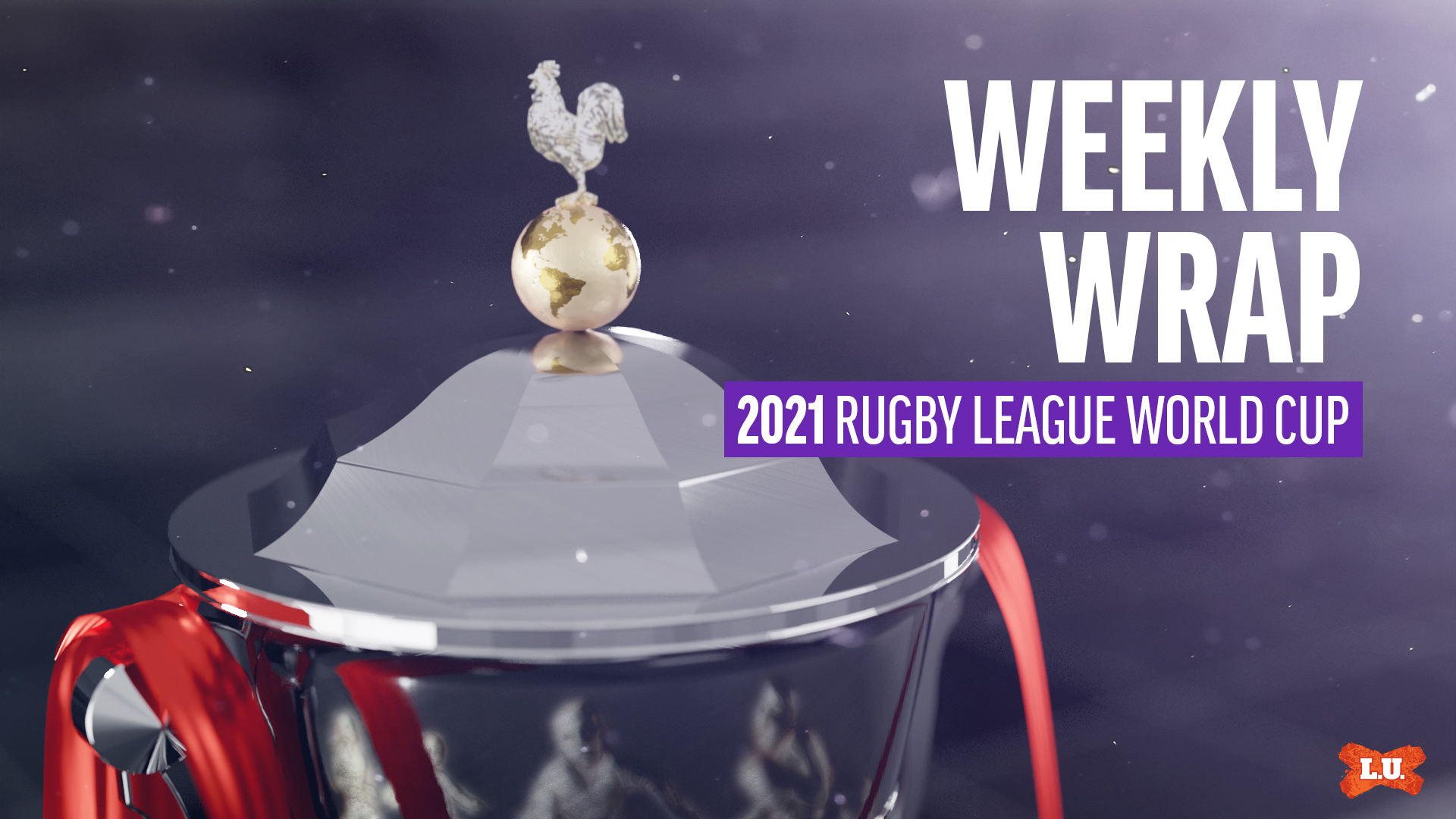 As the Week 3 of the Men's Rugby League World Cup unfolds, here's your one-stop shop for results, reports and tables from each match and group.
All listed times are AEST (NSW/QLD/VIC/ACT) - subtract 10 hours for BST (UK local time). All matches are broadcast live on Fox League & Kayo Sports in Australia, and on BBC & the RLWC App in the UK.
---
RELATED: See the full list of 2022 2021 Men's Rugby League World Cup Draw and Results.
---
New Zealand Men 48
Ireland Men 10
Group C
Venue: Headingley Stadium, Leeds
Crowd: 14044
Date: Saturday 29 October 2022 at 5:30am
NEW ZEALAND MEN (48)
Tries: Jahrome Hughes (2), Jordan Rapana (2), Peta Hiku (2), Ronaldo Mulitalo, James Fisher-Harris, Kenny Bromwich, Joseph Manu
Conversions: Jordan Rapana (2/4), Dylan Brown (2/6)

IRELAND MEN (10)
Tries: Louis Senior (2)
Conversions: Ed Chamberlain (0/2)
Penalty Goals: Ed Chamberlain (1/1)

Hughes masterclass leads NZ over Ireland
Justin Davies | October 29 2022 7:23AM
New Zealand topped Group C with a 48-10 win against a gallant Ireland side in their final pool game at Headingley. 
Back in the side and in form, Jahrome Hughes was the undisputed star of the game, scoring twice and setting up a handful of tries in a thrashing by New Zealand who qualify as the top side in Group C. 
It was a willing start from both sides, and Ireland were the first team to hit the scoreboard. After a strip in the tackle, Ed Chamberlain piloted through a penalty goal to make it 2-0. 
New Zealand were a bit sloppy with the ball but once they found their rhythm, they took the lead. Jahrome Hughes sliced through the Ireland defence and touched down close to the sticks for 6-2. 
The Storm halfback showed all the skills in the first half with a pair of assists from the boot. The first was some lovely vision to spy Jordan Rapana all alone on the wing to stretch their advantage to ten. 
He went high for the first one then it was a low kick from Hughes for New Zealand's third. He stabbed through a kick for Cowboys back Peta Hiku to chase down and build a healthy lead for the Kiwis headed towards the half hour mark. 
Ireland showed in several raids on the right that they weren't going to wilt easily. Their first four-pointer came through a Louis Senior intercept on the right edge to make it 16-6 and bring the crowd back into the contest. 
There was a whiff of deja vu for New Zealand in their fourth try. Hughes and Hiku combined again, this time through the hands for the latter to make it a double and make it 20-6 and New Zealand on course to top the group. 
The Wolfhounds were handed a lifeline in the first half when Jared Wearea-Hargreaves was sin binned for a swinging arm on an Irish player. New Zealand showed their class from a broken play for Ronaldo Mulitalo to make it an 18 point lead at the break. 
Once again, errors and discipline cost Ireland. They gave away a penalty close to their own line and New Zealand pounced. It was a quick backline move and Rapana picked up his second while somehow not hitting the sideline. 
James Fisher-Harris was the next Kiwi to get on the board. From a penalty tap, it was an inside ball and the Panthers forward had the easiest passage to the tryline and confirm an undefeated round robin for New Zealand. 
Hughes capped off his man of the match display and became the third New Zealand player to score a double. It was another slicing solo effort as he crashed over against the padding then was given an early mark by coach Mark McGuire. 
It was party time for New Zealand. Kieran Foran in his first meaningful contribution since coming on, piloted a kick right on the spot and it was fumbled by the Ireland defence for Kenny Bromwich to profit. 
Just adding to the doubles party, Ireland back Louis Senior got his second. Joe Keyes kicked early in the count which saw Senior chase until the end and profit from an error from Mulitalo to make it 42-10. 
Joseph Manu put the icing on the win for New Zealand and got himself on the scoresheet. He pushed through some tired Ireland defence and strolled towards the line and made it 48-10 for the top ranked side. 
LeagueUnlimited.com Players of the Match:
3 points - Jahrome Hughes
2 points - Dylan Brown
1 points - James Fisher-Harris
---
England Men 94
Greece Men 4
Group A
Venue: Bramall Lane, Highfield
Crowd: 18760
Date: Sunday 30 October 2022 at 12:30am
ENGLAND MEN (94)
Tries: Matty Lees, Marc Sneyd, Dominic Young (4), Ryan Hall (2), Andy Ackers (2), Thomas Burgess (2), George Williams, Tom Makinson, Joe Batchelor, Kai Pearce-Paul, Mike McMeeken
Conversions: Marc Sneyd (13/17)

GREECE MEN (4)
Tries: Siteni Taukamo
Conversions: Lachlan Ilias (0/1)

England show their class trouncing brave Greece
AJ Lucantonio | October 30 2022 2:19AM
England has shown that they are a force to be reckoned with in this World Cup, trouncing Greece by 94-4 at Bramall Lane in Sheffield. 
It was billed as a battle of David and Goliath before kick-off and as was mentioned several times in the broadcast. It was a game that showcased how far Greek rugby league had come to be on the world stage.
Any slight opportunity would be taken for granted by the English side and it didn't take long for the three lions to show their dominance. An error coming out of yardage from Nick Flocas gave England their first attacking opportunity, from there they took advantage of an injured Greek player and it was Marc Sneyd who found Matty Lees to cross for the first try of the contest. Greece had some ball down England's end, but the English defence held their own.
Despite a brief resistance from the Greek defence, their errors in their own end were their ultimate undoing. Off the scrum, it was a clever offload from Jack Welsby who found John Bateman who delivered a suspect final pass to Dom Young who crossed for his fifth try of the tournament to give the three lions an early 10-0 cushion. However, it was the Greeks that delivered the moment of the match when their possession finally delivered into their sole try of the first 40. It was a clever pass selection from Jordan Meads who drew Kai Pearce-Paul at blanks and Siteni Taukamo crashed over to score.
However, the last fifteen minutes of the match were a horror movie for Greece and England ran absolutely riot. George Williams turned provider when a lovely cut-out pass allowed Young to score in the corner. Off the ensuing set, Ryan Hall finished off a great set-play when Sneyd's kick was well-weighted to allow the winger to cross.
Despite some great Greek defence, the class of England shone through crossing four times in the last eight minutes. Tom Burgess crashed over off a lovely inside ball from Williams, then Dom Young crossed twice in as many minutes to complete a first half quintuple. Right on the break, Williams backed up forward Chris Hill to allow England to lead by 40 points at the change of ends.
England were first to score in the second half after a bizarre passage of play. Sneyd kicked early, but the ball missed everybody, the Greek players unfortunately missed the ball and Tom Makinson was jolly on the spot as the three lions were passed the half century. Eight minutes later, Bateman burst straight through to find Sneyd and England were over for their tenth try. Despite their great efforts in defence, Greece were unable to stop England for long, Burgess crossed for his second from relative point blank range.
Off a Greek error coming out of yardage, it was a great pass from Sneyd to find Hall to cross for his second try. Despite showing early rust, England were at their ruthless best. Sneyd showed coach Shaun Wane why he should be considered for the top squad when he found debutant Joe Batchelor to cross. Four minutes later, Andy Ackers caught Greece asleep and raced away to give England a 78-4 lead with just under 12 to play.
Debutant Kai Pearce-Paul joined the scorers when he barged over from close range. Another great team try saw Ackers cross for his second try and the margin was out to 84 points. The pain continued when Young found Mike McMeeken and the margin got out to 90 points. The video referee found an English player offside and denied the three lions a chance at the century. 
---
Fiji Men 30
Scotland Men 14
Group B
Venue: Kingston Park, Newcastle
Crowd: 6736
Date: Sunday 30 October 2022 at 3:00am
FIJI MEN (30)
Tries: Taniela Sadrugu, Viliame Kikau, Henry Raiwalui, Maika Sivo, Korbin Sims
Conversions: Brandon Wakeham (5/5)

SCOTLAND MEN (14)
Tries: Lachlan Walmsley, Ben Hellewell, Bayley Liu
Conversions: Lachlan Walmsley (0/2), Kyle Schneider (1/1)

Complacent Fiji down tenacious Scotland
AJ Lucantonio | October 30 2022 4:51AM
An at-times complacent Fiji Bati has booked their place in the quarter-finals by defeating a gallant Scotland side by 30-14 in their final group stage match at Kingston Park in Newcastle.
Fiji had it all to play for in this clash, as they were desperate to not have to wait on other results to be assured of their place in the next round.
They got off to a perfect start as they placed sustained pressure on the Scotland line. Despite some initial resistance. It wasn't long before the Bati crossed for the first time. Taniela Sadrugu continued from where he left off against Italy when he crashed over to score inside the first five minutes. The Bati were guilty of showing a touch of complacency in the opening stages, leaving several scoring opportunities behind in the early going.
Eventually, the might of the forward proved to be too much and it allowed the stars to shine. Henry Raiwalui showed and fooled everyone in Newcastle as he burst through. He then found Villiame Kikau and the big Fijian crossed to extend the margin to 12. Despite having all of the possession, Raiwalui's pass was intercepted by Lachlan Walmsley and the sole try scorer for the Brave Hearts had his second of the tournament to reduce the gap to eight points.
Fiji could say they were on the end of a poor video referee decision when Sunia Turuva was denied a try in the twenty-fourth minute. While the replay showed the ball touching the ground, video referee James Child said he couldn't overturn the on-field decision.
Scotland was able to stem the bleeding until five minutes before the break when Brandon Wakeham's kick was spilled by Walmsley, the ball then ended up in the arms of Raiwalui to cross for the Bati.  But an error from the Bati gave the Bravehearts a big chance on the stroke of the break. From there it was a clever kick from makeshift five-eighth James Bell which found his man in Ben Hellewell and the Scottish side was right in this game at half-time to trail by just 10.
Scotland started the second half in disastrous fashion as Luke Bain hit Turuva with a lazy high shot and the referee dispatched Bain to the sin bin for 10 minutes. Eventually, Fiji made the Bravehearts pay for their lack of discipline as Kikau combined with Maika Sivo to cross in the left corner. However, the Bravehearts capitalised on a Kikau error and Bayley Liu capitalised on some sloppy Bati defence up the other end to score for Scotland.
The match was threatening to boil over and there were a number of push and shoves. The Fijians were incensed by a second high shot on their little fullback as Walmsley took Turuva high. Walmsley was sent to the sin bin for his high shot, but he was joined by Kikau for his part in the melee. Fiji calmed down quickly and it was cult hero Korbin Sims who crashed over to seal an unconvincing victory for the Bati.
Fiji will now advance into the quarter-finals where they'll go head-to-head with New Zealand. Scotland was better in this fixture, although as we've said with all the European nations. They will benefit from consistent international footy.
LeagueUnlimited.com Players of the Match:
3 points - Sunia Turuva
2 points - James Bell
1 points - Henry Raiwalui
---
Australia Men 66
Italy Men 6
Group B
Venue: Totally Wicked Stadium, St Helens
Crowd: 5586
Date: Sunday 30 October 2022 at 5:30am
AUSTRALIA MEN (66)
Tries: Valentine Holmes, Murray Taulagi (2), James Tedesco, Campbell Graham (2), Latrell Mitchell, Isaah Yeo, Liam Martin, Cameron Murray, Jeremiah Nanai, Lindsay Collins
Conversions: Nathan Cleary (9/12)

ITALY MEN (6)
Tries: Ronny Palumbo
Conversions: Jack Campagnolo (1/1)
Australia big winners over Italy despite sloppy performance
Adam Huxtable | October 30 2022 4:08PM
By their own high standards it was a poor, sloppy performance by the Kangaroos, however that didn't stop them demolishing Italy to the tune of a 66-6 scoreline.
It took 7 minutes before the Green and Gold were able to get on the board, with Daly Cherry-Evans assisting the try for Valentine Holmes. Four minutes later, Australia scored again, with Taulagi getting over in the corner untouched. Cleary missed both conversions, meaning the score was 8-0 after thirteen. 
Italy's defence was sound, turning Australia away on consecutive occasions, however they couldn't maintain that class on both sides of the ball, coughing it up and allowing James Tedesco to dummy his way over for an easy try in the ensuing set. 
Australia were eventually able to force a dropout, and Italy gave an example of the dangers of short restarts, when Campbell Graham leapt through the air to catch the ball and continue to the tryline as if there were a red carpet set out for him. 
On Australia's next trip to the attacking zone, Latrell Mitchell was given early ball and was simply too strong for the Italians, barging his way over them to extend the lead to 24. Another great play from Mitchell - a no look flick pass - allowed Taulagi to cross for his second right on half time. 
It took 6 second half minutes for Australia to get the ball rolling again, with Tedesco making a line break and passing inside to Cherry-Evans, who did well to get an arm free and offload to Isaah Yeo in support, who went over for the try. Three minutes later, Liam Martin ran through a huge hole in the defensive line to go 20 metres for a try. 
The moment of the match came in the 54th minute off the back of a successful short restart by the Italians. They were on the attack and halfback Radean Robinson put a grubber in behind Australia's defensive line for his backrower Ronny Palumbo, who won the race to the ball and grounded it with one hand. 
Unfortunately the joy was short lived, Australia got a set restart on their next possession and Tino Faasuamaleaui set up Cameron Murray for an easy try close to the line. Campbell Graham, Jeremiah Nanai and Lindsay Collins all scored equally as simple tries in the final 10 minutes to give us the final score of 66-6. 
Next week, Australia will face Lebanon in a do or die quarter final matchup, while it's curtains for Italy in the 2021 Rugby League World Cup.
LeagueUnlimited.com Players of the Match:
3 points - Latrell Mitchell
2 points - James Tedesco
1 points - Daly Cherry-Evans
---
Lebanon Men 74
Jamaica Men 12
Group C
Venue: Leigh Sports Village Stadium, Leigh
Crowd: 5006
Date: Sunday 30 October 2022 at 11:00pm
LEBANON MEN (74)
Tries: Mikey Tannous, Abbas Miski (2), Elie El Zakhem, Reece Robinson, Khaled Rajab, Charbel Tasipale (2), Josh Mansour (3), Adam Doueihi, Tony Maroun
Conversions: Mitchell Moses (7/7), Adam Doueihi (4/6)

JAMAICA MEN (12)
Tries: Mo Agoro, Jorge Andrade
Conversions: James Woodburn-Hall (1/1), Kieran Rush (1/1)
Jamaica steal the show despite lopsided result against determined Lebanon
AJ Lucantonio | October 31 2022 12:53AM
Jamaica has stolen the show by scoring two memorable tries in their final World Cup match against Lebanon, despite going down by their biggest margin in this tournament, 74-12 in Leigh this afternoon.
It was a great chance to show how far Jamaica have come in the last three weeks and they were hellbent on showing that they weren't here to make up the numbers. Their unpredictable short kickoff was recovered and were harshly adjudicated by the video referee on the next set of six. A clever kick from Kieran Rush found Kieran Tomlinson, but was ruled to have been held up, although the lack of replays in Leigh may have robbed the Reggae Warriors.
Unfortunately, you need to take your chances in this great game of rugby league and Jamaica was made to pay down their leaky edges. Mitch Moses shows and goes to break through the Jamaican left edge defence before finding Mikey Tannous who crossed for the opening try. Off a penalty, the Cedars were able to march right up field and Abbas Miski cut underneath a lovely pass from Khaled Rajab and it was ominous signs for Jamaica. Adam Doueihi burst through finding Elie El Zakhem and it was 18-0 after 13 minutes of play.
Lebanon added a fourth try on the ensuing set when Rajab split them open down the left and then unselfishly found the elder statesman in Reece Robinson who crossed for their fourth try in 15 minutes. Despite a brief Jamaican resistance, points were never far away. Doueihi was pulling the Lebanese attack in multiple directions and it wasn't long before he broke through again. He linked up with Rajab to cross for a well-deserved try.
Charbel Tasipale crossed for his first try after a break down the sideline from Miski and the score was becoming very very ugly. Off the ensuing set, Lebanon put it through the hands and Josh Mansour crashed over in the right corner. Jamaica had their chances in Lebanon's end but was incredibly unlucky to come up with no points and Lebanon had a 42-0 lead at the change of ends. Lebanon has a nervous wait leading into their quarter-final against Australia when Jaxson Rahme hit the Jamaican halfback with late and excessive force, if charged, Rahme could miss the QF.
Despite some early resistance and Mitch Moses receiving an early mark. Lebanon continued on their merry ways in the second half as Doueihi crashed over from short range. But, the second half did have a magic moment when a set play failed to fire for the Cedars and Jamaican winger Mo Agoro scooped it up to race away and cross for the Reggae Warriors second ever World Cup try and the margin was reduced to 40.
With Lebanon continuing to charge, there was little the Jamaican side could do but hang on for dear life. Eventually, the pressure took its toll and Tasipale crossed for his second try breaking through two would-be tackles and the Cedars hit the half-century. Jamaica was reduced to twelve men when Michael Lawrence was sin-binned for a professional foul and the Cedars didn't waste the extra man advantage.
Test debutant Tony Maroun capped the special milestone by crossing in the left corner. Two minutes later, James Woodburn-Hall's pass was intercepted by Mansour and the experienced winger raced away to cross for his second and bring up sixty points for the Cedars. Jamaica did what many thought was unthinkable and scored while being down to twelve men. Jy-Mel Coleman's grubber was played at, it was then kicked again by Joel Farrell and then he passed it to big Jorge Andrade who crashes over and Jamaica reduced the margin. It wasn't reduced for long as Doueihi's pass found Mansour on the chest to complete his hattrick with an acrobatic finish in the corner to lead by 56 points. Lebanon finished with a memorable try as Doueihi went for a chip and chase, he then kicked the ball back in play without going into touch and Miski won the race to score and bring up the 70-point mark.
Lebanon now has their toughest test, a quarter-final date with the World Champions in Australia on Saturday morning (AEDT time). While for Jamaica, they've captured our hearts and done their jersey and country proud, achieving things many didn't imagine would occur in the past three weeks. Hopefully, with sustained international football between now and the 2025 World Cup, the Reggae Warriors will be even stronger as they look to qualify for France 2025. 
LeagueUnlimited.com Players of the Match:
3 points - Adam Doueihi
2 points - Khaled Rajab
1 points - Ashton Golding
---
Tonga Men
Cook Islands Men
Group D
Venue: Riverside Stadium, Middlesborough
Crowd: 8342
Date: Monday 31 October 2022 at 1:30am
TONGA MEN (92)
Tries: Daniel Tupou (2), Isaiya Katoa, Jason Taumalolo (2), Tesi Niu (3), Viliami Penisini (4), Tuimoala Lolohea (2), Felise Kaufusi, Talatau Amone
Conversions: Isaiya Katoa (14/16)

COOK ISLANDS MEN (10)
Tries: Steven Marsters, Tinirau Arona
Conversions: Steven Marsters (0/1), Tinirau Arona (1/1)
Tremendous Tonga crush Cook Islands
Justin Davies | October 31 2022 3:20AM
Tonga have completed their biggest win in Mens Internationals with a 92-10 success against Cook Islands in Middlesborough on Sunday.
The tone was set from the start with a try within 60 seconds, then Tonga just kept pace with the clock and ran in 16 tries to two in the rout. Five Tongan players scored multiple tries in the crushing win. 
Tonga set the standard right from kick-off. They just went the length of the field on the first set of the game which ended with Daniel Tupou diving over in the left corner and Isayia Katoa missed his only conversion of the half. 
Next it was a return with a bang for Jason Taumalolo. The Cowboys forward showed power to brush off several Cook Islands defenders before he slammed it down then it was poised when he scooped up a loose ball to stretch the advantage to 16. 
Doubles were the name of the first half. Three Tonga players scored twice in a half where Tonga led 52-0 going into oranges. Broncos fullback Tesi Niu showed off his support skills to stride away twice for a pair of tries.
The other Tongan player to touch down twice was Viliame Penisini. His first was from a no-look kick from Soni Luke then the second was a penalty try which was awarded after a Kukis defender took him out without the ball. 
Tui Lolohea started and finished a move which saw the half kick twice and chase through for a four-pointer. Felise Kaufusi touched down for the ninth try of the half when he ran a good line to stroll through the defence. 
They picked up where they left off in the first half. Isaiya Katoa who kicked eight goals in the first half, got into the try-scoring action. He finished off a move on last tackle to dive over.
Next it was a pair of hat-tricks for a tremendous Tonga side. First Niu completed his with a wonderful support run after Moses Suli just bamboozled the defence then Penisini snatched a pass intended for Ben Murdoch-Masila off a long break to get his trifecta. 
The try-scoring was just continous from a Tonga team which were relentless in Middlesborough. Lolohea snuck down the blindside for his second then Tupou danced over from close range to make it 80-0. 
Cook Islands weren't kept to nil in the huge defeat. After a few sets of pressure, they spun it right and Steven Marsters just got the ball down before he hit the sideline. It was reviewed by the video and given a huge cheer by the crowd when confirmed.
There were two tries left in the Tongan attack tonight. Penisini added another to his impressive display then Dragons five-eighth Talatau Amone finished off another long break from Tonga to make it 92-4. 
The game finished on a wonderful moment for Tinirau Arona in his final game. Brad Takairangi was on hand to take an interception. He strolled to the line and found Arona who gets the four-pointer. He then added the conversion in a 92-10 game.
LeagueUnlimited.com Players of the Match:
3 points - Jason Taumalolo
2 points - Tuimoala Lolohea
1 points - Moses Suli
---
Samoa Men 62
France Men 4
Group A
Venue: Halliwell Jones Stadium, Warrington
Crowd: 6756
Date: Monday 31 October 2022 at 4:00am
SAMOA MEN (62)
Tries: Tim Lafai (2), Brian To'o (2), Taylan May (4), Anthony Milford (2), Chanel Harris-Tavita
Conversions: Stephen Crichton (9/11)

FRANCE MEN (4)
Tries: Fouad Yaha
Conversions: Arthur Mourgue (0/1)
Strong Samoa thrash France to book Tonga clash
Lachlan McIntyre | October 31 2022 6:21AM
Samoa have run out 62-4 victors in Warrington against a disappointing French side.
The win locks them in at second place in group A, and following Tonga's thrashing of the Cook Islands earlier in the day we will see a mouthwatering Tonga v Samoa quarter-final fixture next week.
After such a dreadful start to their world cup campaign, Samoa have bounced back with style, with their side looking very strong on both sides of the ball against France. In a fiery clash, France couldn't keep with Samoa for long, and the scoreboard threatened to get even uglier at certain points in the match.
An early try for Tim Lafai set the tone for the evening/morning. A Luai grubber found its mark perfectly, and Crichton kicked his first conversion of many to give his team a 6-0 lead in the 4th minute. The game settled down a little, and despite Samoa being well on top territory wise, when France shifted the ball early on in their sets they looked threatening.
France got their first attacking opportunity of the night in the 15th minute when a six again and a penalty helped them downfield. Some great cover defence from Samoa prevented Romano from crossing on the right edge. But France couldn't back up the positive signs, and they gave away two new sets for Samoa in the next minute, which ultimately led to Samoa extending their lead.
This time it was Brian To'o who crossed the stripe for Samoa, with their whole backline linking up to give him plenty of space on the right edge to stroll over. In their set after points, France gave away another six again call, and suddenly Samoa looked unstoppable. It was their other winger, May, who crossed, and following the successful conversion Samoa led 16-0.
After withstanding some more Samoan pressure, France suddenly found themselves with some field position. Making use of a penalty, they forced one, two, then three dropouts through perfectly weighted kicks and some patient, pressure-building attack. Forced to defend for a solid seven or eight minutes, the Samoan defence held strong in good signs for them. Finally, a poor Gigot kick released the pressure valve, and Samoa were rewarded with a 20m tap.
May crossed for his second of the night in the 35th minute, and then his third on the stroke of half-time, both off the back of good hands and speed from the Samoan backline. Going into the break, it was Samoa with the 28-0 lead, and the French side looked quite disheartened heading into the sheds.
It wasn't long before May crossed for his fourth, with the winger diving over after some good offloading from Luai in the 45th minute. Then it all imploded for France, with the team clearly offside from their kick-off, and gifting Samoa a midfield penalty. They didn't need many plays to cross the stripe again, with To'o scoring his second of the night in the 48th minute.
France got on the board in the 53rd minute, with a penalty and a dropout helping them apply pressure before an awkward grubber was grounded by Yaha. A 40/20 kick from Tony Gigot kept the French pressure on, but they couldn't find more points. Samoa's defence was outstanding all night, and has improved significantly since their opening match.
Milford crossed in the 63rd minute for Samoa after a very long and disjointed video referee process. Lafai then made it 50 just minutes later, and then a somewhat lucky try for Chanel Harris-Tavita in the 70th minute increased the Samoan lead to 52 points. Milford got his double after being named as the starting halfback only an hour out from the game, with the final scoreline 62-4. 
All eyes are on the upcoming Samoa v Tonga do-or-die clash, but for France their tournament is over. They will host the 2025 world cup, and they have some rebuilding to do before then if they would like to be competitive at a home tournament.
LeagueUnlimited.com Players of the Match:
3 points - Jarome Luai
2 points - Taylan May
1 points - Brian To'o
---
Papua New Guinea Men 36
Wales Men 0
Group D
Venue: Eco-Power Stadium, Doncaster
Crowd: 6968
Date: Tuesday 1 November 2022 at 6:30am
PAPUA NEW GUINEA MEN (36)
Tries: Kyle Laybutt, Nixon Putt (2), Jimmy Ngutlik (2), Daniel Russell
Field Goals:
Two Point Field Goals:
Conversions: Rhyse Martin (6/6)
Penalty Goals:
WALES MEN (0)
Papua New Guinea cruise past Wales to confirm Quarter Final berth
Adam Huxtable | November 1 2022 7:49AM
Papua New Guinea will roll into their quarter final matchup against England off the back of a victory, comfortably handling business against Wales to the tune of 36 points to nil.
It all opened up for Kyle Laybutt in the 7th minute, the five-eighth spotting a gaping hole in the defensive line, throwing a dummy and going straight through it for the opening points of the match.
It was beginning to look ominous for Wales when PNG found themselves in attacking position just 4 minutes later, and Nixon Putt was able to easily crash his way over the line standing very shallow at first receiver. 
Wales came close to hitting back in the 22nd minute, with winger Kyle Evans getting a dream bounce from a crossfield kick into the in goal, but he couldn't hold onto the ball in the wet conditions. PNG made them pay, with Jimmy Ngutlik spotting a hole and accelerating through it on play 2 of the resultant 7 tackle set, going 70 metres to put a dagger through the Welsh hearts. 
Wales' defence close to the line continued to be sub-par, with Daniel Russell running hard and breaching it with ease to reach out and score the try. It was all she wrote scoring wise for the first half, the Kumuls taking a 24-0 lead into the sheds. 
Papua New Guinea's defence was perhaps even better than their attack, a statement which was certainly correct in the second half as they scored only two tries but defended what felt like about 15 sets close to the line. 
The first of those two tries came in the 47th minute. Wales themselves were doing a good job of repelling the Kumuls attack for a change, but eventually they just ran out of gas, with Nixon Putt cutting through for his second try of the match. 
It was a very sloppy affair from about the 50th minute until full time. The rain kept on pouring down resulting in poor mistakes from both teams, particularly PNG, who finished with just a 68% completion rate.
Despite the ample opportunity, Wales couldn't take advantage and put points on the board. The closest they came was when Kyle Evans lost the ball over the line in the 76th minute. 
The Kumuls put the icing on the cake with 2 minutes to go, Kyle Laybutt's kick being allowed to bounce and Jimmy Ngutlik was there to regather the ball and score his second try.
Wales had one last throw of the dice after a successful short kickoff, but it was to no avail as Papua New Guinea won by 36. 
It brings the Welsh world cup campaign to an end, while Papua New Guinea will face England in a quarter final next week.
LeagueUnlimited.com Players of the Match:
3 points - Nixon Putt
2 points - Jimmy Ngutlik
1 points - Kyle Laybutt
---
Group standings
The top two nations in each group proceed to the Quarter Finals.
Group A
| | | | | | | | | | |
| --- | --- | --- | --- | --- | --- | --- | --- | --- | --- |
| Pos | Nation | P | W | D | L | F | A | Diff | Pts |
| 1 | ENG | 3 | 3 | 0 | 0 | 196 | 28 | +168 | 6 |
| 2 | SAM | 3 | 2 | 0 | 1 | 140 | 68 | +72 | 4 |
| 3 | FRA | 3 | 1 | 0 | 2 | 56 | 116 | -60 | 2 |
| 4 | GRE | 3 | 0 | 0 | 3 | 20 | 200 | -180 | 0 |
Group B
| | | | | | | | | | |
| --- | --- | --- | --- | --- | --- | --- | --- | --- | --- |
| Pos | Nation | P | W | D | L | F | A | Diff | Pts |
| 1 | AUS | 3 | 3 | 0 | 0 | 192 | 14 | +178 | 6 |
| 2 | FIJ | 3 | 2 | 0 | 1 | 98 | 60 | +38 | 4 |
| 3 | ITA | 3 | 1 | 0 | 2 | 38 | 130 | -92 | 2 |
| 4 | SCO | 3 | 0 | 0 | 3 | 18 | 142 | -124 | 0 |
Group C
| | | | | | | | | | |
| --- | --- | --- | --- | --- | --- | --- | --- | --- | --- |
| Pos | Nation | P | W | D | L | F | A | Diff | Pts |
| 1 | NZL | 3 | 3 | 0 | 0 | 150 | 28 | +122 | 6 |
| 2 | LEB | 3 | 2 | 0 | 1 | 118 | 60 | +58 | 4 |
| 3 | IRE | 3 | 1 | 0 | 2 | 72 | 82 | -10 | 2 |
| 4 | JAM | 3 | 0 | 0 | 3 | 20 | 190 | -170 | 0 |
Group D
| | | | | | | | | | |
| --- | --- | --- | --- | --- | --- | --- | --- | --- | --- |
| Pos | Nation | P | W | D | L | F | A | Diff | Pts |
| 1 | TON | 3 | 3 | 0 | 0 | 148 | 34 | +114 | 6 |
| 2 | PNG | 3 | 2 | 0 | 1 | 86 | 40 | +46 | 4 |
| 3 | CKI | 3 | 1 | 0 | 2 | 44 | 136 | -92 | 2 |
| 4 | WAL | 3 | 0 | 0 | 3 | 18 | 86 | -68 | 0 |
For comprehensive historical statistics on the Rugby League World Cup, make sure you check out Rugby League Project.
---
Match Review
Following the recent rounds of the RLWC2021 Match Review Panel which took place on 30 and 31 October, the following sanctions have been issued:
Jared Waerea Hargreaves (New Zealand): Grade A High Tackle,1 Match Penalty Notice
James Bell (Scotland): Grade A Dangerous Contact, 1 Match Penalty Notice
The deadline to challenge the decisions is 11am on Monday 31 October.
The following players received cautions:
Jahrome Hughes (New Zealand) - Other Contrary Behaviour
The deadline to challenge this decision is 11am on Monday 31 October.
Jaxson Rahme (Lebanon) - Dangerous Contact
The deadline to challenge this decision is 11am on Tuesday 1 November.
---
Player of the Tournament leaderboard
Our LeagueUnlimited volunteer writers assign 3-2-1 points after each match:
6 points - Jarome Luai (Samoa)
5 points - Josh Addo-Carr (Australia), Edwin Ipape (Papua New Guinea)
4 points - Luke Keary (Ireland), Adam Doueihi (Lebanon), Khaled Rajab (Lebanon), Victor Radley (England)
3 points - Viliame Kikau (Fiji), Marc Sneyd (England), Arthur Mourgue (France), Jahrome Hughes (New Zealand), Daniel Tupou (Tonga), Rodrick Tai (Papua New Guinea), Jonathon Ford (Cook Islands), Nixon Putt (Papua New Guinea), Dallin Watene-Zelezniak (New Zealand), Sunia Turuva (Fiji), Nathan Brown (Italy), Jason Taumalolo (Tonga), Mitchell Moses (Lebanon), George Williams (England), Latrell Mitchell (Australia), Cameron Munster (Australia), Joseph Manu (New Zealand)
2 points - David Fifita (Tonga), Stephen Crichton (Samoa), James Bell (Scotland), Taylan May (Samoa), Jimmy Ngutlik (Papua New Guinea), Tuimoala Lolohea (Tonga), James Tedesco (Australia), Dominic Young (England), Dylan Brown (New Zealand), Peta Hiku (New Zealand), Jack Wighton (Australia), Keaon Koloamatangi (Tonga), Jack Campagnolo (Italy), Matty Fozard (Wales), Richie Myler (Ireland), Kenny Bromwich (New Zealand), Jack Welsby (England), Benjamin Jullien (France), John Bateman (England), Penioni Tagituimua (Fiji)
1 point - Ashton Golding (Jamaica), Moses Suli (Tonga), Brian To'o (Samoa), Harry Grant (Australia), Kyle Laybutt (Papua New Guinea), Radean Robinson (Italy), Daly Cherry-Evans (Australia), James Bentley (Ireland), Tolutau Koula (Tonga), Vuate Karawalevu (Fiji), Lachlan Lam (Papua New Guinea), Siosifa Talakai (Tonga), Joseph Suaalii (Samoa), Ben Jones-Bishop (Jamaica), Nathan Cleary (Australia), James Fisher-Harris (New Zealand), Henry Raiwalui (Fiji), Herbie Farnworth (England), Thomas Burgess (England), Steven Marsters (Cook Islands), Benjamin Garcia (France)
---
Crowds
Week 3
New Zealand Men (48) v Ireland Men (10)
Sat 29 Oct 5:30AM at Headingley Stadium, Leeds (Crowd: 14044)
England Men (94) v Greece Men (4)
Sun 30 Oct 12:30AM at Bramall Lane, Highfield (Crowd: 18760)
Fiji Men (30) v Scotland Men (14)
Sun 30 Oct 3:00AM at Kingston Park, Newcastle (Crowd: 6736)
Australia Men (66) v Italy Men (6)
Sun 30 Oct 5:30AM at Totally Wicked Stadium, St Helens (Crowd: 5586)
Lebanon Men (74) v Jamaica Men (12)
Sun 30 Oct 11:00PM at Leigh Sports Village Stadium, Leigh (Crowd: 5006)
Tonga Men (92) v Cook Islands Men (10)
Mon 31 Oct 1:30AM at Riverside Stadium, Middlesborough (Crowd: 8342)
Samoa Men (62) v France Men (4)
Mon 31 Oct 4:00AM at Halliwell Jones Stadium, Warrington (Crowd: 6756)
Papua New Guinea Men (36) v Wales Men (0)
Tue 1 Nov 6:30AM at Eco-Power Stadium, Doncaster (Crowd: 6968)
Week 3 aggregate: 72,198
Week 3 match average: 9,025

Week 1 aggregate: 95,243
Week 1 match average: 11,905
Week 2 aggregate: 68,875
Week 2 match average: 8,609
Tournament aggregate: 236,316
Tournament match average: 9,846
---
Next week - Quarter Finals
Australia (winner Group B)
v Lebanon (runner up Group C)
Sat 5 Nov 6:30AM at John Smith's Stadium, Huddersfield
England (winner Group A)
v Papua New Guinea (runner up Group D)
Sun 6 Nov 1:30AM at DW Stadium, Wigan
New Zealand (winner Group C)
v Fiji (runner up Group B)
Sun 6 Nov 6:30AM at MKM Stadium, Hull
Tonga (winner Group D)
v Samoa (runner up Group A)
Mon 7 Nov 1:30AM at Halliwell Jones Stadium, Warrington