Results and Scorers:
RLWC 2021 WRAP: Pool Matches - Women's Week 1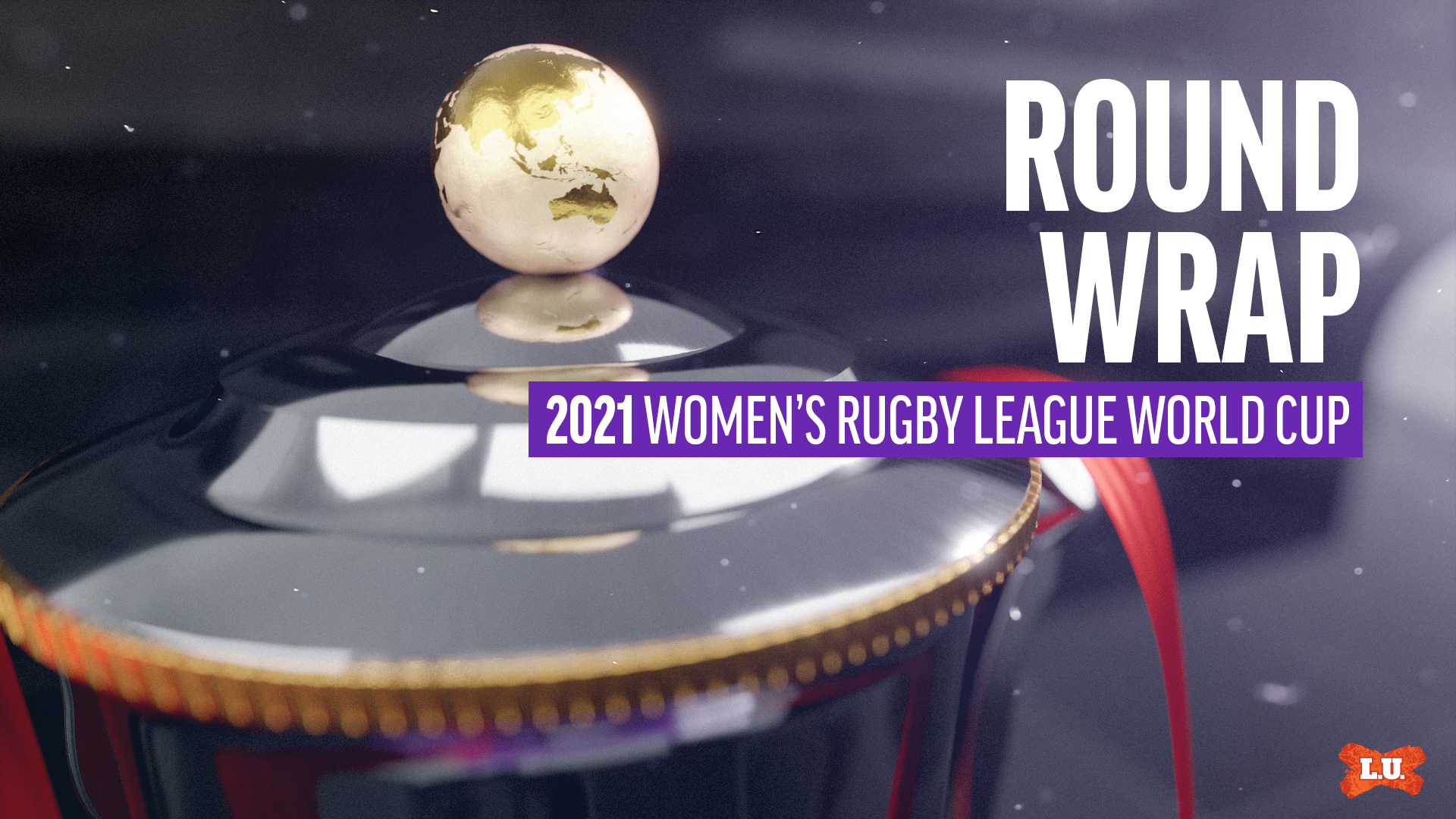 As Week 1 of the Women's Rugby League World Cup unfolds, here's your one-stop shop for results, reports and tables from each match and group.
All listed times are AEST (NSW/QLD/VIC/ACT).
---
RELATED: See the full list of 2022 2021 Women's Rugby League World Cup Draw and Results.
---
England Women 72
Brazil Women 4
Group A
Venue: Headingley Stadium, Leeds
Crowd: 8621 (double header)
Date: Wednesday 2 November 2022 at 1:30am
ENGLAND WOMEN (72)
Tries: Caitlin Beevers, Tara Stanley (2), Courtney Winfield-Hill (3), Grace Field, Amy Hardcastle (3), Francesca Goldthorp, Tara Jones, Leah Burke, Olivia Wood
Conversions: Tara Stanley (8/14)

BRAZIL WOMEN (4)
Tries: Natalia Momberg
Conversions: Patricia Oliveria (0/1)

England romp past Brazil in their opener
Justin Davies | November 2 2022 3:14AM
England have kicked off their World Cup campaign in style with a 72-4 win against debutants Brazil in Leeds. 
They ran in fourteen tries in the one-sided affair. Amy Hardcastle and Courtney Winfield-Hill got hat-tricks while Tara Stanley got a double alongside kicking eight goals in the game but the moment of the game went to Natalia Momberg who got their first ever points. 
England started their World Cup opener with a fervor. The hosts were across the line in the first 60 seconds with Caitlin Beevers diving over on her home ground to make it 4-0. 
They went back to the right side for their second four-pointer. This time, it went to Tara Stanley who dummied past her defender and gave the crowd at Headingley the perfect start to the contest. 
The game had it's sloppy moments in the opening stages, but England once again clicked into gear with Courtney Winfield-Hill sliced through the Brazilian defence and beat the defender to the corner for 12-0. 
Brazil showed at points in the first half, they can trouble the English defence. They created a gap twice on the right side but Amanda Welter was taken over the sideline then another was held up over the line. 
Once again, Winfield-Hill was central to the point-scoring. She brushes through the defence again, again strolled to the try-line and brought it closer for Tara Stanley to convert her first of the afternoon. 
England finished the half with a flourish. Grace Field, Amy Hardcastle and Tara Stanley all crossed to give them a 34-0 advantage. Stanley showed off some slick footwork to pick up her second. 
Coming out of the break, England picked up where they left off. Francesca Goldthorp picked up the scraps to make it 40-0 then Hardcastle was the third England player to score a double with a clean run to the line. 
Brazil got their moment in the second half to score their first points. Patricia Oliveria showed some good slight of hand for an offload which sent Natalia Momberg in for the score at 44-4. 
That was a brief respite in the England point-scoring fest! Hooker Tara Jones scooted over from close range and winger Leah Bourke got her first four-pointer in England colours to add to the scoreline.
There were hat-tricks for both Hardcastle and Winfield-Hill as England past 60 points. Hardcastle just pushed through the line and scored then Winfield-Hill followed up well for her trifecta. 
England finished the game in style, Olivia Wood was another who got her first four-pointer for her national side when she sliced through the defence and Stanley kicked her eighth conversion for 72-4. 
LeagueUnlimited.com Players of the Match:
3 points - Courtney Winfield-Hill
2 points - Amy Hardcastle
1 points - Tara Stanley
---
Papua New Guinea Women 34
Canada Women 12
Group A
Venue: Headingley Stadium, Leeds
Crowd: 8621 (double header)
Date: Wednesday 2 November 2022 at 4:00am
PAPUA NEW GUINEA WOMEN (34)
Tries: Shellie Long, Martha Molowia (2), Ua Ravu, Essay Banu, Belinda Gwasamun, Anika Butler
Conversions: Emily Veivers (2/5), Lilah Malabag (1/2)

CANADA WOMEN (12)
Tries: Petra Woods, Megan Pakulis
Conversions: Dani Frananda (2/2)
Orchids get their World Cup off to a perfect start
AJ Lucantonio | November 2 2022 6:45AM
The Papua New Guinea Orchids have started the Women's Rugby League World Cup in superb fashion with a dominant 34-12 victory over the Canada Ravens at Headingley Stadium in Leeds. 
It was a tough opening twenty minutes where both sides tried to gain the ascendency. As the Orchids continued to camp down the Ravens' end, the pressure eventually took its toll. An effective blind-side raid saw the Orchids take the Ravens' edge to pieces and it was Shellie Long who reaped the benefit of finishing off a tremendous blind-side attack. Canada had some quality ball of their own and made Papua New Guinea pay for some poor clean-up work on the half-hour mark. 
A clever grubber kick wasn't recovered by the Orchids and Petra Woods was on the spot to touch down for Canada, with Dani Frananda converting to give her side a 6-4 lead. The Orchids recovered to take the lead just before the half-time break when fullback Martha Molowia ran over the top of several Canadian defenders and managed to stay in the field of play to cross and give Papua New Guinea a slender 2-point cushion at the half. 
The second half began in spectacular fashion as the Orchids carried on their strong first-half finish into the second stanza. Molowia was causing all sorts of problems and it was her speed that saw her break down the left-hand side, she had way too much pace for the Canadian fullback to touch down for her second try.
Papua New Guinea continued their scoring raid five minutes later when Ua Ravu caught the Ravens' defence asleep out of dummy half and the Orchids were running away with this game. Conceding three quick tries, the Canadians had to be next to score, and just before the hour mark, they were able to hit back when Megan Pakulis took a quick tap and ran through some sloppy Orchids defence and it was game on with twenty minutes to play.
Inside the last twenty minutes, Papua New Guinea was able to cross for three quick tries to seal a 22-point victory. First, Essay Banu crashed over from short range when she was able to beat some fatigued Canadian defenders to extend the margin to eight points. Thirteen minutes later, the Orchids were able to expose the Ravens right-edge defence and created the numbers which saw Belinda Gwasamun crash over the top of Pakulis to seal victory for the Orchids. Two minutes later, Anika Butler rubbed salt into the Canadian wound when she raced down the sideline and outpaced the fullback to secure a first-up victory for Papua New Guinea.
Looking ahead, host nation England, who were convincing first-up winners over Brazil, await Canada in their second pool match, while Papua New Guinea head to Hull to take on Brazil in their second match. 
LeagueUnlimited.com Players of the Match:
3 points - Martha Molowia
2 points - Anika Butler
1 points - Petra Woods
---
New Zealand Women 46
France Women 0
Group B
Venue: LNER Community Stadium, York
Crowd: 3091 (double header)
Date: Thursday 3 November 2022 at 4:00am
NEW ZEALAND WOMEN (46)
Tries: Madison Bartlett, Apii Nicholls, Amber Hall, Roxy Murdoch (2), Katelyn Vaha'akolo (2), Page Mcgregor, Shanice Parker
Conversions: Brianna Clark (4/7), Apii Nicholls (1/2)

FRANCE WOMEN (0)
Kiwi Ferns dominant in World Cup opener
AJ Lucantonio | November 3 2022 6:10AM
The New Zealand Kiwi Ferns were at their dominant best securing a 46-0 victory over a gallant France side at LNER Community Stadium in York this morning.
After a sluggish start which saw both sides shake off the cobwebs, it was the Kiwi Ferns that were able to settle quickest. It was an incredibly resilient opening 20 minutes by the French side which saw them repel the Kiwi Ferns several times. But, once the offloads started happening inside the red zone, there was little the French could do. A clever shift to the left-hand side saw the Kiwi Ferns open the French defence and it was Maddison Bartlett who crossed for the opening try after 23 minutes of play. 
It appeared that try shrugged off any rust that the Kiwi Ferns had brought with them to York this morning, and from there the floodgates were opening at a rapid pace. Five minutes later, a clever grubber kick from Dally M women's player of the year Raecene McGregor was expertly raked in by Apii Nicholls and the signs were ominous for the French side. Just four minutes after that effort, Amber Hall crossed off another gem of a pass from McGregor to put it down right under the posts and assert their dominance in this contest.
Despite the weight of possession against them in the final 15 minutes of the first half, France continued to hang in the contest. But, the French side missed a whopping 46 tackles and some of those misses proved to be extremely costly for the side appearing in just their second-ever World Cup. On the stroke of half-time, another clever blind-side raid saw Nita Maynard link up with her other half in Autumn Stephens-Daly who put Roxy Murdoch-Masila into a yawning gap to cross for the Kiwi Ferns. This made the score-line 20-0 at half-time.
The second stanza began just how the first ended for the French, unfortunately behind the try-line. The spine of Maynard, McGregor and Nicholls combined brilliantly down the right edge. It was then a simple draw and pass from the centre Shanice Parker to send winger Katelyn Vaha'akolo racing across the line down the right edge and the match had real potential to get away from the French in a big way. Eight minutes later, a cross kick from McGregor found her sister Page McGregor on the full and she was able to outmuscle her opposing centre to crash over and extend the margin out to 30 points.
Six minutes later, Vaha'akolo crossed for her second in identical fashion to her first as McGregor, Nicholls and Parker all combined to put the winger over for her second try of the second stanza of footy. Some brief resistance from France stopped the score-line advancing any further until the final few minutes of play. They went close to scoring just at the hour mark, but referee Ben Thaler ruled that the French player was held-up. The final five minutes saw the Kiwi Ferns cross for two outstanding tries. Murdoch-Masila crossed for her second try before Parker stole the show racing 95 meters to score a scinterlating individual effort to make the score 46-0.
This match showed how far the women's game has advanced in France, with coach Vincent Baloup calling it "the best game a French women's team ever played" Baloup said. While Kiwi Ferns coach Ricky Henry was full of praise for the French side in his post-match assessment "Bit of a slow start for us, but give credit to the French team who came out and put it on us." Henry said. Both sides are back in action on Monday morning (AEDT) in a double header, with France facing the back-to-back world champion Jillaroos at 6:30 am (AEDT) and the Kiwi Ferns taking on the Cook Islands at 4:00 am (AEDT). 
LeagueUnlimited.com Players of the Match:
3 points - Raecene McGregor
2 points - Katelyn Vaha'akolo
1 points - Apii Nicholls
---
Australia Women v Cook Islands Women
Group B
Venue: LNER Community Stadium, York
Crowd: 3091 (double header)
Date: Thursday 3 November 2022 at 6:30am
Awesome Australia beat Cook Islands in York
Justin Davies | November 3 2022 8:09AM
Australia kicked off their campaign with a dominant 74-0 win over Cook Islands in York. 
Despite not having a warm up game, Australia didn't have any rust or wobbles as they were ruthless against Cook Islands. Sam Bremner led the way with four tries while Evania Pelite got a hat-trick alongside doubles from Tarryn Aiken and Julia Robinson in the huge win.
Australia were on from the kick-off, which rolled dead and offered them the first chance. Evania Pelite finished off a move on the left hand side after a few repeat sets. 
Next, it was some lovely slight of hand from Lauren Brown. She turned the ball inside for Newcastle Knights front rower Caitlin Johnston, who strolls over for the second four-pointer. 
Roosters star Isabelle Kelly injected herself into the game next. She brushed past the Cook Islands defende then passed it inside to Tarryn Aiken, who made it 16-0 for the Jillaroos. 
There was a ten minute period where Australia laid on four tries to confirm their 36-0 lead at the break. Sam Bremner followed up from a Simaima Taufa break to run away from the defence. 
The Jillaroos showed off how slick their attack was with a move started by Kezie Apps, it goes through the hands finding Kelly again, who pops the pass to Pelite before she went over the sideline for the four-pointer.
This time it was a spread to the right. Again, it was some quick hands which went to Shanae Ciesiolka who dummied the defender and rolled her way to the tryline in the one-sided first half. 
After finding the tryline herself, Sam Bremner on the comeback after her maternity leave, rolled a kick low, which saw Broncos winger Julia Robinson dive over to make it 36-0 for the Aussies. 
Cook Islands were given the best start to the second half with Australia letting the kick-off go dead. They had a few sets on the Australian line but a spilled grubber by Charlize Tumu-Makara ended their spell of possession. 
Australia kicked back into gear quickly. Once again, Kezie Apps was involved throwing the last pass for fullback Bremner who ran away and moved the Aussies past the 40-point mark. 
It was a spark from Dragons playmaker Taliah Fuimaono that got Australia their next two scores. She went herself first, scooted over from close range for her first try in Australian colours then a wonderful cut-out for Robinson to score her second. 
It was the Sam Bremner show for Australia! She followed up a Ali Brigginshaw line break to complete the hat-trick then made it four with a wonderful step past the Cook Islands defence for 64-0. 
Evania Pelite got herself a hat-trick and take Australia to 68-0. She finishes off the move from a wonderful ball from Tarryn Aiken to complete the feat and show off the Australians power. 
Aitken capped off the dominant performance from the Australian side with their fourteen try. She started the move with the pass then followed up to take the inside ball and roll to the tryline. 
LeagueUnlimited.com Players of the Match:
3 points - Sam Bremner
2 points - Tarryn Aiken
1 points - Kezie Apps
---
Group standings
The top two nations in each group proceed to the Semi Finals.
Group A
| | | | | | | | | | |
| --- | --- | --- | --- | --- | --- | --- | --- | --- | --- |
| Pos | Nation | P | W | D | L | F | A | Diff | Pts |
| 1 | ENG | 1 | 1 | 0 | 0 | 72 | 4 | +68 | 2 |
| 2 | PNG | 1 | 1 | 0 | 0 | 34 | 12 | +22 | 2 |
| 3 | CAN | 1 | 0 | 0 | 1 | 12 | 34 | -22 | 0 |
| 4 | BRA | 1 | 0 | 0 | 1 | 4 | 72 | -68 | 0 |
Group B
| | | | | | | | | | |
| --- | --- | --- | --- | --- | --- | --- | --- | --- | --- |
| Pos | Nation | P | W | D | L | F | A | Diff | Pts |
| 1 | AUS | 1 | 1 | 0 | 0 | 74 | 0 | +74 | 2 |
| 2 | NZL | 1 | 1 | 0 | 0 | 46 | 0 | +46 | 2 |
| 3 | FRA | 1 | 0 | 0 | 1 | 0 | 46 | -46 | 0 |
| 4 | CKI | 1 | 0 | 0 | 1 | 0 | 74 | -74 | 0 |
For comprehensive historical statistics on the Women's Rugby League World Cup, make sure you check out Rugby League Project.
---
Match Review
Maria Graf (Brazil): Grade A intentional tripping - one match (challenging at tribunal)
Michelle Ikupu (PNG): Caution - contrary behaviour
Anekka Stephens (Cook Islands): Caution - dangerous contact
---
Player of the Tournament leaderboard
Our LeagueUnlimited volunteer writers assign 3-2-1 points after each match:
3 points - Sam Bremner (Australia), Raecene McGregor (New Zealand), Martha Molowia (Papua New Guinea), Courtney Winfield-Hill (England)
2 points - Tarryn Aiken (Australia), Amy Hardcastle (England), Katelyn Vaha'akolo (New Zealand), Anika Butler (Papua New Guinea)
1 point - Tara Stanley (England), Kezie Apps (Australia), Apii Nicholls (New Zealand), Petra Woods (Canada)
---
Next week - Week 2
England Women v Canada Women
Sat 5 Nov 11:00PM at DW Stadium, Wigan
Papua New Guinea Women v Brazil Women
Sun 6 Nov 4:00AM at MKM Stadium, Hull
New Zealand Women v Cook Islands Women
Mon 7 Nov 4:00AM at LNER Community Stadium, York
Australia Women v France Women
Mon 7 Nov 6:30AM at LNER Community Stadium, York