Results and Scorers:
RLWC 2021 WRAP: Quarter Finals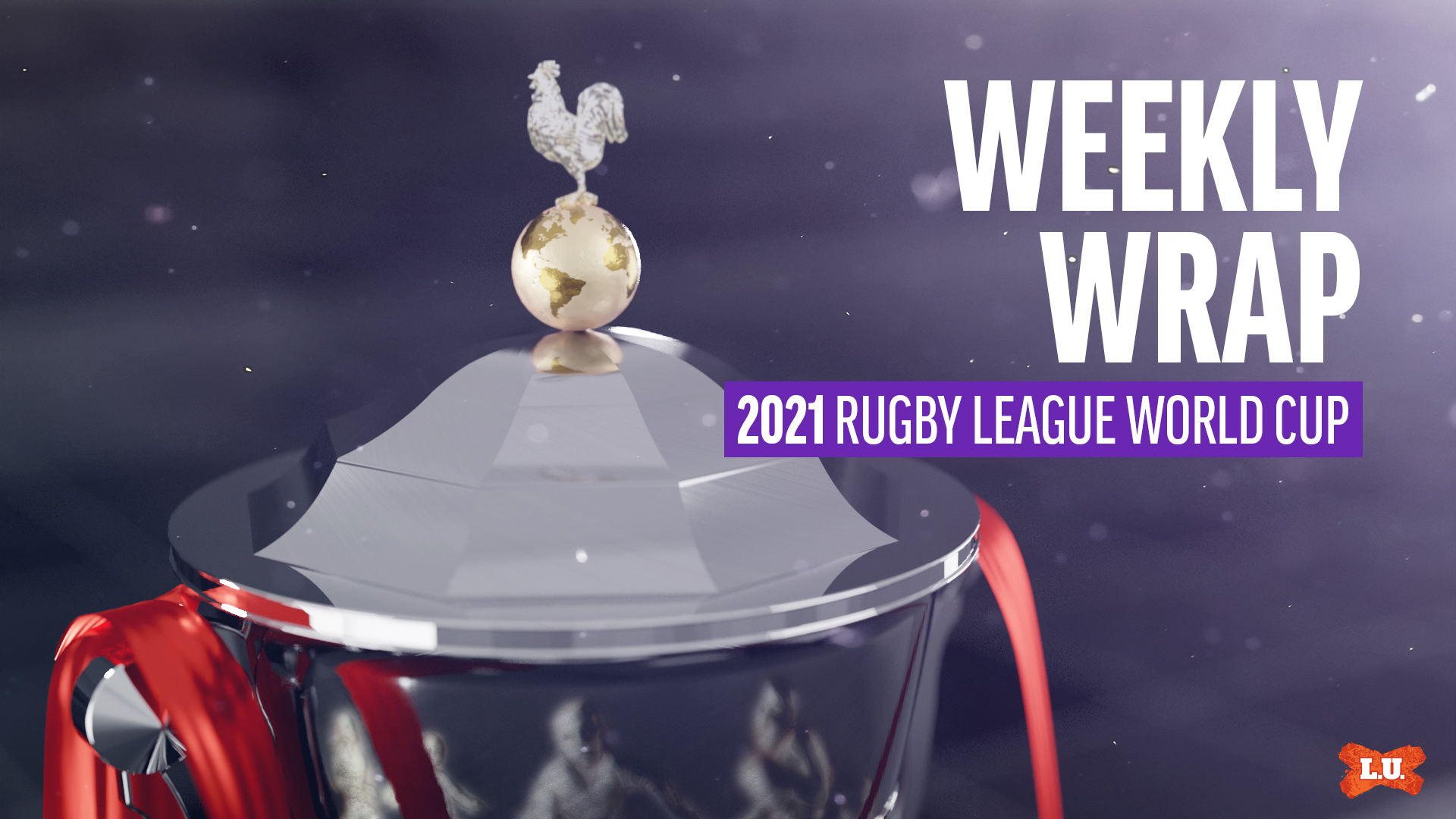 As the Quarter Finals of the Men's Rugby League World Cup unfolds, here's your one-stop shop for results, reports, our Player of the Tournament standings, match review and more.
All listed times are AEST (NSW/QLD/VIC/ACT) - subtract 10 hours for BST (UK local time). All matches are broadcast live on Fox League & Kayo Sports in Australia, and on BBC & the RLWC App in the UK.
---
RELATED: See the full list of 2022 2021 Men's Rugby League World Cup Draw and Results.
---
Australia Men 48
Lebanon Men 4
Venue: John Smith's Stadium, Huddersfield
Crowd: 8206
Date: Saturday 5 November 2022 at 6:30am
AUSTRALIA MEN (48)
Tries: Josh Addo-Carr (5), Latrell Mitchell, Cameron Murray (2), Liam Martin
Conversions: Nathan Cleary (6/9)

LEBANON MEN (4)
Tries: Josh Mansour
Conversions: Mitchell Moses (0/1)

Australia breeze past Lebanon to book semi-final spot
Lachlan McIntyre | November 5 2022 8:41AM
Huddersfield's John Smith's Stadium played host to a comfortable win for the tournament favourites this Saturday morning, with the Kangaroos running out 48-4 victors.
The win grants Australia a semi-final clash against either NZ or Fiji, but plenty of questions remain over Meninga's best 17. James Tedesco left the field at half-time with an apparent leg niggle, and with Munster taking the reins at fullback in the second half, DCE slotted into the halves alongside Cleary.
The game started far from perfectly for the Kangaroos, with Cleary kicking the ball out on the full following his sides' first set in possession. This gave Lebanon the first attacking chance of the night, but Australia's defence held solid and the last tackle kick from Doueihi went too deep and gave away a 20m restart. 
The Kangaroos then charged downfield to open the scoring in just the 5th minute when Josh Addo-Carr crossed on the left edge for his first try of many. Cleary's kick bounced off the upright, and the score remained 4-0. Despite a penalty helping Australia get straight back on the attack, Lebanon held firm and showed plenty of fight early in the match.
It wasn't long before Addo-Carr crossed for his second, with a James Tedesco line break setting him up to dive over next to the posts. Only three minutes later, in the 19th minute, Addo-Carr secured his hat trick, this time off the back of some Munster ball-stripping magic. Cleary's conversion fell short, and the lead remained 14 points.
The pace of the game began to ramp up, and the Cedars were struggling to hang on. Another try for the Kangaroos came through their left edge, but this time it was Mitchell who crossed to extend the lead. Bizarrely, the Cleary kick came up well short yet again, and his conversion stats weren't looking pretty at 1/4. 
Cameron Murray crossed for two tries late in the half, and with Cleary knocking over the comparatively simple conversions it was the Kangaroos who led 30-0 at the break. It wasn't all easy-going however - they were forced to withstand some pressure towards the end of half, but the Cedars couldn't convert the field position into points. 
Australia came out firing to start the second half, with Addo-Carr crossing for his fourth try of the night in the 45th minute. Cleary finally converted one from the left hand touchline to make the gap 36 points. But following the points, the Kangaroos gave away a six again to let Lebanon back into Australian territory. 
Under pressure, Pat Carrigan makes a simple error that gives Lebanon more attacking ball. They finally cross for their first and only points of the night in the 52nd minute. A pinpoint Mitch Moses kick is grounded by Josh Mansour after Cameron Munster fails to bat the ball dead, and the score is 36-4.
The next five minutes is all Lebanon, with set after set absorbed by the Australian defence. The Kangaroos are rewarded for their effort when Rahme turns the ball over, and Australia dash back to the other end of the ground for Josh Addo-Carr to cross for his fifth try off the back of a wonderful Munster kick.
Lebanon are given plenty of chances thanks to more errors from Australia, but they can't find more points. Liam Martin crosses for the final try of the night in the 70th minute, and the Cleary conversion makes the full time score 48-4.
Despite the win, Australia have work to do if they want to win this world cup. Lebanon's world cup journey may be over, but we'll see them back on the world stage in 2025. They'll take plenty away from this tournament, and a number of their young players will have gained a lot of crucial experience as they look to forge their own careers in the NRL and Super League.
LeagueUnlimited.com Players of the Match:
3 points - Josh Addo-Carr
2 points - Cameron Murray
1 points - Latrell Mitchell
---
England Men 46
Papua New Guinea Men 6
Venue: DW Stadium, Wigan
Crowd: 23179
Date: Sunday 6 November 2022 at 1:30am
ENGLAND MEN (46)
Tries: Thomas Burgess, Tom Makinson (5), Dominic Young, George Williams, Kallum Watkins
Conversions: Tom Makinson (5/9)

PAPUA NEW GUINEA MEN (6)
Tries: Jimmy Ngutlik
Conversions: Rhyse Martin (1/1)

England stun PNG with first hafl blitz to secure semi final berth
Adam Huxtable | November 6 2022 3:16AM
England have continued their strong world cup campaign, streaking out to a 38 point first half lead to dominate the PNG Kumuls in a 46-6 victory in Wigan.
There were ominous signs for Papua New Guinea early, with Dom Young making metres for fun with his kick returns. Those signs came to fruition in a stunning way throughout the first half, England in the 28th minute were up 38-0.
Their first try came when big Tom Burgess crashed his way through some soft defence to plant the ball down under the posts. England would get a set restart on their next set to help them advance the field, and from there Tommy Makinson would score his first of many with a nice pickup of a pinpoint Tomkins kick. 
England were setting the ton on both sides of the ball, turning a run of the mill last tackle kick into possession by chasing well and dragging Jimmy Ngutlik over the sideline, They took advantage of the opportunity, with Tomkins batting Williams' kick back and Dom Young finishing off the ensuing backline movement.
England would again find space on the edges, but it was only due to Makinson magic that they would score again, the talented winger out leaping his opposite number and out muscling Johnston to get the ball to the ground. 
The score was at that point 20-0 with a couple of missed English conversions, and that would be extended even further over the next several minute. Englands next try came after a John Bateman line break was finished off by George WIlliams in a try with a 2020 Raiders feel to it. The next one was scored by Kallum Watkins but can be put down to Dom Young beating Tai one on one and setting his centre up for an easy score. 
All of a sudden it was 32-0 after 26 minutes, but it didn't stop there. Alex Johnston looked to have secured a catch in goal and a much needed reprieve for the Kumuls, however he put the ball down at the last second and, you guessed it, Tommy Makinson was there to clean up the scraps and score the try.
The rest of the game was uneventful by the first half an hour's standard. England came out of the sheds looking a little lethargic, which is understandable considering the impending semi against Tonga or Samoa. There were errors aplenty, and only in the 58th minute were we graced with second half points, scored by, you guessed it, Tommy Makinson, the winger going over untouched. 
PNG would get a consolation try with just over 10 minutes to go, with Lam putting a nice grubber in for Ngutlik who won the race. 
England would have the last laugh though, scoring in the 76th minute. I'm not even going to say who it was, if you've rad this far down you can probably guess (it was said players fifth try of the match). The final score ended as 46-6. 
Next week, England will either have a showdown against Tonga or a rematch against Samoa, while this is where the story ends for PNG.
LeagueUnlimited.com Players of the Match:
3 points - Tom Makinson
2 points - George Williams
1 points - Thomas Burgess
---
New Zealand Men 24
Fiji Men 18
Venue: MKM Stadium, Hull
Crowd: 7080
Date: Sunday 6 November 2022 at 6:30am
NEW ZEALAND MEN (24)
Tries: Ronaldo Mulitalo, Jordan Rapana, Briton Nikora, Joseph Manu
Conversions: Jordan Rapana (3/4)
Penalty Goals: Jordan Rapana (1/1)

FIJI MEN (18)
Tries: Maika Sivo, Kevin Naiqama (2)
Conversions: Brandon Wakeham (3/3)
Kiwis survive Fiji scare to book Kangaroo clash
Lachlan McIntyre | November 6 2022 8:47AM
New Zealand have won their quarterfinal match against Fiji 24-18 this morning in Hull. 
Despite trailing at half-time and looking way off their game, the Kiwis found a way to win against a valiant Fiji team. Sunia Turuva was the standout player for Fiji, but in the end his team just couldn't hold on. 
It was an intriguing start to the game, with some early penalties to Fiji assisting them out of their own end, and giving New Zealand plenty to worry about in defence. When the Kiwis were in possession however, they made plenty of metres and almost always got into a good position for an attacking kick. But their ill-discipline didn't go unpunished.
Off the back of a set restart, Maika Sivo opened the scoring on his left wing for Fiji in the 12th minute. It was all their NRL stars linking up to get him the try, with Koroisau playing in the halves linking up with his former Penrith teammate Viliame Kikau on the left edge. The kick was struck perfectly from the sideline by Brandon Wakeham to extend the lead to six points.
While the forwards continued to size each other up, the outside backs from both sides were making an impact for their respective nations early in the count. Just as New Zealand were granted some attacking ball, an obstruction penalty released all pressure that they'd been building. 
It was the Fijian captain Kevin Naiqama who was next to cross the stripe in the 20th minute. The 33 year old steamed onto a lovely short ball from his fullback Turuva to dive over behind the posts. Wakeham knocked over the conversion kick, and suddenly Fiji had control of the match, leading 12-0. 
A Semi Valemei error allowed the Kiwis a midfield scrum which they happily converted into a four pointer in the 27th minute. It was Ronaldo Mulitalo who opened the New Zealand scorecard on the left edge, and despite some recent kicking woes, Jordan Rapana nailed the conversion from the touchline to bring the margin down to six points.
With neither team able to convert field position into points during the latter stages of the half, the half-time score saw Fiji lead the world number one's New Zealand 12-6. Despite the Kiwis winning the set for set forward-running battle, their ill-discipline had allowed Fiji too many opportunities. Fiji's goalline defence had held firm despite plenty of testing by the likes of Joey Manu and Dylan Brown.
A clunky start to the second half from New Zealand allowed Fiji an early chance, which Kevin Naiqama took without hesitation. Scooting down the short side, he sold the dummy to his winger and crashed over to extend his team's lead. Wakeham never looked like missing, this time from the right touchline, and the scoreline was 18-6 just five minutes into the second half.
Only five minutes later the Kiwis crossed for their first points of the half thanks to some poor defensive decisions by Fiji. Attempting to strip the ball, Semi Valemei and Api Koroisau dropped off the tackle of Nikora, only for him to dive over the tryline. The successful conversion brought the gap back down to six points in the 50th minute.
Fiji tried valiantly to hang on, with Brandon Wakeham making a notably good try-saving tackle on Ronaldo Mulitalo to prevent the gap closing even further. Some magic from their star players was needed for New Zealand to cross the line again, with a cut-out ball from Dylan Brown hitting his winger, and with Joey Manu backing up on the inside, suddenly the game was level at 18 with 15 minutes to play. 
A successful challenge from Fiji got them off the hook just a few minutes later, but then New Zealand utilised their challenge to overturn the on-field decision of a Manu knock-on and turn it into a strip penalty for the Kiwis. Rapana slotted the penalty goal, and New Zealand took the lead for the first time, 20-18.
Fiji were gifted a number of opportunities in the dying stages, but ultimately couldn't convert. New Zealand crossed the line through Rapana in the final minute to seal the game, and the 24-18 scoreline.
So, what can New Zealand learn from that game? They certainly can't dish-up that performance against the Aussies next weekend. As for Fiji, they gave it everything, and hopefully they will keep on building for world cups to come.
LeagueUnlimited.com Players of the Match:
3 points - Sunia Turuva
2 points - Joseph Manu
1 points - Jordan Rapana
---
Tonga Men 18
Samoa Men 20
Venue: Halliwell Jones Stadium, Warrington
Crowd: 12674
Date: Monday 7 November 2022 at 1:30am
TONGA MEN (18)
Tries: Daniel Tupou, Siosiua Taukeiaho, Sione Katoa
Conversions: Isaiya Katoa (2/3)
Penalty Goals: Isaiya Katoa (1/1)
SAMOA MEN (20)
Tries: Jaydn Su'A, Jarome Luai, Brian To'o
Conversions: Stephen Crichton (3/3)
Penalty Goals: Stephen Crichton (1/1)
Samoa stun Tonga in a World Cup thriller
AJ Lucantonio | November 7 2022 3:17AM
Samoa has stunned Pacific island neighbours Tonga to qualify for their first-ever World Cup semi-final appearance with a 20-18 victory in Warrington.
This match was set to be a tightly fought affair and the atmosphere generated by a special cultural performance set the mood for what was going to be an epic arm wrestle between these Pacific island powerhouses.
The match was just minutes old when Samoa generated the first scoring opportunity. It was a great short pass from Anthony Milford which found Jaydn Su'A who wrong-footed Will Hopoate to cross for the opening try after just five minutes of play. From the outset, it was clear that opposition errors were going to generate opportunities for the other to score. Tonga was able to hit back when boom youngster Joseph Suaalii was pinned for leading with the knee in possession of the football and was placed on report. From the ensuing field position,  Will Hopoate created the extra man and the Penrith edge of Stephen Crichton and Brian To'o were caught at sixes and sevens as Daniel Tupou scored out wide.
Tupou and Hopoate turned from heroes to zeroes in just minutes when the pair combined for the worst offload thrown at this World Cup which gave Samoa prime field position. They didn't waste their chance and it was Jarome Luai who skipped and danced his way to the line and Samoa had an early 12-4 advantage. It was a trying middle period of the first half, with Tonga dominating the forward exchanges but coming unstuck with an unstructured feel in their attack. Matters weren't helped when Will Hopoate left the game with a hamstring injury and failed to return. Tonga didn't let this get to them and hit back just before half-time, It was a clever grubber kick from Soni Luke and it was the farewelling Rooster Siosiua Taukeiaho who crossed for the Tongans to reduce the gap to just two points at the change of ends.
After a trying opening to the second half, Tonga camped down the Samoan end of the ground and eventually, the pressure took its toll. Milford was pinned for being off-side and rookie Isaiya Katoa knocked over the chip shot and the scores were level. Two critical penalties against fellow new Dolphin recruit Felise Kaufusi gave Samoa prime field position and off the back of Kaufusi's second indiscretion (for a strip), Crichton knocked over the penalty goal and Samoa led by 2. Three minutes later, a big break up-field by Suaalii allowed Samoa to have a semi-final bound lead. It was a clever kick from Milford, which wasn't dealt with and Brian To'o was there jolly on the spot to score and extend the margin to two possessions.
Tonga didn't give in and crossed inside the final ten minutes to reduce the gap back to two points. A poor kick from Luai turned the Tongan defence into attack and off the next tackle, a strong carry from Moses Suli is supported by Sione Katoa and Tonga wasn't prepared to go quietly. However, some poor fifth tackle options proved to be costly in the final analysis and it allowed Samoa to escape with the victory and secure a semi-final date with England at the Emirates. It's a golden opportunity for Samoa to get revenge for their opening night horror show. While for Tonga, it's a World Cup that ends on a disappointing note, so much was expected from them after a strong 2017 campaign, but have fallen short at the final hurdle. 
LeagueUnlimited.com Players of the Match:
3 points - Anthony Milford
2 points - Joseph Suaalii
1 points - Soni Luke
---
For comprehensive historical statistics on the Rugby League World Cup, make sure you check out Rugby League Project.
---
Match Review
Following the recent round of the RLWC2021 Match Review Panel which took place on 6 November, the following players received a caution: 
Shae Yvonne De La Cruz (Papua New Guinea Women) - Other Contrary Behaviour
Lindsay Collins (Australia Men) - Other Contrary Behaviour
Following the recent meeting of the RLWC2021 Match Review Panel which took place on 7 November, the following sanctions has been issued: 
Junior Paulo (Samoa): Grade A Other Striking Offences, 1 match penalty notice
The following player received a caution: 
Joseph Sua'ali'I (Samoa): Raising knee in tackle.  
The deadline to challenge the decisions is 11am on Tuesday 8 November.
UPDATE, November 8: Samoa's Junior Paulo was successful in his challenge against a one match penalty notice for a Grade A Other Striking Offences during Sunday's RLWC2021 quarter final game against Tonga.
---
Player of the Tournament leaderboard
Our LeagueUnlimited volunteer writers assign 3-2-1 points after each match:
8 points - Josh Addo-Carr (Australia)
6 points - Sunia Turuva (Fiji), Jarome Luai (Samoa)
5 points - George Williams (England), Joseph Manu (New Zealand), Edwin Ipape (Papua New Guinea)
4 points - Adam Doueihi (Lebanon), Luke Keary (Ireland), Latrell Mitchell (Australia), Khaled Rajab (Lebanon), Victor Radley (England)
3 points - Joseph Suaalii (Samoa), Jahrome Hughes (New Zealand), Tommy Makinson (England), Jonathon Ford (Cook Islands), Cameron Munster (Australia), Viliame Kikau (Fiji), Nixon Putt (Papua New Guinea), Rodrick Tai (Papua New Guinea), Dallin Watene-Zelezniak (New Zealand), Nathan Brown (Italy), Anthony Milford (Samoa), Mitchell Moses (Lebanon), Daniel Tupou (Tonga), Arthur Mourgue (France), Marc Sneyd (England), Jason Taumalolo (Tonga)
2 points - Richie Myler (Ireland), Stephen Crichton (Samoa), David Fifita (Tonga), Dylan Brown (New Zealand), James Tedesco (Australia), James Bell (Scotland), Dominic Young (England), Thomas Burgess (England), Tuimoala Lolohea (Tonga), Peta Hiku (New Zealand), Cameron Murray (Australia), Taylan May (Samoa), Keaon Koloamatangi (Tonga), Benjamin Jullien (France), Kenny Bromwich (New Zealand), Jack Campagnolo (Italy), Jack Wighton (Australia), Matty Fozard (Wales), Jimmy Ngutlik (Papua New Guinea), Jack Welsby (England), John Bateman (England), Penioni Tagituimua (Fiji)
1 point - Ashton Golding (Jamaica), Brian To'o (Samoa), Kyle Laybutt (Papua New Guinea), Jordan Rapana (New Zealand), Moses Suli (Tonga), Soni Luke (Tonga), Siosifa Talakai (Tonga), Steven Marsters (Cook Islands), Nathan Cleary (Australia), Radean Robinson (Italy), Tolutau Koula (Tonga), James Bentley (Ireland), Benjamin Garcia (France), Vuate Karawalevu (Fiji), Ben Jones-Bishop (Jamaica), James Fisher-Harris (New Zealand), Henry Raiwalui (Fiji), Lachlan Lam (Papua New Guinea), Harry Grant (Australia), Herbie Farnworth (England), Daly Cherry-Evans (Australia)
---
Crowds
Quarter Finals
Australia Men (48) v Lebanon Men (4)
Sat 5 Nov 6:30AM at John Smith's Stadium, Huddersfield (Crowd: 8206)
England Men (46) v Papua New Guinea Men (6)
Sun 6 Nov 1:30AM at DW Stadium, Wigan (Crowd: 23179)
New Zealand Men (24) v Fiji Men (18)
Sun 6 Nov 6:30AM at MKM Stadium, Hull (Crowd: 7080)
Tonga Men (18) v Samoa Men (20)
Mon 7 Nov 1:30AM at Halliwell Jones Stadium, Warrington (Crowd: 12674)
QF aggregate: 51,139
QF match average: 12,784
Week 1 aggregate: 95,243
Week 1 match average: 11,905
Week 2 aggregate: 68,875
Week 2 match average: 8,609
Week 3 aggregate: 72,198
Week 3 match average: 9,025
Tournament aggregate: 287,455
Tournament match average: 10,266
---
Next week - Semi Finals
Australia v New Zealand
Sat 12 Nov 6:45AM at Elland Road, Leeds (Fri 7:45PM GMT)
England v Samoa
Sun 13 Nov 1:30AM at Emirates Stadium, London (Sat 2:30PM GMT)