Results and Scorers:
RLWC 2021 WRAP: Pool Matches - Women's Semi Finals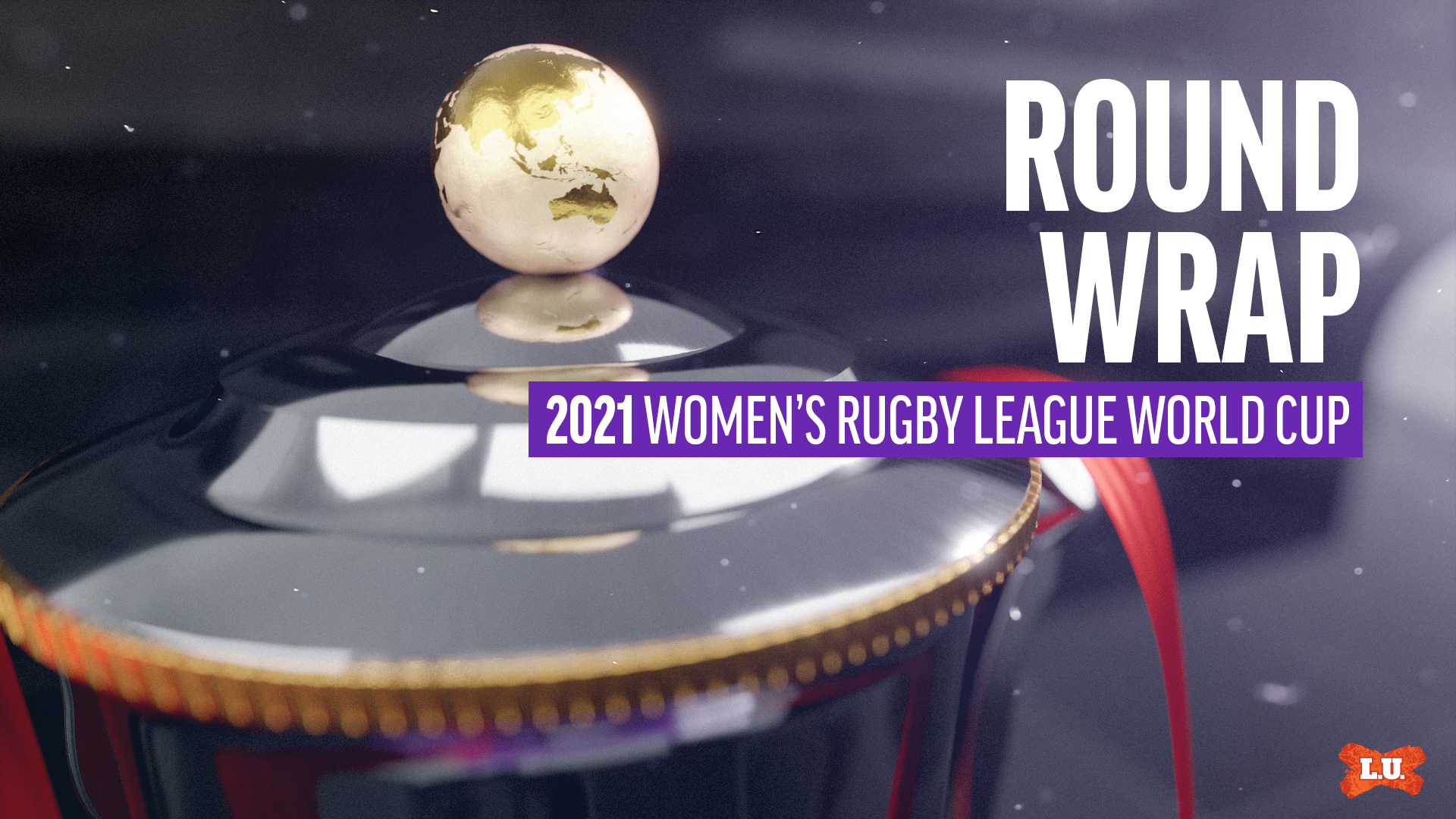 Here's your one-stop shop for results, reports and more from the Women's Rugby League World Cup Semi Finals.
All listed times are AEST (NSW/QLD/VIC/ACT).
---
RELATED: See the full list of 2022 2021 Women's Rugby League World Cup Draw and Results.
---
Australia Women 82
Papua New Guinea Women 0
Venue: LNER Community Stadium, York
Crowd: 7139
Date: Tuesday 15 November 2022 at 4:00am
AUSTRALIA WOMEN (82)
Tries: Keeley Davis, Isabelle Kelly (3), Shaylee Bent, Evania Pelite, Shenae Ciesiolka (2), Olivia Kernick, Jessica Sergis, Tallisha Harden, Emma Tonegato (3), Jaime Chapman
Conversions: Lauren Brown (9/13), Ali Brigginshaw (2/2)

PAPUA NEW GUINEA WOMEN (0)

Australia crush Papua New Guinea to move into final
Justin Davies | November 15 2022 5:43AM
Australia are the first team through to the Rugby League World Cup Womens final after their 82-0 win over Papua New Guinea in York tonight.
The Jillaroos were ruthless in running in 15 tries in the huge win which saw both Isabelle Kelly and Emma Tonegato score hat-tricks while Shanae Ciesiolka got herself a pair of tries in the performance masterminded by Lauren Brown.
Coming off their tense win over New Zealand in their final pool game, Australia took their time to warm into the contest against a spirited Papua New Guinea team in the semi-final. 
Keeley Davis poked her nose through the defence and got the first four-pointer before Isabelle Kelly showed off her strength to bump off a defender and make it 10-0 to the reigning champions. 
Australia were in full flow after their tense start. The Jillaroos ran the ball on last tackle and despite the ball hitting the turf, Emma Tonegato found Kelly for her second four-pointer. 
The Jillaroos raced against the clock to make it 40-0 at the break and close to another final. Shaylee Bent strolled through then Tonegato was involved again to send Evania Pelite over for 24-0. 
Shenae Ciesolka showed off her speed from a scrum move, again orchestrated by Tonegato, to burn the Orchids defense and get onto the scoresheet. Roosters forward Olivia Kernick was next on the list as she pushed through the defence. 
Kelly completed a wonderful first half for herself with a hat-trick. Pelite showed off her passing game with a wonderful cut-out to Jessica Sergis, who found a striding Kelly inside her for the ominious 40-0 half-time score. 
The Jillaroos picked up right where they left off after the restart. Lauren Brown, who kicked four goals, started the move which saw Roosters team mates Kelly and Jessica Sergies for the latter to dive over.
They also punished any errors from the Orchids with a quickfire pair of tries. Ciesiolka was on the end of a backline move for her second then forward Tallisha Harden barged over from close range for 58-0. 
Tonegato who was magnificent across the whole game, got herself a double in quick time. Her first came from some good work from Pelite but the second was all the Dragons fullback, who sliced through and had too much pace for the defence. 
Papua New Guinea had some success with a short kick-off from Shellie Long. They had some sustained pressure on the Jillaroos line with Therese Aiton and Elsie Albert going close but the Aussies held firm. 
The reward for not allowing their line to be breached was a full field effort from Jaime Chapman. She brushed off some tired defence and had the pace to hold off the defence to make it 76-0.
There was another hat-trick in the offing for the Jillaroos. There was a massive overlap on the left side, Tonegato just saw the space and strolled over to make it 82-0. 
LeagueUnlimited.com Players of the Match:
3 points - Emma Tonegato
2 points - Lauren Brown
1 points - Isabelle Kelly
---
England Women 6
New Zealand Women 20
Venue: LNER Community Stadium, York
Crowd: 7139
Date: Tuesday 15 November 2022 at 6:30am
ENGLAND WOMEN (6)
Tries: Francesca Goldthorp
Conversions: Tara Stanley (1/1)

NEW ZEALAND WOMEN (20)
Tries: Mele Hufanga, Brianna Clark, Raecene McGregor, Otesa Pule
Conversions: Brianna Clark (0/1), Apii Nicholls (2/3)

Kiwi Ferns grind out win over England to reach final
LeagueUnlimited Media | November 15 2022 8:45AM
New Zealand have triumphed 20-6 in York on Monday night, eliminating host nation England to reach the 2021 Women's Rugby League World Cup final in a gritty match.
The start was a surprise, with the underdog Englishwomen opening the scoring off a Francesca Goldthorp try for a 6-0 lead.
It didn't take too long for the Kiwi Ferns to strike back though, with Mele Hufanga benefiting from a strong Amber Hall run and offload to score, although the try went unconverted.
The 'away' side then cruised into the lead when Raecene McGregor picked up the ball from dummy half and stepped through the defence to score.
Leading 8-6, the Kiwi Ferns put the foot down a bit early in the second half, with Hufanga and Apii Nicholls creating a try for rookie Otesa Pule in the 46th minute. The conversion from Nicholls put NZ ahead by more than a converted try.
Already staring down a fierce battle to claw back the margin, England's task became more difficult five minutes later when Brianna Clark brushed through a gap to score close to the posts, and suddenly the Kiwi Ferns had a 20-6 advantage.
Incredibly, the Lionesses were able to stem the tide for the remaining 25-or-so minutes, but were unable to score themselves despite impressive ball control (completing at 88% for the match) and making nine errors - six less than their victorious opponents.
The victory for New Zealand sets up a mouth-watering final on Saturday at Old Trafford, where they'll face Australia in what is sure to be a tense contest after such a close-run match just last weekend.
LeagueUnlimited.com Players of the Match:
3 points - Apii Nicholls
2 points - Raecene McGregor
1 points - Francesca Goldthorp
---
For comprehensive historical statistics on the Women's Rugby League World Cup, make sure you check out Rugby League Project.
---
Match Review
Check back soon.
---
Player of the Tournament leaderboard
Our LeagueUnlimited volunteer writers assign 3-2-1 points after each match. Check back soon for updated points.
10 points - Raecene McGregor (New Zealand)
7 points - Courtney Winfield-Hill (England)
5 points - Tarryn Aiken (Australia)
4 points - Apii Nicholls (New Zealand), Martha Molowia (Papua New Guinea)
3 points - Sam Bremner (Australia), Amber Hall (New Zealand), Tara Stanley (England), Belinda Gwasamun (Papua New Guinea), Alanna Fittes (Canada), Elianna Walton (Cook Islands), Emma Tonegato (Australia), Jessica Sergis (Australia), Vicky Whitfield (England)
2 points - Maria Graf (Brazil), Jodie Cunningham (England), Lauren Brown (Australia), Anika Butler (Papua New Guinea), Amy Hardcastle (England), Katelyn Vaha'akolo (New Zealand), Mackenzie Wiki (Cook Islands), Mele Hufanga (New Zealand), Elsie Albert (Papua New Guinea)
1 point - Isabelle Kelly (Australia), Francesca Goldthorp (England), Shanice Parker (New Zealand), Kezie Apps (Australia), Petra Woods (Canada), Victoria Molyneux (England), Jaime Chapman (Australia), Kristy Sargent (Canada), Elisa Ciria (France)
---
Next week - 2021 Women's RLWC Final
Australia v New Zealand
Sun 20 Nov 12:15AM at Old Trafford, Manchester