Team Lists:
Hastings Deering Colts U21 TEAMS - 2021 Round 10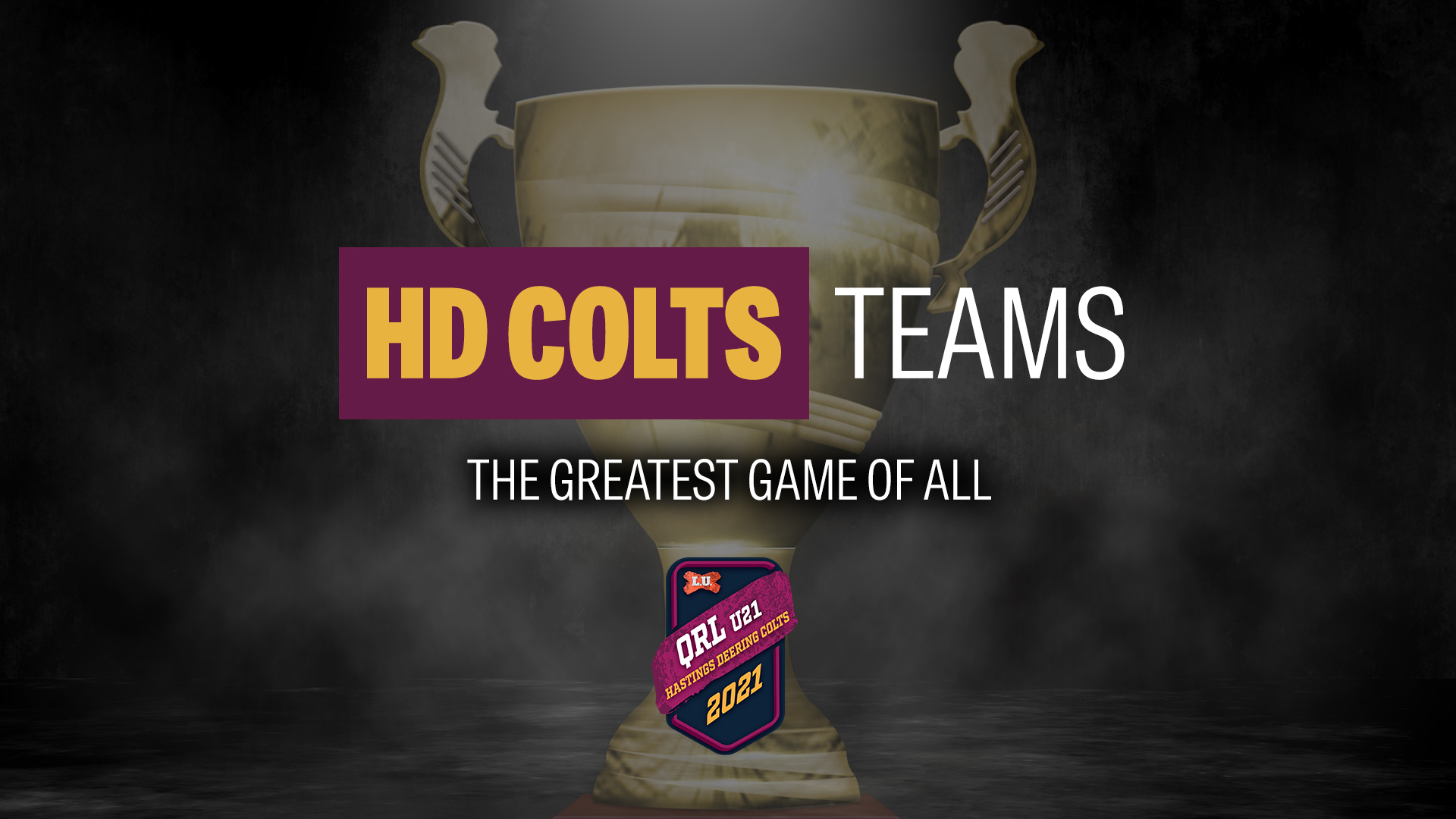 Teams and officials for Round 10 of the QRL U21s.
This round was scheduled to be played 3-4 July, rescheduled for July 24-25 after a lockdown in South-East Queensland.
All times are listed in AEST (NSW/QLD/VIC/ACT) unless otherwise noted.
Twitter: Follow @LeagueUnlimited
Facebook: Like LeagueUnlimited - NRL & Rugby League News
---

1. Braden Whittaker 2. Carsen Huth 3. Kurtis Farr 4. Germaine Bulsey 5. Tom Farr 6. Corey Herdegen 7. Will Parslow 9. Jackson Rohweder 10. John Radel 11. Ethan Malt 12. Isaac Carpenter 13. Nathan Ward 14. Shaun Packer 15. Kobe Martin 16. Caius Faatili 17. Devontai Seumanutafa

1. Tyler Mahon 2. Alofiana Khan-Pereira 3. Tuvalli Pereira 4. Tony Francis 5. Izaya Leota-beckett 6. Harry Bryant 7. Cameron Brown 8. Jayden Sharp 9. Vaka Sikahele 10. Isaac Matalavea-Booth 11. Sam McIntyre 12. Jeff Tatupu 13. Blake Campbell 14. Kaden Somerville 15. Zane Prophet 16. Iszac Fa'asumaleaui 17. Reegan Creedy 18. T.J Devery 19. Daniel Shannon
Referees: Dylan Cassidy;Sideline Officials: Cody Kwik, Liam Fryer;
---

1. Declan Haydon 2. Trent Casey 3. Jared Chambers 4. Leighton Milburn 5. Lodoviko Cokanauto 6. Isaiah Iongi 7. Danny Heenan 8. Sosefo Filipine 9. Zakaria McGuire 10. Mose Tuifao-Papalii 11. Kye Jenkins 12. Jack Garrod 13. Zach Brooks 14. Hayden Rowbotham 15. Kahli Jnr Kali 16. Ryan Sauer 17. Leonard Burns

1. Arthur Miller-Stephen 2. Brenton Baira 3. Tyler Holmes 4. Harley Proctor 5. Flynn Camilleri 6. Caleb Sinn 7. Henri Stocks 8. Paul Bryan 9. Sean Dalton 10. Hayden Brownsey 11. Ethan Sweet 12. Blake Paskins 13. Jack Hoffmann 16. Henry Head 17. Ethan Borg 18. Mason Thorpe 19. Cody Hilton
Referees: Nik Inthout;Sideline Officials: Marcus Fitzgerald, Brittanee Stephan;
---

1. Alexander Brighton 2. Nicholas Teske 3. Benji Neliman 4. Connor Williams 5. Oliver Bichel 6. Liam Short 7. Matthew Wilson 8. Mitchell Murphy 9. Brandon Clarke 10. Luke Maiden 11. Cooper Howlett 12. Leslie Hartvigsen 13. Kyle Petersen 14. Lachlan Swan 15. Thomas Bell 16. Matthew Butler 17. Braith Ashurst 18. Riley Wilson 19. Udom Wala 20. Brenton Clement

1. Jack Bowyer 2. Matua Robinson 3. Robert Derby 4. Ronald Lewis 5. Sami Raivaroro 6. Seamus King-Smith 7. Adam Hepworth 8. Colt Salmond 9. Zane Knowles 10. Tyson Phineasa 11. Matti Moyle 12. Taniela Ta'ufo'ou 13. Ezra Tokarahi 14. Dmitri Ahwang 15. Braye Porter 16. Ricky Wardle 17. Elias Tuitama 18. Keishon Hunter-Flanders 19. Jonah Rameka
Referees: Cody Kwik;Sideline Officials: Bayden Sawyers, Nick McEwen;
---

1. Ammaron Gudgeon 2. Kalani Sing 3. Harlem Russell 4. Coby Williamson 5. Jaxon Crockford 6. Laish Salam 7. Peyton Jenkins 8. Myles Gal 9. Tiko Hooper 10. Mitchell Leard-Lamont 11. Thallon Peters 12. Christopher Lee 13. Samuel Strohfeldt 14. Simeona Tala-Sio 15. Keinan Smith 16. Jeremy McLachlan 17. Ilami Buli 18. Te Urewera Potini 19. Haydn Andrews 21. Ronin Hadden

1. Lachlan West 2. Ronald Philitoga 3. Shaquille McLeod 4. Jude Saldanha 5. Harry Farimbella 6. James Busby 7. Jonah Glover 8. Jacob Reedy-Bartlett 9. Bailey Bartley 10. Joshua Colls 11. Rhys Sparey 12. Simon Pratt 13. Madison Beckett 14. Brad Russell 15. Jordan Penquitt 16. Siaosi Tonga 17. Marly Bitungane
Referees: Jay Hardie;Sideline Officials: Tanner Howard, Trey Hubert;
---

1. Joseph Ross 2. Mamakumai Naiyep 3. Bill Alatasi 4. Kaylis Barrott 5. Nathan Stephensen 6. Bradley Zampech 7. David Telea 8. Tate Rhea 9. Lochlan Turnbull 10. Josiah Mauga 11. Ngiyaani Waters 12. Mitchell Harsant 13. Riley Morris 14. Zachery Alley 15. Declan Buckley 16. Brian Burton 17. Mika Iakopo 18. Jack Fisher 19. Jai Mcgarrigal 20. Nicholas Merlehan 21. Raymond Turnbull

1. Tahj Wood 2. Eric Vaafusuaga 3. William Fakatoumafi 4. Harrison McIndoe 5. Daeon Amituanai 6. Toby Elliot 8. Jordan Crocker 9. Kyle Barnwell 10. Jesse Tu'inukuafe 11. Mali Le Pou 12. Joe Clarke 13. Chayse Cavanagh 14. Cody Byrne 15. Aiden Aue 16. Rece Hansen 17. Levi Wilson
Referees: Matt Gannon;Sideline Officials: Ryan Cracknell, Kailey Beattie;
---

1. Byron Johnson 2. Tyrone Harding 3. Konrad Tu'ua 4. Fa'ata'ape Timai 5. Denzel Samoa 6. Connor McLeod 7. Edward Downing-Brown 8. Sione Vakauta 9. Ezra Teuila 10. Lance Bagon 11. Jack Canning 13. Cruise Ten 14. Callum Eggerling 15. Billy Mozer 16. Tynan Forster 18. Feao Maka 20. Daniel Allan

1. Dylan White 2. Jesse Yallop 3. Zac Laybutt 4. Jordan Lipp 5. Zin Zan Martin 6. Jake Bourke 7. Tomas Chester 8. Hamilton Taia 9. Curtis Dempsey 10. Adam Mitchell 11. Joey Jensen 12. Zachery McMinn 13. Tyson Chase 14. Mitch Fogarty 15. Cameron Bateup 16. Jacson Lott 18. Braithen Knox 21. Maletino Lafoga
Referees: Jake Stanton;Sideline Officials: Nik Inthout, Connor Baker;
---

1. Jaylan De Groot 2. Brenton Daley-Holten 3. James Torrens 4. Caleb Warman 5. Troy Duckett 6. Tyler Han 7. Harradyn Wilson 8. Ben Liyou 9. Jed Edwards 10. Carsil Vaikai 11. John-Thomas Manuofetoa 12. Klese Haas 13. Charlie Murray 14. Joshua Henderson 15. Cameron Campbell 16. Jack Cullen 17. Stepharn Holo

1. Zachariah Miles 2. Gian Largiader 3. Kane Jackson 4. Blake Wilson 5. Pat Mcginn 6. John McLaughlin 7. Jayden Zanchetta 9. Jai Smoothy 10. Rory Curtis 11. Jack Aiken 12. Jake Zammit 13. Sam Reid 14. Nick Ellems 15. Dylan Carolan 16. Zacari Short 17. Blake Woodford 18. Kaleb Sutton 19. Lucas Bell
Referees: Jordan Morel;Sideline Officials: Dylan Lawrence, Zac Schwass;