Team Lists:
TEAMS: NSWRL Harold Matthews Cup - 2018 Round 1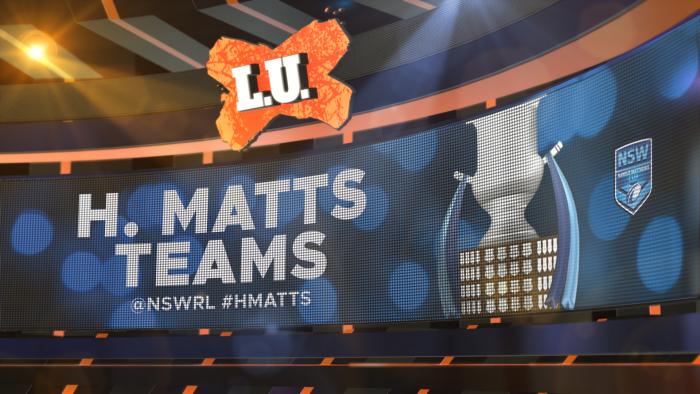 It's Teamlist Tuesday for Round 1 of the 2018 Harold Matthews Cup Season! Around 5pm AEDT every Tuesday, the full teams for each #HMatts round will be posted right here!
All times are listed in AEDT (NSW/QLD/VIC/ACT) unless otherwise noted.
Twitter: Follow @LeagueUnlimited
Facebook: Like LeagueUnlimited - NRL & Rugby League News
---
---


1. Blair Healey 2. Liva Andrews 3. Vaiala Tamati 4. Jordan Swann 5. Isaac Rosario 6. Liam Tonpi 7. Hugo Savala 8. Drey Mercy 15. Braydon Guyan 10. Darcy Clifton 11. Toesami Toevai 12. Joshua-vaa Keresoma 13. Zayn Wilkins 9. Thomas Siumaka 17. Carson Lutau 18. Stefan Moscarello 21. Henry Mikaele


1. Farouk Barake 2. Bunsom Chaipanya 3. Diego Bravo-graham 5. Louie Yehia 6. Joseph O'neill 7. Joshua Parke 8. Aufaga Autagavaia 9. Danny Ghantous 10. Rabih Chami 11. Lipoi Hopoi 12. Darcy O'toole 13. Billee Mohammed 14. Khaled Rajab 15. Taringa Maungaati 16. Solomon Akama 17. George Lopeti 22. Ali Tamer
Match Officials
Referees: Paul Eden;Sideline Officials: Michael Tasker, Benjamin Seppala;
---


1. Logan Fox 2. Edwyne Afeaki 3. Tyrone Holakeituai 4. Tapu Tuipulotu 5. Cameron Brown 6. Kaeo Weekes 7. Teddy Wilson 8. Tyreece Matangi 9. Gordon Chan Kum Tong 10. Valeli Tonga 11. Samuel Pinomi 12. Marley Hunter 13. James Uesele 14. Tolu Koula 15. Toni Mataele 16. Siua Fotu 17. Darcy Hoy 18. Augustino Mau'u


1. Aiden Brophy 2. Louis Reyes 3. Tom Jarrett 4. Matthew Rose 5. John Wesley-vunga 6. Nick Russell 7. Alex Noble 8. Jack Previtera 9. Kyle Bowen 10. Luke Friscan 11. Brock Parker 12. Sage Pone 13. Cruise Tweedie 14. Brock Wells 15. Shannon Moses 16. Jordan Puleitu 17. Harrison Davey 18. Corey Meyer
Match Officials
Referees: Blake Williams;Sideline Officials: Seamus Carroll, Nathan King;
---


1. Tyrell Sloan 2. Brandon Morkos 3. Cooper Tunbridge 4. P. Vetenibua-finnerty 5. Jordan Karakousis 6. Talatau Amone 7. Tyrone Roberts 8. Trent Griffiths 9. Riley Wooden 10. Joshua Coric 11. Jackson Shereb 12. Fletcher Blackett 13. Toby Boothroyd 14. Jhet Steyger 15. Clive Brett 16. Tearana Temaari 17. Declan Manago 20. Drever Burdis 21. Harley Nizza


1. Cameron Lawrence 2. Alosomu Lolohea 3. Bryce Crane 4. Henry Alesi 5. Salesa Tavui 6. Justin Matamua 7. Maverick Bantin 8. Eneseli Kamuta 9. Ethan Tutt 10. Burt Tukala 11. Isaiah Anamani 12. Byron Strickland 13. Tristyn Ball 14. Kynan English 15. Che Ternagi 16. Adonai Faagutu 17. Liam Khan 18. Fale Alesana
Match Officials
Referees: Karra-lee Nolan;Sideline Officials: Brandon Mani, Lachlan Greenfield;
---


1. Sunia Turuva 2. Maxwell Pritchard 3. Zion Tauasa 4. Ashley Cosgrove 5. Kristian-li Mai 6. Donovan Boney 7. Braith Alexander 8. Jai Wynbergen 9. Trent Borthwick 10. Osemen Momoh 11. Liam Kennedy 12. Hohepa Puru 13. Niwhai Puru 14. Connor Mason 15. Izack Tago 16. Campbell Fisher 17. Zac Lipowicz 18. Malaki Neiufi 19. Lachlan Large 20. Hamid El-bayeh 21. Jarrod Hackney


1. Dylan Cowin 2. Jayme Elias 3. Mark Zacharias 4. Livai Saukuru 5. Emery Jolliffe 6. Zane Camroux 7. Hayden Essery 8. Jayden Lawandos 9. Raymond Raad 10. Siosifa Amone 11. Henry O'kane 12. Joshua Basso 13. Brandon Tumeth 14. Anthony Ikimata 16. Cougar Wheeler 17. William Abou-arrage 21. Brandon Racoma Ngata
Match Officials
Referees: Luke Saldern;Sideline Officials: Corey Fisher, Isaac El-Hassen;
---


1. Logan Radzievic 2. Montell Kuru 3. Harry Fraser 4. Harry Fraser 5. Kodi Crowther 6. Noah Ryan 7. Jonah Pezet 8. Lachlan Williams 9. Riley Jones 10. Elvino Maroulis 11. Thomas Cant 12. Max Bradbury 13. Tallis Duncan 14. Zac Miller 15. Sam Robinson 16. Deam Langdin 17. Jack Gunton 18. Tyrone Nean 19. Rhys Mcdonald


1. Brendon Tapuai 2. Liam Bolger 3. Ouday Zreika 4. Floyd Te Paiho-murray 5. Chris Yang 6. Mason Taufa 7. John Dufty 8. Edmond Phares 9. Declan Purcell 10. Joshua Porter 11. Daniel Musolino 12. Jesse-james Nafoi 13. Caleb Navale 14. Mackenzie Roche 15. Fletcher Williamson 16. Mason Makatoa 17. Khalil Youssef 18. Harrison Hewitt 19. Thomas Flynn 20. Mike Ellazar
Match Officials
Referees: Charlie Suters;Sideline Officials: Tobi Holder;
---


1. Noah Lester 2. Jerome Heleta 3. Douglas Levi 4. Jordan Samrani 5. Samuel Stonestreet 6. Manaia Waitere 7. Kade Dykes 8. Jamaine Melchior 9. Samuel Healey 10. Billy Burke 11. Kitione Kautoga 12. Maxwell Scanlon 13. Blake Hosking 14. Jed Hardy 15. Apisalome Saukuru 16. Zac Hodges 17. Joshua Finau 18. Jake Biggs 19. Cody Fuz 20. Epeli Sukanaivalu 21. Tyler Field


1. Josh Martin 18. Jai Schneider 3. Phoenix Steinwede 4. Rhys Jurd 5. Bailey Frost 6. Sandon Smith 7. Jake Holmes 8. Jack Bishop 9. Thomas Deakin 10. Jeremiah Ratabua 11. Bowen Slee 12. Brock Elford 13. Zac Montgomery 2. Zachariah Mclean 14. Dylan Pisani 15. Matthew Russell 16. Kyle Mahony 17. Bryson Jones 19. Leo Elton 20. Finn Moulston
Match Officials
Referees: Robert Morey;Sideline Officials: Mark Gannon, Noah Simpkins;
---


1. Junior Tupou 3. Addison Williams 4. Paul Grove 5. Thomas Gaffey 6. Harrison Alder 7. Drew Beavan 8. Bailey Lanham 9. Aidan Connell 11. Harry Fitzpatrick 12. Jack Williams 13. Clay Webb 14. Liam Fitzsimmons 15. Joshua Knight 16. Jesse Buchan 17. Fiefia Lotefia 18. Joshua Pokoney


1. Joseph Suaalii 2. Christian Smirnotis 3. Evan Manning 4. K. Donovan-phillips 5. Zach Kambos 6. Jayden Mclachlan 7. Dion Teaupa 8. Davvy Moale 9. R. Vesikula 10. Aiden Hawa 11. Zach Maling 12. Terrell Kalo Kalo 13. Ned Hicks 14. D. Hawe-de-thierry 15. Krystian Mapapalangi 16. Carson Kaho 19. J. Chan Kum Tong 20. Michael Gerolimos 21. Braydon Jang 24. Izayah Tuigamala 26. Livai Tikoipau
Match Officials
Referees: Dillian Wells;Sideline Officials: Mitchell Robinson, Elijah Fernance;
---