Team Lists:
TEAMS: NSWRL Women's - 2020 Finals Week 3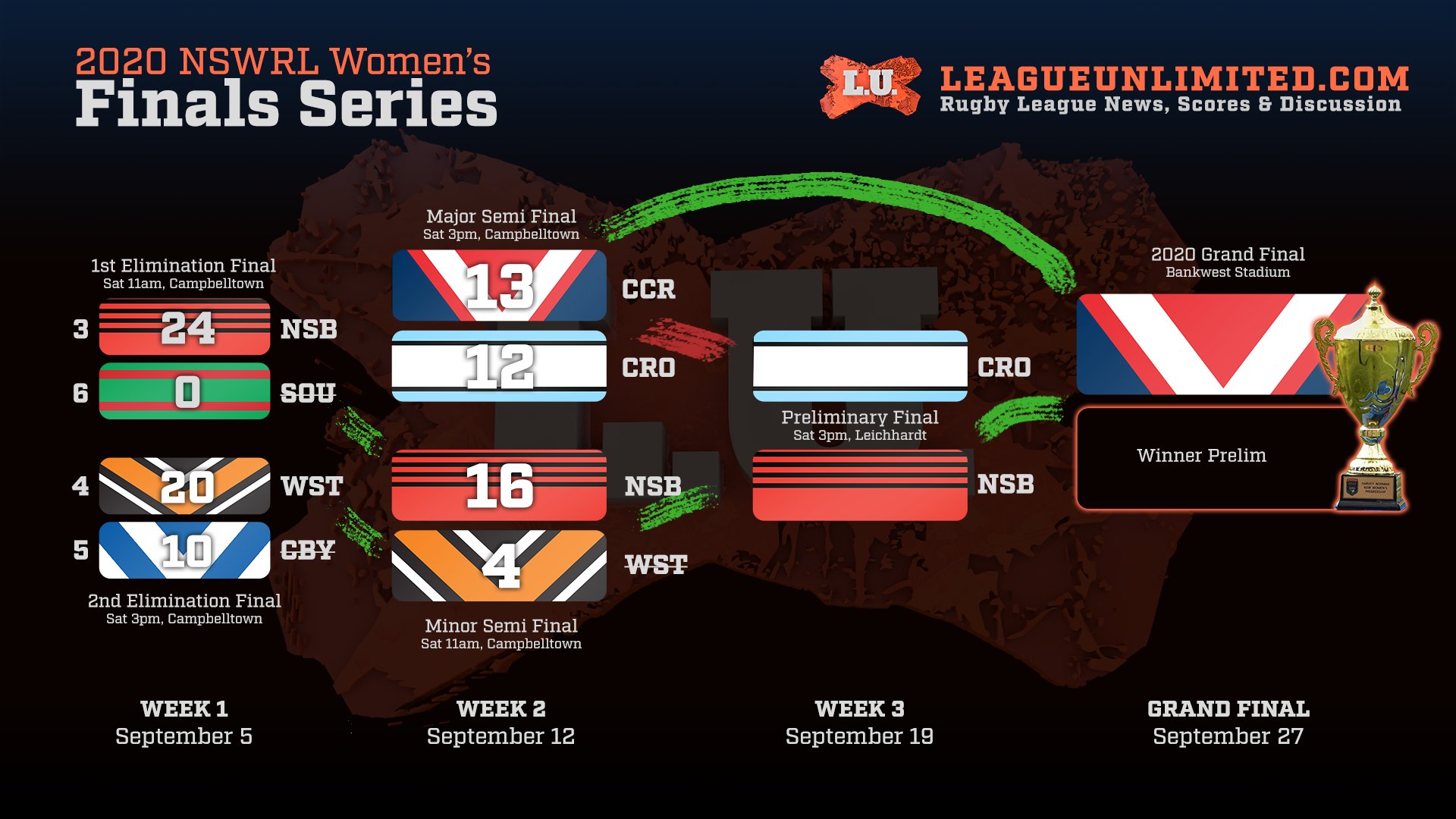 The teamlists for Saturday's preliminary final in the NSWRL Harvey Norman Women's Premiership.
The winner of the Sharks-Bears clash will face the Central Coast Roosters in the Grand Final on September 27 at Bankwest Stadium.
All times are listed in AEST (NSW/QLD/VIC/ACT) unless otherwise noted.
Twitter: Follow @LeagueUnlimited
Facebook: Like LeagueUnlimited - NRL & Rugby League News
---


1. Jaime Chapman 2. Andie Robinson 3. Jamie Anne Wright 4. Kiana Takairangi 5. Zali Fay 6. Corban McGregor 7. Maddie Studdon 8. Georgie Brooker 9. Keeley Davis 10. Analei Netzler 11. Talei Holmes 12. Kennedy Cherrington 13. Kaarla Cowan 14. Tegan Dymock 15. Georgia Page 17. Lynda Howarth 18. Lavinia Taukamo 19. Tia Hinds


1. Shanice Parker 2. Caitlin Keefe 3. Shontelle Stowers 4. Shenai Lendill 5. Tyla Gambell 6. Chloe Leaupepe 7. Sabrina Green 8. Josephine Maejiirs 9. Nita Maynard 10. Aliti Namoce 14. Talesha Quinn 12. Simaima Taufa 13. Nicole Backhouse 15. Mary Taupau 16. Moniqca Moale 19. Lacey Shields 17. Losena Qiolevu 18. Pier Pritchard 20. Eunice Grimes
Referees: Karra-lee Nolan;Sideline Officials: Cameron Turner, Dillian Wells;
---