Team Lists:
TEAMS: QRL Intrust Super Cup Country Week - 2018 Round 19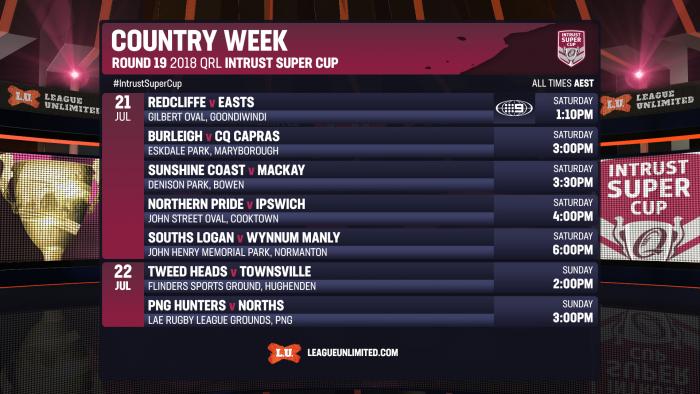 It's Teamlist Tuesday for Round 19 of the 2018 QRL Intrust Super Cup - which is Country Week! Every Tuesday, the full teams for each #IntrustSuperCup round will be posted right here!
All times are listed in AEST (NSW/QLD/VIC/ACT) unless otherwise noted.
Twitter: Follow @LeagueUnlimited
Facebook: Like LeagueUnlimited - NRL & Rugby League News
---


1. Josh Beehag 2. Jonus Pearson 3. Tom Opacic 4. Moses Pangai 5. Jeremy Hawkins 6. Bryce Donovan 7. Cameron Cullen 8. Nathan Watts 9. Hugh Pratt 10. Sam Anderson 11. Toby Rudolf 12. Aaron Whitchurch 13. Jamil Hopoate 14. Scott Schulte 15. James Taylor 16. Tom Geraghty 17. Sheldon Pitama


1. Scott Drinkwater 2. Lincoln Port 4. Maeli Seve 3. Shane Neumann 5. Jarrod McInally 6. Billy Walters 7. Conor Carey 8. David Tyrrell 9. Chris Ostwald 10. Brett Greinke 11. Jake Foster 12. Patrick Kaufusi 13. Jack Svendsen 14. James Salter 15. Kelma Tuilagi 16. Tino Faasuamaleaui 17. Albert Vete 18. Jarred Tuite
Match Officials | Referees: Michael Gordon, Wyatt Raymond;Sideline Officials: Ethan Menchin, Peter Anderson;Video Referees: Clayton Sharpe;
---


1. Kurtis Rowe 2. Troy Leo 3. Henare Wells 4. Joshua Berkers 5. Toby Mcintosh 6. Dylan Phythian 7. Joshua Rogers 8. Luke Page 9. Pat Politoni 10. Matt White 11. Hayden Schwass 12. Matt Robinson 13. Sam Coster 14. Jeff Lynch 15. Darius Farmer 16. Tyler Sparkes 17. Kai O'donnell


1. Zeik Foster 2. Junior Kirisome 3. Connor Broadhurst 4. Nathan Bassani 5. Chanel Seigafo 6. Maipele Morseu 7. Blake Goodman 8. Oliver Percy 9. Billy Gilbert 10. Jerry Key 11. Bill Cullen 12. Dave Taylor 13. Jamie Hill 14. Dave Cowhan 15. Luke George 16. Aaron Flanagan 17. Brad Lupi 18. Jack Madden 19. Wade Carra
Match Officials | Referees: Tyson Brough;Sideline Officials: Dan Munroe, Glen Stewart;
---


1. Ryan Papenhuyzen 2. Matthew Soper-Lawler 3. Justin Olam 4. Sandor Earl 5. Iliesa Ratuva 6. Caleb Daunt 7. Rhys Jacks 18. Lachlan Timm 9. Harry Grant 10. Lachlan Roe 11. Dane Hogan 12. Christopher Lewis 13. Thomas Eisenhuth 14. Sam Burns 15. Jye Ballinger 16. Louis Geraghty 17. Martin Cordwell 19. Nick Timm


1. Lachlan Coote 2. Yamba Bowie 3. Nate Saumalu 4. Blake Atherton 5. Johnny Faletagoai 6. Kyle Laybutt 7. Nicholas Hynes 8. Jordan Grant 9. Jayden Hodges 10. Nicholas Brown 11. Kellen Jenner 12. Brenden Treston 13. Bennett Leslie 14. Cooper Bambling 15. Lona Kaifoto 16. Jack Brock 17. Jye Anderson 18. Tom Murphy
Match Officials | Referees: Ben Watts;Sideline Officials: Zane Wright, Kurt Sheather;
---

1. Matthew Musumeci 2. Jonico Hardwick 3. Brett Anderson 4. Javid Bowen 5. Shawn Bowen 6. Jordon Biondi-Odo 7. Jack Campagnolo 8. William Bugden 9. Ryan Ghietti 10. Sheldon Powe-hobbs 11. Graham Clark 12. Ethan Lowe 13. David Murphy 14. Connor Jones 15. Emry Pere 16. Darryn Schonig 17. Troy Kapea 18. Jack Murphy 19. Jared Allen 20. Tom Hancock


1. Michael Purcell 2. Marmin Barba 3. Ben White 4. Isimeeli Hafoka 5. Richard Pandia 6. Chris Ash 7. Dane Phillips 8. Tyson Lofipo 9. Jayden Connors 10. Nat Neale 17. Billy McConnachie 12. Sebastian Pandia 13. Benjamin Shea 11. Rowan Winterfield 15. Samuel Caslick 16. Huskie Teutau 18. Wes Conlon 19. Mitchell Carpenter
Match Officials | Referees: Chris Anderson;Sideline Officials: Jack Ebert, Giulian Fichera;
---


1. Javarn White 2. Benaiah Bowie 3. Lenny Magey 4. Dan Russell 5. Corey Allen 6. Guy Hamilton 7. Sam Scarlett 8. George Fai 9. Travis Waddell 10. Thomas Flegler 11. Brendon Gibb 12. Simione Fatefahi 13. Rhys Melville 14. Manaia Cherrington 15. Sam Lavea 16. Daniel Tamou 17. Sam Elliott


1. Patrick Templeman 2. Tumoana Halkyard 3. Edward Burns 4. Delouise Hoeter 5. Daniel Ogden 6. Shaun Nona 7. Michael Dobson 8. Stedman Lefau 9. Mitchell Cronin 10. Keenan Palasia 11. Alex Barr 12. Adam Tuimavave-Gerrard 13. Max Elliott 14. Jayden Berrell 15. Mitch Frei 16. Patty Carrigan 17. Lachlan Lee 18. Aaron Rockley 19. Jeriah Goodrich 20. Junior Pita 21. Til Vea
Match Officials | Referees: Tim Rutherford;Sideline Officials: Peter MacKinnon, Marcus Schooth;
---


1. Ali Grant 5. Kiah Cooper 3. Talor Walters 4. Ryland Jacobs 2. Tevita Folau 6. Lindon Mcgrady 7. Kane Elgey 8. Kalani Going 9. Eli Levido 16. Maia Sands 11. L. Manuel-liolevave 12. Bryce Cartwright 13. Ryan Simpkins 10. Jarrod Morfett 14. Jack Cook 15. Reece Summer 17. Rory Lillis


1. Zachary Santo 2. Jonathon Reuben 3. Shaun Hudson 4. Justin O'Neill 5. Carlin Anderson 6. Zach Clay 7. Jaelen Feeney 8. Joe Boyce 9. Krys Freeman 10. Cade Maloney 11. Jake Marketo 12. Levi Dodd 13. Temone Power 16. Dan Beasley 17. Andrew Davey 19. Brent Woolf 22. Sione Lousi
Match Officials | Referees: Nick Pelgrave;Sideline Officials: Alex Mallory, Andrew Wareham;
---


1. Edene Gebbie 2. Junior Rau 3. Thompson Teteh 4. Adex Wera 5. Brendon Gotuno 6. Ase Boas 7. Watson Boas 8. Enoch Maki 9. Wartovo Puara 10. Moses Meninga 11. Nixon Put 12. Willie Minoga 13. Stanton Albert 14. Charlie Simon 15. Wawa Paul 16. Mckenzie Yei 17. Dilbert Isaac 18. Silas Gahuna 19. Ila Alu 20. Butler Morris

1. Jack Ahearn 2. Herbie Farnworth 3. Luke Pollock 4. Gehamet Shibasaki 5. Paul Ulberg 6. Zach Strasser 7. Troy Dargan 8. Jamayne Taunoa - Brown 9. Alex Bishop 10. Riley Leota 11. Oshea Tuiasau 12. Brandon Lee 13. John Palavi 14. Guy Williams 15. Sam Tagataese 16. Carney Doyle-Manga 17. Moses Noovao-McGreal 19. Jack Miers
Match Officials | Referees: Jarrod Cole;Sideline Officials: Jacob Whitehouse, Nathan Cornick;
---