Team Lists:
TEAMS: QRL Intrust Super Cup - 2019 Grand Final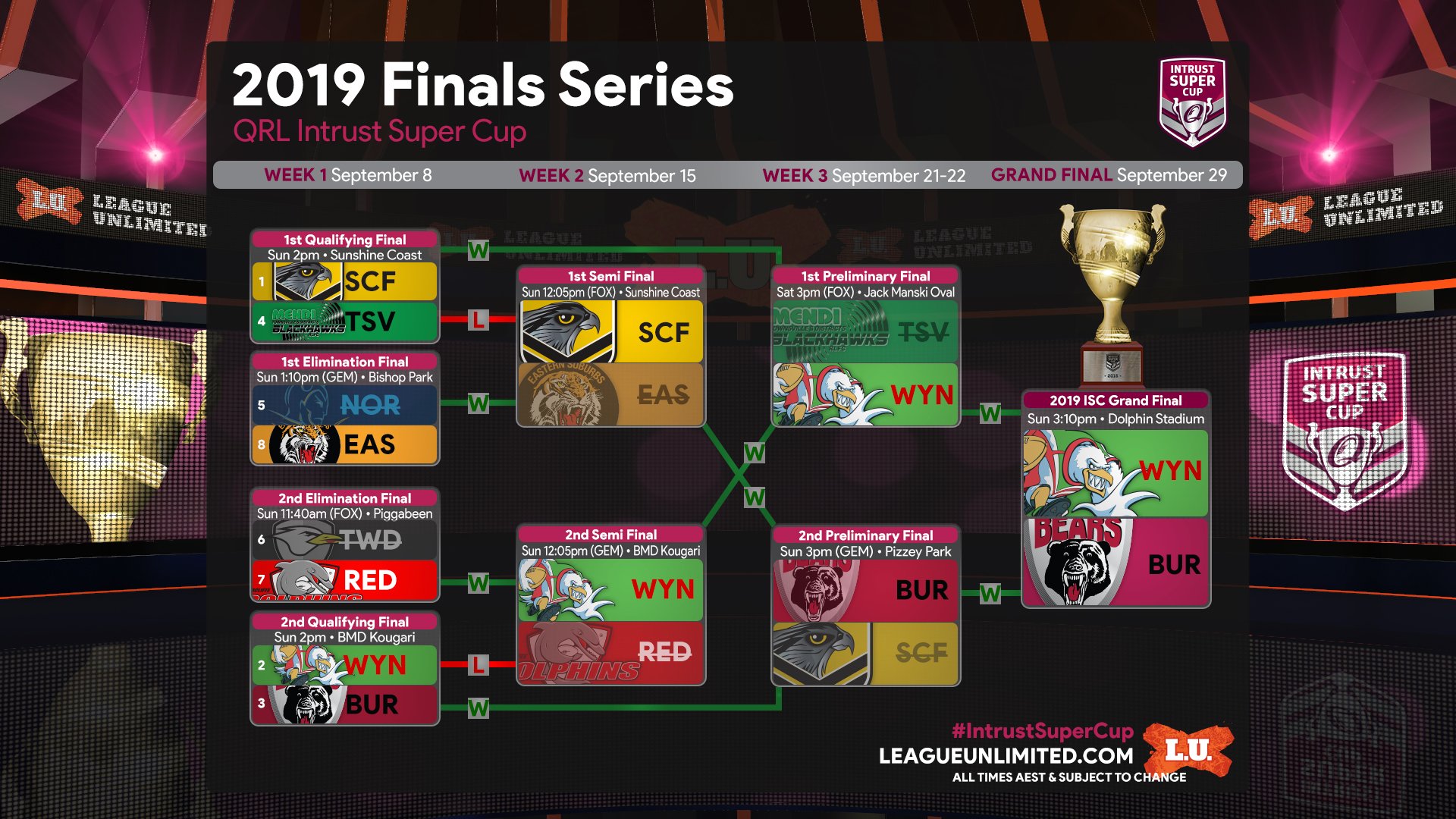 It's Teamlist Tuesday for Grand Final of the 2019 QRL Intrust Super Cup! Get the full teams for Sunday's #IntrustSuperCup decider right here.
The match will be broadcast live on the Nine Network in QLD.

All times are listed in AEST (NSW/QLD/VIC/ACT) unless otherwise noted.
Twitter: Follow @LeagueUnlimited
Facebook: Like LeagueUnlimited - NRL & Rugby League News
---
2019 Grand Final


Wynnum Manly Seagulls v Burleigh Bears
Sun September 29 2019, 3:10pm at Dolphin Stadium


1. Edene Gebbie 2. Edward Burns 3. Delouise Hoeter 4. Jordan Drew 5. Junior Pauga 6. Pat Templeman 7. Sam Scarlett 8. Aaron Rockley 9. Mitchell Cronin 10. Matt Groat 11. Keenan Palasia 12. Alex Barr 13. Max Elliott 14. Jayden Berrell 15. Kelly Tate 16. Lachlan Lee 17. Kalolo Saitaua 18. Jack Goodsell 20. Tristan Hope


1. Kurtis Rowe 2. Tyrone Roberts-Davis 3. Sami Sauiluma 4. Joshua Berkers 5. Anthony Don 6. Dylan Phythian 7. Jamal Fogarty 8. Luke Page 9. Pat Politoni 10. Jack Buchanan 11. Hayden Schwass 12. Blake Leary 13. Sam Coster 14. Matt Robinson 15. Joshua Rogers 16. Oliver Percy 17. Apiata Noema-matenga 18. Josh Ailaomai 19. Jeff Lynch
Match Officials
Referees: Liam Kennedy, Tyson Brough;Sideline Officials: Jarrod Cole, Jacob Whitehouse;Video Referees: Clayton Sharpe, Tim Rutherford;
---