Team Lists:
NRLW TEAMS - 2022 Round 5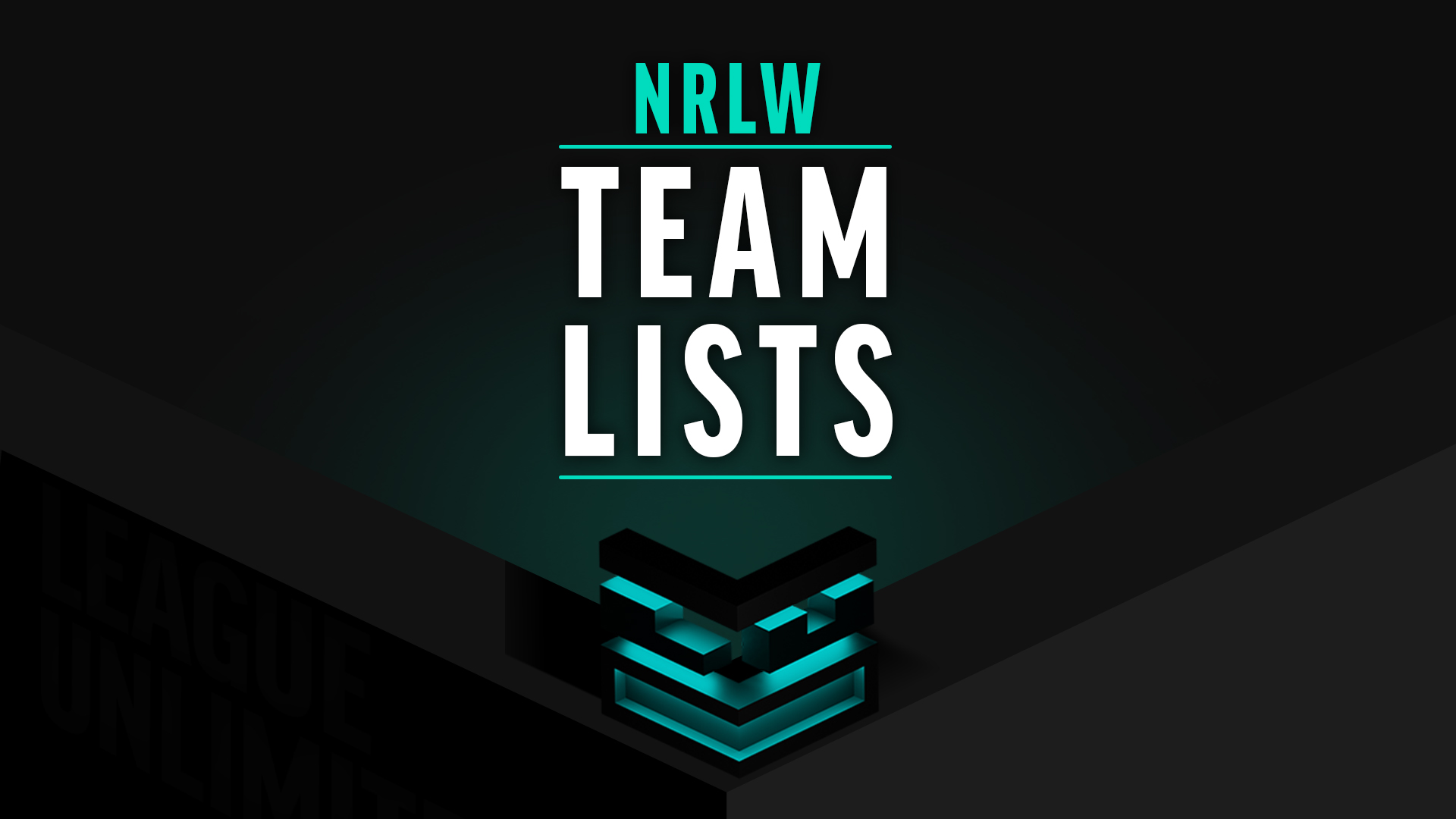 NRLW teamlists drop right here at 4pm AEST together with match official appointments - then bookmark the article and check back all weekend as squads are updated and late mail is confirmed.
All times are listed in AEST (NSW/QLD/VIC/ACT) unless otherwise noted.
Twitter: Follow @LeagueUnlimited
Facebook: Like LeagueUnlimited - NRL & Rugby League News
---
Referee: Kasey Badger
Sideline Officials: Karra-Lee Nolan, Rochelle Tamarua
Video Referee: Chris Butler


1. Hayley Maddick 2. Julia Robinson 3. Jaime Chapman 4. Shenae Ciesiolka 5. Emily Bass 6. Tarryn Aiken 7. Ali Brigginshaw 8. Annetta Nuuausala 9. Jada Ferguson 12. Amber Hall 11. Jasmine Fogavini 15. Hannah Larsson 16. Sophie Holyman 14. Amy Turner 10. Chelsea Lenarduzzi 17. Brianna Clark 19. Nita Maynard 18. Paige Parker
Changes from Round 4 - Bass is back on the wing, Tungai coming out of the 17. Ferguson replaces Lavinia Gould (calf) at dummy half, Turner joins the bench.

24H Warning: 13. Tallisha Harden, 20. Shakiah Tungai, 21. Kaitlyn Phillips omitted. Harden is out, Holyman starts at lock with Maynard going onto the bench.
Late Mail: Sunday 11:05am


1. Gayle Broughton 2. Zali Fay 3. Tiana Penitani 4. Rikeya Horne 5. Cassey Tohi-Hiku 6. Ash Quinlan 7. Tayla Preston 14. Kennedy Cherrington 21. Brooke Anderson 10. Ellie Johnston 11. Christian Pio 12. Vanessa Foliaki 13. Simaima Taufa 8. Filomina Hanisi 9. Seli Mailangi 19. Najvada George 22. Rima Butler 18. Abbi Church
Changes from Round 4 - Unchanged.

24H Warning: 15. Rueben Cherrington, 20. Tess Staines, 23. Brooke Walker. Rueben Cherrington is a late withdrawal, George comes in on the bench. Anderson comes into the side replacing Kennard who shifts to the reserves.
Late Mail: Sunday 11:05am

---
Referee: Belinda Sharpe
Sideline Officials: Cameron Turner, Mitchell Currie
Video Referee: Matt Noyen


1. Evania Pelite 2. Karina Brown 3. Apii Nicholls 4. Jasmine Peters 5. Madison Bartlett 6. Kimiora Breayley-Nati 7. Lauren Brown 8. Shannon Mato 9. Brittany Breayley-Nati 10. Stephanie Hancock 11. Zara Canfield 12. Tiana Raftstrand-Smith 13. Georgia Hale 14. Jetaya Faifua 15. Jessika Elliston 17. Laikha Clarke 18. Roxy Murdoch 21. Hagiga Mosby
Changes from Round 4 - Unchanged.

24H Warning: April Ngatupuna drops off the bench with Roxy Murdoch added to the bench; Hagiga Mosby and Annette Brandner in the 19 still
Late Mail: 1-17 with Mosby 18th player.


1. Jada Taylor 2. Shannon Rose 3. Jessica Sergis 4. Isabelle Kelly 5. Jayme Fressard 6. Zahara Temara 14. Jocelyn Kelleher 8. Kalosipani Hopoate 9. Destiny Brill 10. Sarah Togatuki 11. Shaniah Power 12. Olivia Kernick 13. Keilee Joseph 15. Shawden Burton 16. Otesa Pule 17. Angelina Teakaraanga Katoa 18. Samantha Economos 19. Joeli Morris
Changes from Round 4 - Sam Bremner, Leianne Tufuga and Mya Hill-Moana are all out, Taylor debuts at fullback, Rose comes into the backline, with Jasmin Strange dropping to reserves. Fressard returns on the wing, with Togatuki and Power back in the forward line. Teakaraanga-Katoa joins the bench.

24H Warning: The Roosters have lost Raecene McGregor from the clash to go with the big names already out. Jocelyn Kelleher moves into the halves with Samantha Economos added to the bench; Chante Temara and Sam Bremner cut from the extended bench.
Late Mail: 20. Jasmine Strange omitted. No further changes for the Roosters with Morris as the 18th player.
---
Referee: Ziggy Przeklasa-Adamski
Sideline Officials: Karra-Lee Nolan, Rochelle Tamarua
Video Referee: Chris Butler


1. Emma Tonegato 2. Teagan Berry 6. Taliah Fuimaono 21. Shontelle Stowers 5. Andie Robinson 19. Zali Hopkins 7. Rachael Pearson 8. Elsie Albert 14. Quincy Dodd 10. Tara McGrath-West 12. Shaylee Bent 17. Chantel Tugaga 13. Holli Wheeler 3. Keele Browne 9. Keeley Davis 18. Renee Targett 20. Aliti Namoce 22. Salma Nour
Changes from Round 4 - Holmes is named as returning but may drop out again with an ongoing knee issue which has seen her miss plenty of footy of the Red V both this season and last. Tara McGrath-West is named to start.
Squad Update: 11. Kezie Apps, 15. Talei Holmes, 16. Monalisa Soliola omitted. Apps is out with Tugaga starting. The bench has seen a significant reshuffle with Targett, Hopkins and Namoce joining the bench.
Late Mail: The Dragons have lost Kezie Apps, Monalisa Soliola and Page McGregor for the clash; Taliah Fuimaono moves to the centres along with Shontelle Stowers who comes into the side. Zali Hopkins starts at five-eighth in jersey 19, Quincy Dodd moves to start at hooker with Keely Davis moving to the bench. Renee Targett and Aliti Namoce are on the bench.

3. Shanice Parker 4. Emmanita Paki 1. Bobbi Law 5. Kiana Takairangi 20. Jessica Gentle 6. Kirra Dibb 7. Jesse Southwell 8. Caitlan Johnston 9. Olivia Higgins 10. Millie Boyle 11. Romy Teitzel 12. Yasmin Clydsdale 16. Kayla Romaniuk 13. Simone Karpani 14. Emma Manzelmann 15. Tayla Predebon 17. Makenzie Weale 19. Kyra Simon
Changes from Round 4 - Upton returns at fullback, Parker shifting to the centres, while Law, who withdrew last week through injury, is named as a reserve.
Squad Update: 1. Tamika Upton, 2. Jakiya Whitfeld, 18. Tiana Davison omitted. Upton is OUT again, Parker shifts back to fullback, Paki and Takairangi shift to the left with Law and Gentle playing on the right. Karpani shifts to the bench with Romaniuk starting.
Late Mail:  For the Knights, there are a myriad of changes as well Shanice Parker moves to fullback with Bobbi Law going to the centres, Emma Paki moves to the wing along with Jess Gentle, Kiana Takairangi also moves to the centres. Simone Karpani drops to the bench with Kayla Romaniuk starting at lock.
---