Team Lists:
NRLW TEAMS and PREVIEWS - 2023 Round 9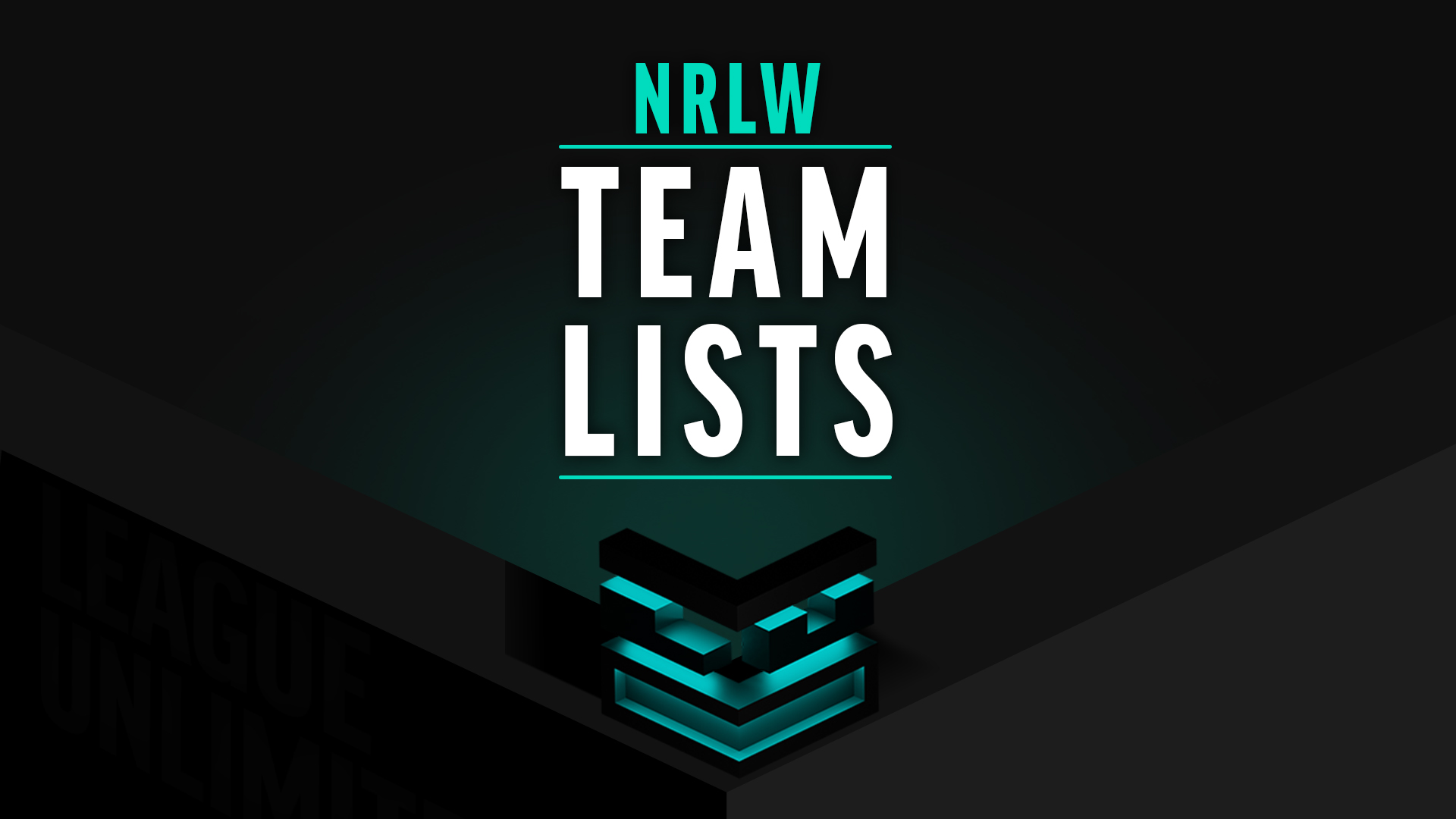 It's Teamlist Tuesday - get all the NRLW teamlists and officials here from 4pm Tuesday, with updated squads and late mail across the round, PLUS previews of each game approaching game day.
Here's what to expect:
Tuesday afternoon: match official appointments
Tuesday 4pm: squad lists released for all clubs
24 hours from kickoff: squad update (squads reduced to 19 players)
One hour from kickoff: final lineups (17 players plus one reserve)
All times are listed in AEST (NSW/QLD/VIC/ACT). Variations on kickoffs in other time zones are shown where appropriate.
All matches are broadcast on the Nine Network and Fox Sports (check guides for channels) and streamed on 9Now and Kayo Sports.
Click here for teamlists across all grades including NRL, NSWRL, QRL and squads from the UK.
Twitter: Follow @LeagueUnlimited
Facebook: Like LeagueUnlimited - NRL & Rugby League News
---
NOTE: Originally scheduled to be played at Campbelltown, moved due to air quality issues following backburning operations during the week prior to the game.


20. Pauline Piliae 2. Jakiya Whitfeld 3. Rikeya Horne 4. Leianne Tufuga 5. Rebecca Pollard 6. Emily Curtain 7. Brooke Talataina 8. Folau Vaki 9. Sophie Curtain 10. Christian Pio 21. Taylor Osborne 12. Hope Tevaga 13. Najvada George 14. Imogen Gobran 15. Jae Patu 16. Jessica Kennedy 17. Salma Nour 18. Bianca Bennetts
Out: Tess Staines (wing), Pauline Piliae-Rasabale (five-eighth), Sarah Togatuki (front row), Ebony Prior (hooker), Eliza Siilata (second row), Bianca Bennetts (bench)
In: Rebecca Pollard (wing), Emily Curtain (five-eighth), Folau Vaki (front row), Hope Tevaga (second row), Imogen Gobran (bench)
Changes: Sophie Curtain (bench to hooker)
Squad update: 11. Kezie Apps, 19. Tess Staines and 22. Ebony Prior cut. Osborne comes in at back row with Bennetts and Piliae remaining.
Late mail: 1. Botille Vette-Welsh is out, with Piliae coming in at fullback. Bennetts is 18th player.

1. Tamika Upton 2. Sheridan Gallagher 3. Shanice Parker 4. Abigail Roache 5. Jasmine Strange 23. Caitlin Moran 7. Jesse Southwell 8. Tayla Predebon 9. Olivia Higgins 10. Caitlan Johnston 11. Laishon Albert-Jones 12. Yasmin Clydsdale 13. Hannah Southwell 14. Nita Maynard 15. Jacinta Carter 16. Kayla Romaniuk 17. Tiana Davison 18. Felila Kia
Unchanged
Squad Update: 6. Georgia Roche is out with Moran coming in at five-eighth. 20. Jayde Herdegen and 22. Tylah Vallance are cut with Kia and Leati remaining.
Late mail: 19. Tamerah Leati drops out, Kia is 18th player.
Referees: Rochelle Tamarua;Sideline Officials: Daniel Luttringer, Karra-Lee Nolan;Video Referees: Kasey Badger;
FINALS FOCUS: Newcastle will secure the minor premiership with a win, which would see them host 4th place in the semi finals; if they lose they may still finish first should the Roosters and Titans not triumph. Wests Tigers are out of contention with only two wins from eight games.

Match preview
with Kelly Hollis
Kezie Apps, Rikeya Horne and Sarah Togatuki returned from a week on the sideline to play huge roles in the Wests Tigers' narrow loss to the Brisbane Broncos in Round 8. Apps scored her fifth try in Wests Tigers colours, Horne ran for almost 200 metres and made 8 tackle breaks and although she only played 35 minutes, Togatuki ran over 165 metres, made 3 tackle breaks and 18 tackles.  Although the Broncos were the first to score and went into the break 2 points in front, the Tigers scored first in the second half and saw their lead extend to 16-6 with 8 minutes on the clock. The Broncos were able to get back on top of the young and inexperienced Wests Tigers side to score two tries to see them win in the last 2 minutes of the match. The Wests Tigers were gallant in defeat, leaving nothing on the field and giving the highly experienced Broncos side a run for their money.
In the Newcastle Knights' 20 - 4 win over the Sydney Roosters, Tamika Upton put on an absolute masterclass to give the Novacastrians the outright top-of-the-table position going into the final round of the regular season. Upton ran over 267 metres and scored two of the four Knights tries that were scored on the day. Jasmine Strange was also able to bag her own try against not only her old club but the club that is coached by her dad, John. Crafty halfback, Jesse Southwell, rounded out the tryscoring by scoring a beautiful try that demonstrated not only her sheer strength and power but her footwork and speed at the line as well. The Knights were not up to their usual high completion, making 13 errors in the 70 minutes but they were able to capitalise on every situation they were presented with. The plays that led to both of Upton's tries could be described as nothing but freaky, demonstrating that she is possibly the number one player in the NRLW at the moment.
Round 9 sees the Wests Tigers host the Newcastle Knights at Campbelltown Stadium during just the second Thursday night game in the NRLW season. Newcastle Knights Head Coach Ronald Griffiths has named an unchanged 17 to the side that comfortably beat the premiership favourites in Round 8. Last week's win against the Roosters was the Knights' 6th win in a row and firmly cements them in the top 4 to play semi-finals. Another win this weekend would secure the Minor Premiership as they are two points clear of the second-placed Roosters side.
On the other side of the park, Brett Kimmorely has named quite a different side to the one that took the field and tested the Broncos last weekend. Sarah Togatuki will be a huge loss, again, after succumbing to the ankle injury she sustained in the hip drop from Annetta-Claudia Nu'uausala and is believed to be undergoing surgery later this week. Eliza Silata is also out of the side as a result of a failed head injury assessment after a head knock in the 6th minute of last week's game. Folau Vaki is set to replace Togatuki at prop with Hope Tevaga slotting into the second row for Siilata. There are other changes throughout the starting 17 with Emily Curtain returning in the halves and Sophie Curtain starting in the hooker position. This will be the first NRLW game where the Curtain twins will both be starting. Rebecca Pollard will also be replacing Tess Staines on the wing.
This game will be set to be a great game to watch, being only the second NRLW game held under lights this year. The Knights are safe in the top four and the Wests Tigers are, unfortunately, out of the finals race - so there is really nothing on the line for this game. With the young and experienced Wests Tigers side putting up a solid fight against the much more experienced Broncos side, fans should expect to see a similar match-up this weekend with the Tigers hoping to end their season on a high.
Players to watch
Wests Tigers: Kezie Apps will be vying for her 6th try in her 8th appearance in Wests Tigers colours. Apps is the most experienced player to take the field for the Tigers with 26 NRLW appearances under her belt, not including representative honours. In her 19 games for the Dragons, Kezie had only crossed the stripe twice proving that her combinations with the Wests Tigers halves and middles have been fruitful!
Newcastle Knights: Although she is only 18, halfback Jesse Southwell plays well above her years. In just her second year in the NRLW, Southwell has achieved a lot winning the premiership with the Newcastle side in 2022, being crowned the NRLW Rookie of the Year, 2022 Club Person of the Year, earning a Sky Blue jersey and committing to the Knights until the end of the 2027 NRLW season. Southwell can not only score tries from anywhere, but she can also convert them from anywhere.
My tip: The heart says the Wests Tigers, but the head says the Newcastle Knights. If the Tigers girls can get off to a good start and defend well, they may be in the hunt for their third win of the season. Newcastle by 6.
---

1. Corban Baxter 2. Brydie Parker 3. Jayme Fressard 4. Isabelle Kelly 5. Tyler Bentley 6. Tarryn Aiken 7. Jocelyn Kelleher 16. Mya Hill-Moana 17. Joeli Morris 10. Teuila Fotu-Moala 11. Otesa Pule 12. Olivia Kernick 13. Keilee Joseph 14. Millicent Scutt 15. Grace Hamilton 18. Pani Hopoate 19. Mia Wood 21. Lexi Kiriwi
Out: Mia Wood (wing), Lily Rogan (bench), Kalosipani Hopoate (bench), Amelia Pasikala (bench)
In: Tyler Bentley (wing), Millie Boyle (front row), Millicent Scutt (bench), Joeli Morris (bench)
Changes: Grace Hamilton (front row to bench), Mya Hill-Moana (front row to bench), Teuila Fotu-Moala (bench to front row)
Squad update: 8. Millie Boyle and 9. Keeley Davis are out, with Fotu-Moala (prop) and Morris (hooker) replacing them. 22. Amelia Pasikala drops off reserves with Kiriwi and Rogan remaining.
Late mail: Kiriwi is 18th player, 20. Lily Rogan drops out.

14. Jetaya Faifua 16. Mia Middleton 3. Jasmine Peters 4. Shellie Long 5. Krystal Blackwell 6. Tahlulah Tillett 7. Kirra Dibb 8. Tallisha Harden 9. Emma Manzelmann 10. April Ngatupuna 11. Bree Chester 12. Lily Peacock 13. Tiana Raftstrand-Smith 15. Sera Koroi 17. Jessikah Reeves 18. Alisha Foord 19. Sareka Mooka 20. Merewalesi Rokouono
Out: China Polata (lock)
In: Mia Middleton (bench)
Changes: Sera Koroi (front row to bench), Tiana Raftstrand-Smith (second row to lock), Tallisha Harden (bench to front row), Lily Peacock (bench to second row)
Squad update: 1. Francesca Goldthorp is out, Faifua moving into the side at fullback. 21. Essay Banu and 22. Shaylee Joseph drop off the reserves with Rokouono and Mooka remaining.
Late mail: 2. Vitalina Naikore is out, with Middleton coming into the backline. Mooka joins the bench with Rokouono as 18th player.
Referees: Wyatt Raymond;Sideline Officials: Rochelle Tamarua, Daniel Luttringer;Video Referees: Todd Smith;
FINALS FOCUS: The Roosters are currently second - they could finish anywhere in the top three positions pending the weekend's results. A win with a Knights loss two days prior would mean the Roosters finish minor premiers, while a loss would see them either remain 2nd or drop to 3rd pending the Raiders-Titans result. The Cowboys are out of contention with just two wins from eight games.

Match preview
with Josh Robertson

The first of Saturday night's NRLW header at Kogarah sees the Sydney Roosters who are looking to ensure their second spot on the ladder when they take on the North Queensland Cowboys who are wanting to finish the season on a high with a big upset.
Sitting second on the NRLW ladder, the Sydney Roosters have had another strong season with six wins from their 8 games this season with defeats against the Raiders in Round 2 and the Newcastle Knights last weekend.
Having the chance to jump into the Minor Premiers spot, the Roosters were outplayed against the Knights especially in the second half when they couldn't match the attack of the Knights conceding 16 unanswered points which would be a concern. The Roosters form has been strong but a heavy loss that way would be a concern even with the fact that key players were missing.
The Roosters have named Isabelle Kelly despite her concussion issues from last weeks contest against Newcastle. The Tricolours are boosted by Millie Boyle's return after her impact was missed last week with a Shoulder injury. Tyler Bentley and Millicent Scutt are set to make their debuts.
The North Queensland Cowboys have had a disappointing season so far picking up just the two wins from their 8 games so far though they were able to pick up a big win back in Round 2 when they beat the Knights and then in Round 4 when they beat the Wests Tigers.
Last weekend, the North Queenslanders were yet again outplayed when they fell to a 34-12 defeat to the Canberra Raiders in Townsville. The first half was where all the damage was done as the Cowboys conceded 22 points in the opening 35 minutes.  The Cowboys were able to have a closer second half but in the end the game was already done.
Despite the heavy loss, Cowboys coach Ben Jeffries has kept his side pretty much the same with English fullback Fran Goldthorp named after leaving the field last week with an elbow injury. The only change sees China Polata ruled out with Mia Middleton coming into the side.
PLAYER TO WATCH: Roosters five-eighth Tarryn Aiken has been a key buy for the Tricolours and again she is going to play a key role. Aiken was on the quiet side last weekend and will want to step it up putting on a show for her side right before the finals.
The Cowboys will be hoping that Kirra Dibb can pull out one big final performance of the year to get the North Queenslanders one big last upset for the season. Dibb has been a strong performer all year for the Cowboys in what has been a disappointing season.
TIP: The Roosters should win this game easily on paper though anything can happen especially if there are late changes to the side. The Cowboys have struggled and the difference in strength of the side shows that the Tricolours should dominate the contest. Roosters by 18.
---

1. Teagan Berry 2. Margot Vella 3. Shenai Lendill 4. Ella Koster 5. Cortez Te Pau 6. Tyla Nathan-Wong 7. Raecene Mcgregor 16. Macie Carlile 9. Renee Targett 10. Roxy Murdoch 11. Madison Mulhall 12. Ellie Williamson 13. Jamilee Bright 8. Angelina Teakaraanga Katoa 14. Zali Hopkins 15. Charlotte Basham 17. Maddison Weatherall 21. Taylor Mapusua
Out: Sarah Riordan (centre), Tara McGrath-West (front row)
In: Ellie Williamson (second row), Charlotte Basham (bench), Macie Carlile (bench)
Changes: Ella Koster (second row to centre), Angelina Teakaraanga Katoa (bench to front row)
Squad update: 19. Tara McGrath-West, 20. Sarah Riorden and 22. Keele Browne drop out with Cowan and Mapasua remaining.
Late mail: Teakaraanga-Katoa benched, Carlile starts prop. Mapasua 18th player with 18. Kaarla Cowan omitted.

1. Hayley Maddick 2. Julia Robinson 3. Mele Hufanga 4. Shenae Ciesiolka 5. Ashleigh Werner 6. Gayle Broughton 7. Ali Brigginshaw 8. Tafito Lafaele 9. Destiny Brill 10. Brianna Clark 11. Tazmin Gray 12. Romy Teitzel 13. Mariah Denman 14. Lavinia Gould 16. Chelsea Lenarduzzi 17. Lauren Dam 22. Jasmine Fogavini 18. Jada Ferguson
Out: Grace Griffin (five-eighth), Annetta Nu'uausala (front row), Jada Ferguson (bench)
In: Gayle Broughton (five-eighth), Lavinia Gould (bench), Jasmine Fogavini (bench)
Changes: Tafito Lafaele (bench to front row)
Squad update: 20. Narikah Orchard and 21. Keisha-Leigh Coolwell drop out, Ferguson and Griffin remain.
Late mail: 19. Grace Griffin is omitted with Ferguson as 18th player.
Referees: Belinda Sharpe;Sideline Officials: Billy Greatbach, Clayton Wills;Video Referees: Matt Noyen;
FINALS FOCUS: The Dragons are four points outside the top four and cannot make the semi finals, but they can play spoiler on their opponents. Brisbane are 4th and have the Raiders hot on their heels. A win would guarantee Brisbane finals, but their position will come down to the Raiders-Titans outcome on Sunday afternoon.

Match preview
with Beth Nicholls

The Broncos travel down south to take on Dragons to attempt to secure a place in the finals if they claim victory.   
Having only won three games of eight this season, the Dragons are unfortunately out of the race to make it to finals, they will be looking to finish their season on a high and claim victory over Brisbane. 
Jamie Soward and the Dragons side currently face one of the largest casualty wards in the competition. Ellie Williamson and Charlotte Basham are set to make their NRLW debut. Cortez Te Poa is named despite suffering a hand injury, with Tara McGrath-West moving to the reserves. Ella Koster returns to the centres in place of Sarah Riordan. 
The Broncos have now won three on the trot, with their last two victories being within a four-point margin. Brisbane sit inside the top four and a win secures them a finals campaign after missing out for the first time last year. 
After missing last week, Gayle Broughton returns to five-eighth position. Tafito Lafaele comes into the starting 17 after Annetta Nu'uausala received a two-match suspension. Lavinia Gould also joins the bench again, with Jada Ferguson being moved the 18th player. 
Who to watch: Having joined the Broncos this year, Gayle Broughton has scored four tries in six appearances, along with three try assists and three line break assists. Throughout the season so far, Broughton has brought experience and skill to the team, partnering with veteran Ali Brigginshaw in the halves. 
Currently leading the 2023 competition with tries scored, totalling ten, Teagan Berry is a force to be reckoned with and holds a special place in NRLW history. Berry is currently one of the few NRLW players to score four tries in one match and holds the record for most tries in Dragons history. She has blistering speed, and we'll sure see her score a try or two come this weekend. 
My tip: Brisbane will be sharp and looking to consolidate their position in finals. After losing to the Dragons for the first-time last year in golden point, the Broncos will be looking to right their wrongs. Brisbane by 16. 
---

1. Abbi Church 2. Zali Fay 19. Monique Donovan 4. Cassey Tohi-Hiku 5. Kimberley Hunt 6. Pihuka Berryman-Duff 7. Rachael Pearson 8. Talesha O'neill 9. Rueben Cherrington 16. Ruby-Jean Kennard 11. Amelia Mafi 12. Mahalia Murphy 13. Kennedy Cherrington 14. Taneka Todhunter 15. Noaria Kapua 17. Jade Fonua 20. Madeline Jones 18. Nakia Davis-Welsh 22. Capri Paekau
Unchanged
Squad update: 3. Lindsay Tui and 10. Tyla Amiatu are out. Donovan comes in to the centres, Kennard starts prop and Jones is added to the bench. 21. Kyra Simon drops out with Tui and Paekau remaining.

1. Jada Taylor 2. Georgia Ravics 3. Tiana Penitani 4. Annessa Biddle 5. Cassie Staples 6. Emma Tonegato 7. Tayla Preston 8. Ellie Johnston 9. Quincy Dodd 10. Tegan Dymock 11. Talei Holmes 12. Vanessa Foliaki 13. Holli Wheeler 14. Sereana Naitokatoka 15. Harata Butler 16. Brooke Anderson 17. Chloe Saunders 18. Maddie Studdon 22. Grace-Lee Weekes
Changes: Brooke Anderson (hooker to bench), Quincy Dodd (bench to hooker)
Squad update: 19. Fatafehi Hanisi, 20. Kiana Takairangi and 21. Fiona Jahnke drop out, Studdon and Weekes remain.
Referees: Darian Furner;Sideline Officials: Mitchell Currie, Tori Wilkie;Video Referees: Belinda Sharpe;
FINALS FOCUS: Both clubs are out of the running, the Eels only picking up one win and the Sharks three across the opening eight weeks.

Match preview
with Lachlan McIntyre

Season finale comes early for Eels and Sharks
The Parramatta Eels and the Cronulla-Sutherland Sharks will close the curtain on their respective 2023 campaigns on the final match-day of the regular season. Opening the double header in Canberra at just past midday, the two clubs have had a year to forget. Cronulla will be looking to build upon their inaugural season into 2024, whilst the Eels will likely finish with their first wooden spoon.
The Eels are the home team on paper for this game, despite support likely being sparse for them down in the nation's capital. In fact, Parramatta have only played two games in their home stadium. Last week they fell to the Titans on the Gold Coast, failing to capitalise on an early try to Kimberly Hunt. With a final score of 34-12, the Eels will be looking to bounce back this Sunday to end their season on a high.
The Sharks have been left wondering what could have been, with the finals now well out of reach. Sitting four points off fourth in seventh, Cronulla-Sutherland showed their potential last week with a strong 16-8 victory over a very credible Dragons side. Unfortunately for them, their inaugural season will come to an end after this game, but they will want to keep the momentum of that big victory last week going into 2024.
Both sides line up unchanged from their respective results last week. This will be another NRLW match for the history books, no matter the result, with this being the first clash between these two well-respected clubs at NRLW level.
Last meeting: First meeting at NRLW level 
Players to watch: Parramatta Eels winger Kimberly Hunt has five tries in her past four games, and she'll be keen to add to that tally in the final game of the season. In her first season of NRLW she has made six appearances for the Eels, playing in every game since her debut in round three. Hunt will want to secure a spot in an NRLW roster for 2024 by continuing her good form. 
Star of the game Emma Tonegato has been a massive contributor for the Sharks all season, but especially over the past handful of games. The former Australian Rugby 7s representative has plenty of experience in league now, with three full NRLW seasons under her belt. This is her first season with Cronulla-Sutherland, so she too will want to end the season on a high. 
My tip: The Sharks should have one final comprehensive performance in them to end their first season on a high. Cronulla-Sutherland by 14.
---

1. Apii Nicholls 2. Madison Bartlett 3. Cheyelle Robins-Reti 4. Mackenzie Wiki 5. Shakiah Tungai 6. Zahara Temara 7. Ash Quinlan 8. Tommaya Kelly-Sines 9. Chante Temara 10. Sophie Holyman 11. Monalisa Soliola 12. Elise Smith 13. Simaima Taufa 14. Emma Barnes 15. Grace Kemp 16. Kerehitina Matua 17. Tara Reinke 21. Jessica Gentle 20. Ahlivia Ingram
Out: Hollie-Mae Dodd (second row)
In: Elise Smith (second row)
Squad update: 18. Ella Ryan, 19. Alanna Dummett and 22. Ua Ravu cut, Gentle and Ingram remain.

1. Evania Pelite 2. Karina Brown 3. Jaime Chapman 4. Niall Williams-Guthrie 5. Destiny Mino-Sinapati 6. Chantay Kiria-Ratu 7. Lauren Brown 8. Shannon Mato 9. Brittany Breayley-Nati 10. Jessika Elliston 11. Zara Canfield 12. Shaylee Bent 13. Georgia Hale 14. Sienna Lofipo 15. Stephanie Hancock 16. Rilee Jorgensen 17. Dannii Perese 20. Hailee-Jay Maunsell 22. Taliah Fuimaono
Unchanged
Squad update: 18. Kaitlyn Phillips, 19. Laikha Clarke and 21. Emily Bass cut, Ormond-Maunsell and Fuimaono remain.
Referees: Kasey Badger;Sideline Officials: Luke Saldern, Daniel Schwass;Video Referees: Peter Gough;
FINALS FOCUS: It all hinges on this game - 3rd place Gold Coast and 5th placed Canberra will know the equation they need prior to Sunday afternoon's match. The Titans can mathematically finish anywhere from 1st to 5th prior to the round kicking off, while the Raiders will need to win by 23 or more at a minimum to unseat the Titans, but need to only win at any margin if Brisbane have lost on Saturday.
Match preview
with AJ Lucantonio

Last Round Shoot-Out to decide finals places
It'll be a final round shoot-out when the Canberra Raiders play host to the Gold Coast Titans in the final round of the NRLW season.
Canberra have had a strong season but sit with a negative for-and-against thanks in large part to the thrashing they copped at the hands of Brisbane. Their the only one of the new sides to be anywhere near a finals birth and it's something Darrin Borthwick should be commended for.
For the game against the Titans, expect Zahara Tamara to dictate terms with a strong kicking game forcing the likes of Evania Pelite to turn and chase the footy. Elsewhere they need to contain that pack that has been so brutal and ruthless against opposition sides in recent weeks. Simaima Taufa's battle with Shannon Mato will be of particular interest for followers of the women's game.
On the team front, they did suffer the unfortunate injury to Hollie-May Dodd who left early with a knee injury. Elise Smith comes into the back-row alongside Monalisa Soliola. Tommaya Kelly-Sines retains her starting spot with Grace Kemp to come off the bench once again.
After finishing last season with the wooden spoon. Not much was expected from the Titans in 2023, but they have shocked all with a solid season this year and with their win over Parramatta. It has given them the box seat to seal a finals place. However, they do need a result to go their way to avoid the anxious nerves with Brisbane needing to lose to St George to confirm their status.
Evania Pelite has been a revelation at the back, causing all sorts of problems running the football. Chantay Kiria-Ratu has stood up in a big way in the absence of Taliah Fuimaono this season, while Shannon Mato continues to press her claim to be the dominant prop of this NRLW season. Canberra's edge defence has looked vulnerable all year in patches, so if they can get early ball to Jaime Chapman and Niall Williams-Guthrie. Points will flow for the visitors.
On their team front. Karyn Murphy has named an unchanged 17 with Taliah Fuimaono (ankle) and Emily Bass (shoulder) included in the reserves as they look to make their way back for the finals.
Players to watch: Focusing on Canberra's dynamic fullback Apii Nicholls. She was outstanding against the Cowboys last start, setting up a try and breaking the line once running for 143 metres. Her ability to create space and cause problems out wide for opposing defences present a huge challenge for the visitors.
Up front, Shannon Mato has had an amazing year. Mato has averaged 186 running metres this year, for a forward in the NRLW. It's an amazing achievement, this included a near 300m effort against the Tigers. Tackling at 94% this season, she has been a handful for the opposition all season long. It looks set to continue for the big front rower, who has a near lock on the Dally M Women's Prop of the Year.
Tip: I like the Titans in this one. Canberra have done well to rally after two straight losses, but the consistency of this side all season long has been a standout to me. Their pack of forwards are consistent with Mato, Bent and Hale causing problems all year long. Canberra will just struggle to match the engine room up front. Titans by 8.