Team Lists:
NRLW TEAMS and PREVIEWS - 2023 Semi Finals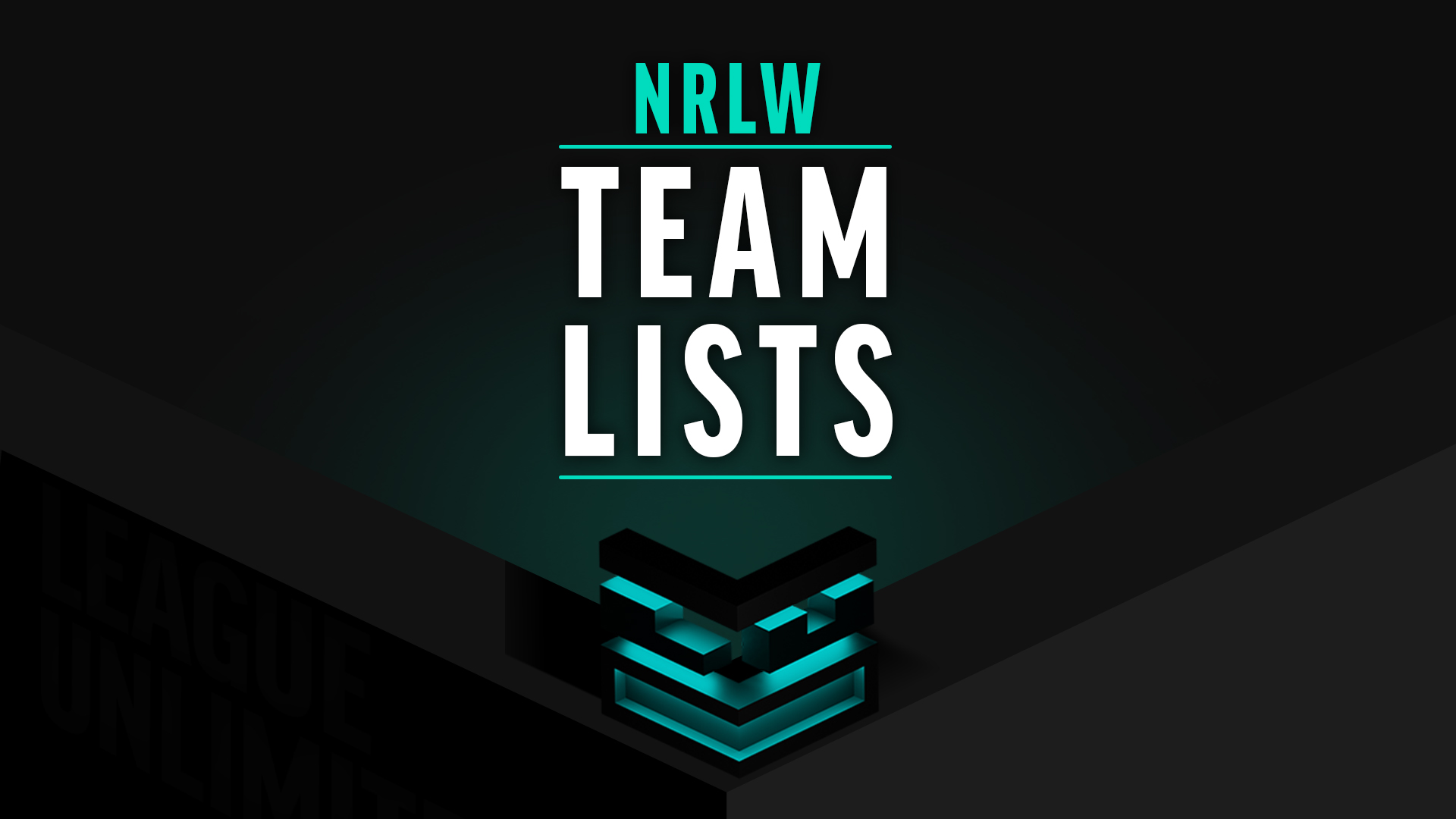 It's Teamlist Tuesday - get all the NRLW teamlists and officials here from 4pm Tuesday, with updated squads and late mail across the round, PLUS previews of each game approaching game day.
Here's what to expect:
Tuesday afternoon: match official appointments
Tuesday 4pm: squad lists released for all clubs
24 hours from kickoff: squad update (squads reduced to 19 players)
One hour from kickoff: final lineups (17 players plus one reserve)
All times are listed in AEST (NSW/QLD/VIC/ACT). Variations on kickoffs in other time zones are shown where appropriate.
All matches are broadcast on the Nine Network and Fox Sports (check guides for channels) and streamed on 9Now and Kayo Sports.
Click here for teamlists across all grades including NRL, NSWRL, QRL and squads from the UK.

Twitter: Follow @LeagueUnlimited
Facebook: Like LeagueUnlimited - NRL & Rugby League News
---
1st Semi Final (1 v 4)


Newcastle Knights v Brisbane Broncos
Sun September 24 2023, 2:05pm
at McDonald Jones Stadium, New Lambton / Awabakal

1. Tamika Upton 2. Sheridan Gallagher 3. Shanice Parker 4. Abigail Roache 5. Jasmine Strange 6. Georgia Roche 7. Jesse Southwell 8. Tayla Predebon 9. Olivia Higgins 10. Caitlan Johnston 11. Laishon Albert-Jones 12. Yasmin Clydsdale 13. Hannah Southwell 14. Nita Maynard 15. Tiana Davison 16. Kayla Romaniuk 20. Rima Butler 17. Jacinta Carter 19. Tamerah Leati
Out: Caitlin Moran (five-eighth)
In: Georgia Roche (five-eighth)
Squad update: 18. Felila Kia, 21. Caitlin Moran and 22. Jayde Herdegen drop out with Carter dropping to reserves and Butler joining bench. Leati the other reserve remaining.

1. Hayley Maddick 2. Julia Robinson 3. Mele Hufanga 4. Shenae Ciesiolka 5. Ashleigh Werner 6. Gayle Broughton 7. Ali Brigginshaw 8. Tafito Lafaele 9. Destiny Brill 10. Brianna Clark 11. Tazmin Gray 12. Romy Teitzel 13. Mariah Denman 14. Lavinia Gould 15. Jasmine Fogavini 16. Chelsea Lenarduzzi 17. Lauren Dam 18. Jada Ferguson 19. Grace Griffin
Unchanged
Squad update: 20. Narikah Orchard, 21. Keisha-Leigh Coolwell, 22. Hannah Larsson cut. Ferguson and Griffin remain.
Referees: Belinda Sharpe;Sideline Officials: Mitchell Currie, Rochelle Tamarua;Video Referees: Matt Noyen;
Match preview
with Kelly Hollis
Sudden death football will return to Newcastle on Saturday afternoon as the Newcastle Knights take on the Brisbane Broncos in the first of two finals games to determine who will take the field on Grand Final Day. The Knights will be looking to seal their 9th win and get one step closer to defending the kingdom.
The team from Newcastle were put to the test in the first half of Round 9 by a fast-starting Wests Tigers, who led the reigning premiers 8 - 6 at half-time at Leichhardt Oval. It didn't take long in the second half though for the Novacastrians to find their form and run in four unanswered second-half tries to secure not only the win but the 2023 NRLW Minor Premiership for the first time.
There were a few injury concerns throughout the game with halfback, Jesse Southwell, unable to finish due to a leg issue and winger, Sheridan Gallagher, who also struggled with a knee concern late in the match. Both players have been cleared to play in this weekend's must-win game against the Broncos. Although Rima Butler has been named on the extended bench, she will be racing the clock to overcome a thumb injury to take the field on Saturday. Five-eighth, Georgia Roche, who was rested for the game at Leichhardt will return to partner Southwell in the halves. 
The Broncos were able to clinch the last spot in the top 4 in their emphatic win over the Dragons. The Brisbane side started strong, forcing the Dragons to defend their line for a number of repeat sets before they were the first to score through winger, Julia Robinson. The ninth-minute try ended up being the first of the winger's hat trick throughout the game to help seal the 46 - 12 win and ensure that the side wouldn't miss the finals. Centres, Mele Hufanga and Shenae Ciesiolka, both added two more tries to their 2023 tally, putting Hufanga neck and neck with Dragon's fullback, Tegan Berry, for the competition's top try scorer. A late try from Berry saw her take the top place from Hufanga, who, despite her team scoring another three tries, was unable to get across the stripe one last time. 
Coach, Scott Prince, has named an unchanged side to start against the Knights on Saturday afternoon, hoping to extend their winning streak to five games and give the Broncos a start in the 2023 decider at Accor Stadium. 
The Broncos had to fight hard to secure their spot in the top 4, while the Newcastle Knights cruised their way to the Minor Premiership, only dropping one game early in the season against the Cowboys. The points differential between the two sides, however, is close. The Knights side has had a much stronger defensive run, only conceding an average of 13 points per game while the Broncos are the better attacking side with an average of 28 points per game. 
Who to watch: Mele Hufanga: It's hard to go past rookie centre, Hufanga, who has scored 10 tries in her 9 appearances this season. An attacking weapon, she has also made 14 line breaks and 62 tackle breaks and is hard to stop once she gets a roll on. The Knights' edges are going to have their hands full defending their line against her, especially when she gets such crisp service from her halves.
Tamika Upton: The Knights' superstar fullback, Upton, has been their player to watch throughout the whole 2023 season and this game will be no different. Running more metres than any other player across the league, Upton is able to spot a hole and run straight through it and once she's off, she's hard to chase down. Her experience at the back and her vocal direction of the team will be needed to stay on top of the Broncos and seal her side's place in the Grand Final. 
My tip: We've seen in the last few weeks that the Novacastrians are enjoying the recent form of both their NRL and NRLW sides with huge crowds turning up for home games and we would expect to see similar numbers turn up to McDonald Jones Stadium to support their side. I think it will be hard for the Broncos to get up and win this one, but I don't see them going down without a fight. Newcastle Knights by 12.
---
2nd Semi Final (2 v 3)


Sydney Roosters v Gold Coast Titans
Sun September 24 2023, 4:15pm
at Allianz Stadium, Moore Park / Gadigal

1. Corban Baxter 2. Jayme Fressard 3. Brydie Parker 4. Isabelle Kelly 5. Mia Wood 6. Tarryn Aiken 7. Jocelyn Kelleher 8. Millie Boyle 9. Keeley Davis 10. Teuila Fotu-Moala 11. Otesa Pule 12. Olivia Kernick 13. Keilee Joseph 14. Joeli Morris 15. Grace Hamilton 16. Mya Hill-Moana 17. Amelia Pasikala 18. Millicent Scutt 19. Lexi Kiriwi
Out: Tyler Bentley (wing), Millicent Scutt (bench), Kalosipani Hopoate (bench)
In: Millie Boyle (front row), Keeley Davis (hooker), Amelia Pasikala (bench)
Changes: Brydie Parker (wing to centre), Jayme Fressard (centre to wing), Mya Hill-Moana (front row to bench), Joeli Morris (hooker to bench), Mia Wood (bench to wing)
Squad update: 20. Lily Rogan, 21. Tyler Bentley, 22. Jessica Sergis cut. Scutt and Kiriwi remain.

1. Evania Pelite 2. Karina Brown 3. Jaime Chapman 4. Niall Williams-Guthrie 5. Destiny Mino-Sinapati 6. Chantay Kiria-Ratu 7. Lauren Brown 8. Shannon Mato 9. Brittany Breayley-Nati 10. Jessika Elliston 11. Zara Canfield 12. Shaylee Bent 13. Georgia Hale 14. Sienna Lofipo 15. Stephanie Hancock 16. Rilee Jorgensen 17. Dannii Perese 18. Taliah Fuimaono 19. Kaitlyn Phillips
Unchanged
Squad update: 20. Laikha Clarke, 21. Hailee-Jay Maunsell and 22. Emily Bass cut. Fuimaono and Phillips remain.
Referees: Kasey Badger;Sideline Officials: Tori Wilkie, Daniel Luttringer;Video Referees: Chris Butler;
Match preview
with Josh Robertson
The second of Sunday's NRLW finals comes from Allianz Stadium where the second placed Sydney Roosters take on the Gold Coast Titans.
The Sydney Roosters have had another successful NRLW season as they finished second on the NRLW ladder with seven wins from their nine games with losses coming against the Raiders back in Round 2 and then against the Knights in Round 8 in a battle that decided the minor premiership.
Last weekend, the Sydney Roosters were dominant yet again as they picked up a big 40-16 over the North Queensland Cowboys at Kogarah on Saturday night. Despite the dominance of the Tricolours, they were slow to start last week as the Cowboys opened the score and had strong field position but couldn't take advantage as the home side eventually ran out 18-10 leaders before putting on a strong 22-6 second half performance.
The Roosters have received a big boost with Millie Boyle and Keeley Davis named to return from injury this week and the potential of Jess Sergis returning is also a potential boost even if unlikely. The only other change for the Tricolours is that Mia Wood comes back into the side on the wing with Tyler Bentley dropping to the extended side.
The Gold Coast Titans put a poor 2022 season behind them and booked themselves a finals spot finishing third also with 7 wins and 2 losses this season with their losses coming against both the Knights and Roosters in successive games mid-season.
Last weekend, the Titans booked their finals berth in style with a big 30-6 win over the Canberra Raiders in the nations capital. The Gold Coast started fast opening up an 18-0 lead within the first thirteen minutes to blow the Green Machine off the park expanding their lead to 22-0 at half time. A slow second half didn't hurt the Titans as they ran out 30-6 winners.
Gold Coast coach Karyn Murphy has named an unchanged line up from last week but they could get a big boost with Taliah Fuimaono a chance of returning to the side after her injury suffered right back in round 1.
Who to watch: Roosters halfback Jocelyn Kelleher has been an underrated star for the Roosters this season and will again play a major role for the Roosters here. Kelleher plays a key back-up role to the speed and incisiveness of Tarryn Aiken in the halves with her. The kicking game of Kelleher will be important for the Tricolours and a big part if she can win.
Titans youngster Chantay Kiria-Ratu has played every minute of her debut season for the Gold Coast so far and she has been a strong performer all year. The kicking game has been her strongest asset and the Gold Coast will need a strong kicking game as the Roosters backs can make big metes. Kiria-Ratu will be key if the Titans want to win.
My tip: It's hard to look past the Roosters in this one, even though the teams come into the semi-final with the same win-loss record, the Roosters have been more dominant and when the two sides met earlier in the season it was a big win for the Tricolours. The Titans are capable of picking up the upset but it just looks too hard with how well the Roosters have been going. Roosters by 16.