Team Lists:
TEAMS: NSWRL Presidents Cup - 2020 Semi Finals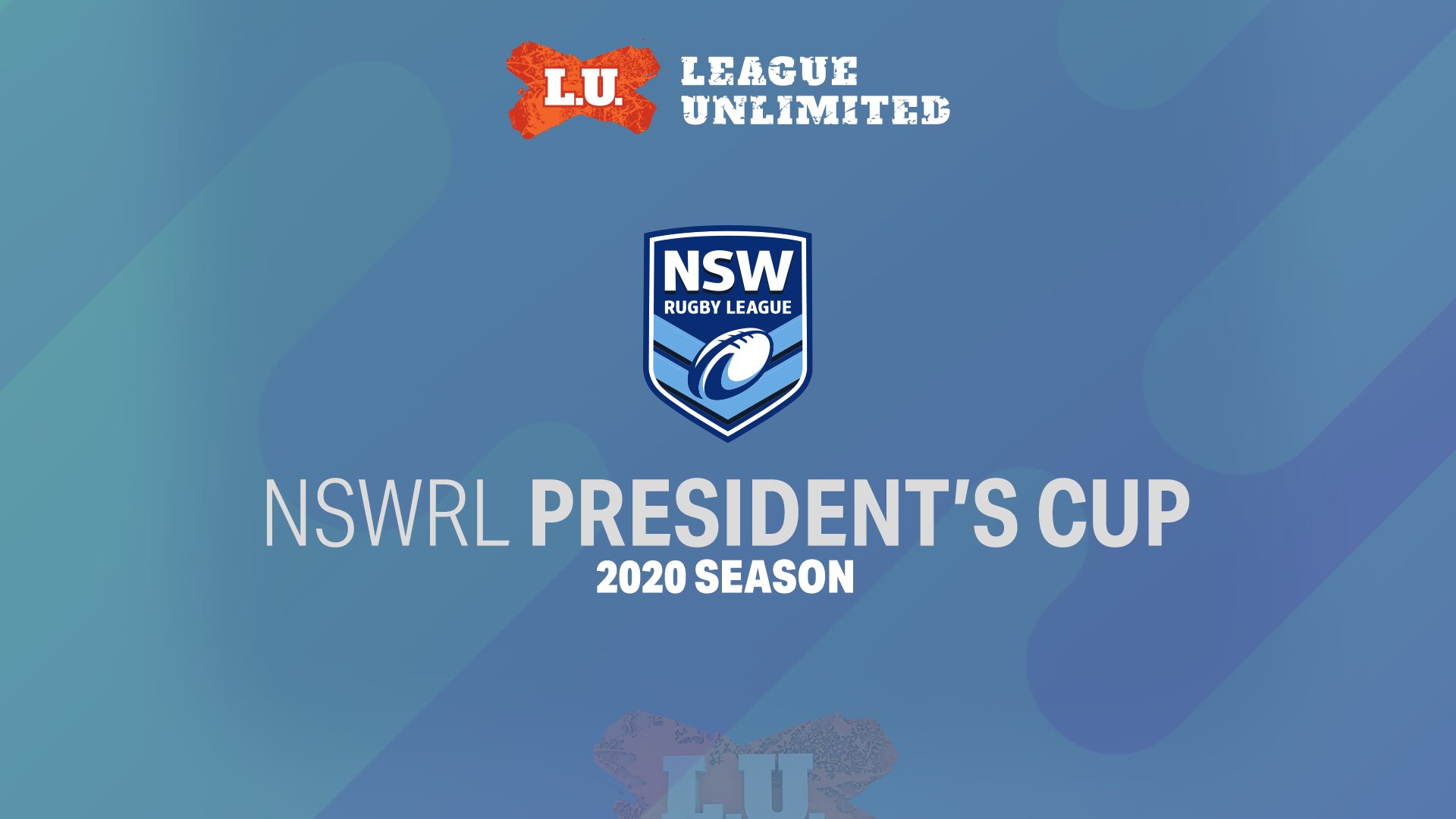 The teamlists and officials as they come to hand for this Saturday's two 'grand final qualifier' Semi Finals in the NSWRL Presidents Cup.

The winners of these semi finals will face off in the Presidents Cup Grand Final at Bankwest Stadium on September 27.
All times are listed in AEST (NSW/QLD/VIC/ACT) unless otherwise noted.
Twitter: Follow @LeagueUnlimited
Facebook: Like LeagueUnlimited - NRL & Rugby League News
---
First Semi Final (1 v 4)


Maitland Pickers v Hills Bulls
Sat September 19 2020, 3:00pm at Maitland Regional Sportsground


1. Daniel Langbridge 2. Elijah Rasiga 3. Henry Penn 4. Gary Anderson 5. James Bradley 6. Chad O'donnell 7. Brock Lamb 8. James Taylor 9. Alex Langbridge 10. Jayden Butterfield 11. Cooper Jenkins 12. Jacob McCudden 13. Callan Burgess 15. Faitotoa Faitotoa 16. Marvin Filipo 17. Gary Anderson 20. Samuel Anderson 14. Peter Wilson


1. Anthony Layoun 2. Maile Li 3. Shane Kiel 4. Leva Li 5. Zac Chong-Nee 6. Shannon Gardiner 7. Josh Lewis 8. Paea Pua 9. Zach Dockar-Clay 10. Taniela Lasalo 22. Jerry Key 12. Dean Matterson 13. Tim Robinson 21. Joel Bradford 16. David Hollis 24. Tyrone Faulkner 15. Matthew Ryan
Referees: Cameron Paddy;Sideline Officials: Jake Sutherland, John Woods;
---
Second Semi Final (2 v 3)


Glebe Burwood Wolves v North Sydney Bears
Sat September 19 2020, 4:00pm at Leichhardt Oval


1. Jacob Gagai 2. Jonah Ngaronoa 3. Addison Demetriou 4. John Olive 5. Honeti Tuha 24. Lorenzo Mulitalo 7. Liam Coleman 8. Wesley Lolo 9. Jackson Garlick 10. Thomas Hazelton 11. Matt Stimson 12. Myles Taueli 13. Brock Gray 14. Trent Toelau 15. Duwayne Mariner 16. Sione Afemui 17. Kem Seru 22. Ethan Natoli 23. Patrice Siolo


1. Josh Bergamin 2. Sione Hopoate 3. James Tuitahi 4. Jordan Ah-One-Remfrey 5. Michael Pearsall 6. Coby Thomas 7. Tobias Westcott 8. Ben Thomas 9. Josh Daley 10. Elia Faatui 11. Edenn Rogers-Smith 12. Harrison Edwards 13. Thomas Freebairn 14. Josh Daley 15. Luca Moretti 16. Jacob Preston 17. Brae Verheyen
Referees: Keiren Irons;Sideline Officials: Tom Cambourn, Ben Teague;
---