Team Lists:
TEAMS & PREVIEWS: RLWC 2021 Women's - Week 2 Pool Matches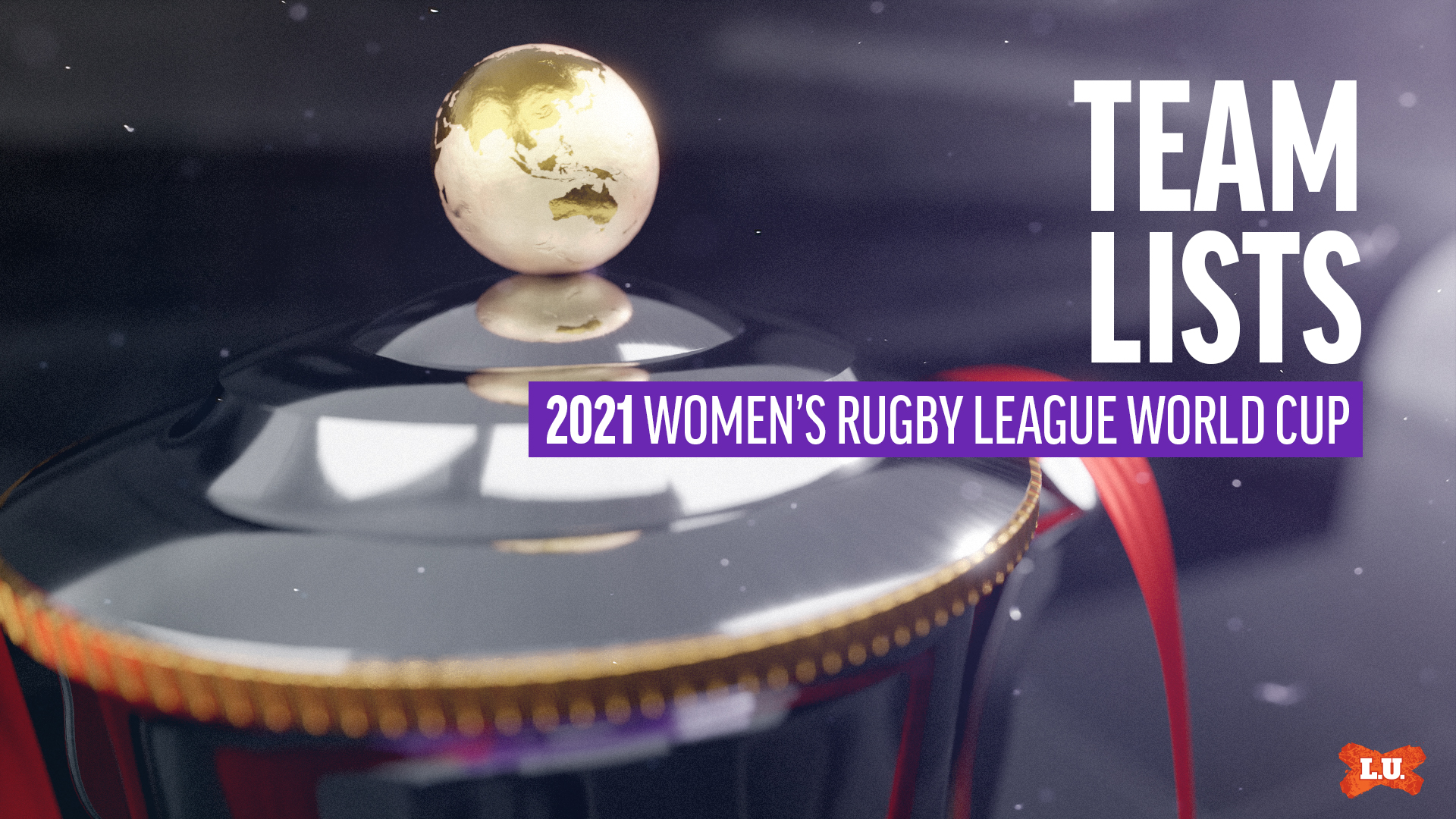 Teamlists and match officials for the second week of matches in the 2021 Women's Rugby League World Cup, being held in England, 5-7 November 2022.
Previews with Josh Robertson
Twitter: Follow @LeagueUnlimited

Facebook: Like LeagueUnlimited - NRL & Rugby League News
---
Referees: Paki Parkinson;Sideline Officials: James Vella, Liam Rush;Video Referees: Ashley Klein;

3. Francesca Goldthorp 5. Leah Burke 1. Tara Stanley 23. Carrie Roberts 20. Georgia Wilson 6. Georgia Roche 7. Courtney Winfield-Hill 17. Shona Hoyle 21. Keara Bennett 19. Paige Travis 11. Hollie Dodd 12. Emily Rudge 14. Victoria Molyneux 10. Dannielle Anderson 15. Vicky Whitfield 16. Beth Stott 24. Zoe Hornby

5. Karina Gauto 2. Brittany Jones 14. Maddy Aberg 3. Petra Woods 20. Lauren Mueller 10. Laura Mariu 7. Sabrina Mcdaid 8. Kristy Sargent 9. Natalie Tam 22. Ada Jane Okonkwo 11. Gabrielle Hindley 16. Rachel Choboter 13. Megan Pakulis 18. Alix Evans 17. Brittany Douglas 23. Zoey Siciliano 24. Elizabeth Steele
Timezone
Time
Day
Broadcaster
EDT
(Toronto)
8am
Sat 5 Nov
FITE
GMT
(UK, local)
12pm
Sat 5 Nov
BBC
RLWC App
AEST
(QLD)
10pm
Sat 5 Nov
Fox 502
Kayo
AEDT
(NSW/VIC)
11pm
Sat 5 Nov
Fox 502
Kayo
PREVIEW: England v Canada
The second round of Women's Rugby League World Cup games gets underway for teams in both pools, the chance of booking a semi-final spot is on the line for four nations.
First up in Group A, England will be looking to book their semi-final spot when they take on Canada in Wigan. The English were dominant in their 72-4 win over Brazil. The Lionesses were fast starters against the World Cup debutants and then just took control of the contest not giving their South American opponents a let up holding more than 60% of the possession for the contest.
England will shuffle their team around like most teams have at the World Cup with seven players expected to come into the line-up including a number of debutants with Zoe Hornby a strong chance of doing so.
The Canadian Ravens returned to the Rugby League World Cup with a 34-12 defeat to the PNG Orchids though the contest wasn't fully represented on the scoreboard. Canada were able to snatch a 6-4 lead early through the midway stages of the first half but a five try second half run from the Orchids put the came out of the North American sides reach despite some good performances.
Canadian coach Mike Castle has also shuffled his side around with a few disappointing performances the reasoning for his changes.  Nina Bui and winger Brittany Jones are likely to come into the side whilst Dani Frananda will miss out on the contest after being dropped.
TIP: Hard to go past England, Canada will no doubt be looking for an improved performance from their second half against PNG, but England is yet another step up and the Lionesses should win easily. England by 40.
---
Referees: Benjamin Casty;Sideline Officials: Geoffrey Poumes, Dean Bowmer;Video Referees: James Child;


17. Martha Molowia 2. Anika Butler 3. Belinda Gwasamun 5. Shae Yvonne De La Cruz 1. Tara Moxon 6. Sera Koroi 7. Lilah Malabag 8. Elsie Albert 22. Shirley Joe 15. Bertshiba Awoi 12. Essay Banu 21. Carol Humeu 13. Jessikah Reeves 9. Therese Aiton 10. Gloria Kaupa 14. Ua Ravu 18. Veronica Waula 19. Talitha Kunjil

18. Natalia Momberg 4. Daniele Soares 1. Adriana Felix 3. Leticia Medeiros 22. Edna Santini 6. Giovanna Moura 7. Maria Graf 8. Franciny Amaral 9. Patricia Bodeman 15. Franciele Barros 11. Patricia Oliveria 12. Amanda Welter 17. Ana Loschi De Quadros 10. Paula Casemiro 14. Giovanna Barth 16. Brena Prioste 21. Ellen Trindade 20. Pamella Silva 23. Natalia Jonck
Timezone
Time
Day
Broadcaster
BRT
(Rio)
2pm
Sat 5 Nov
FITE
GMT
(UK, local)
5pm
Sat 5 Nov
BBC
RLWC App
AEST (QLD)
PGT (Pt Moresby)
3am
Sun 6 Nov
Fox 502 / Kayo
EM TV
AEDT
(NSW/VIC)
4am
Sun 6 Nov
Fox 502
Kayo
PREVIEW: PNG v Brazil
The second game in Group B, will see Papua New Guinea take on Brazil in a contest that will see the nations battling it out for the first time in open aged sporting contest between the two nations.
Papua New Guinea were impressive when they took on Canada bringing up a 34-12 victory over the Ravens that could have been bigger had it been for better goal kicking. The Orchids weren't fast starters but ground their way into it especially into the second half where they were able to extend their two point lead into the second half.
Orchids coach Ben Jeffries has opted for some rotation as well in his side with Emily Veivers, Lisa Marie Alu, Shellie Long all dropping out of the PNG side whilst the Shirley Joe and Carol Humeu comes traight into the starting side.
The Brazilians were straight into the fire for their World Cup debut and they came up against an England side that wanted to put on a show as the Amazonas didn't disgrace themselves in their 72-4 defeat to England.
A lack of possession and experience hurt the Brazilians in their contest, but they acquitted themselves well causing issues at times for the English defence. The heavy possession rate in favour of England never really allowed the Amazonas a chance to build much momentum through the contest.
There are two changes for the Brazilian side in their contest against PNG with Barbara Leal and Tati Fernandes both dropping out of the squad with Danielle Soares coming onto the wing, and Ellen Trindade onto the bench.
TIP: The Orchids should look to book their spot in the RLWC semi-finals for the first time ever, they should hold enough experience over Brazil who despite their first match loss are high in confidence about being at the tournament, and could be a stumbling block for PNG if they aren't on their game. PNG by 12.
---
Referees: Michael Smaill;Sideline Officials: James Vella, Liam Rush;Video Referees: Tom Grant;

1. Apii Nicholls 5. Madison Bartlett 4. Page Mcgregor 21. Shanice Parker 24. Mele Hufanga 6. Laishon Albert-jones 7. Raecene McGregor 8. Mya Hill-Moana 9. Krystal Rota 10. Annetta Nuuausala 12. Amber Hall 20. Crystal Tamarua 23. Brianna Clark 14. Nita Maynard 16. Charlotte Scanlan 17. Christyl Stowers 22. Karli Hansen 18. Otesa Pule 19. Hailee-Jay Maunsell


1. Mackenzie Wiki 20. Mireka Dean 3. Terehia Matua 4. Daimzel Rongokea 23. Terehia Matua 6. Kimiora Breayley-Nati 21. Anneka Stephens 8. Karol-Ann Tanevesi 9. Tetuanui Dean 10. April Ngatupuna 11. Moniqca Moale 12. Kennedy Harrison-Vahua 13. Elianna Walton 14. Jazmon Tupou Witchman 16. Alekermay Tuaana 17. Lavinia Kitai 22. Maleyna Hunapo 18. Charlize Tumu-makara 19. Tehinnah-leal Tatuava
Timezone
Time
Day
Broadcaster
CKT
(Rarotonga)
7am
Sun 6 Nov
CI TV
GMT
(UK, local)
5pm
Sun 6 Nov
BBC
RLWC App
AEST
(QLD)
3am
Mon 7 Nov
Fox 502
Kayo
AEDT
(NSW/VIC)
4am
Mon 7 Nov
Fox 502
Kayo
NZDT
(Wellington)
6am
Mon 7 Nov
SparkSport
Three
PREVIEW: New Zealand v Cook Islands
The historic city of York will play host to the two Pool B matches yet again as Australia and New Zealand look to put the points on as they look to secure their semi finals spot with a big clash against each other next weekend.
New Zealand turned on the class last weekend as they comfortably handled the French in their 46-0 thrashing. The Kiwi Ferns started slowly last weekend in tough conditions taking over 20 minutes to score their first points of the contest until they found their momentum running in 9 tries inside the final sixty minutes.
The slow start didn't diminish the class from the Kiwi Ferns who were able to find their groove with four tries in the remaining sixteen minutes of the half whilst the second half was the most impressive part where they didn't give the French a chance with Apii Nicholls and Raecene McGregor starring.
Like all sides, NZ coach Ricky Henry has elected to rotate his squad with four changes with Katelyn Vaha'akolo and Autumn-Rain Stephens-Daly out of the squad with Mele Hufuga and Laishon Jones coming into the squad.
The Cook Islands were given a rude welcoming into the 2021 Women's Rugby League World Cup with a 74-0 defeat at the hands of a ruthless Australian side. The lack of top-level Rugby League hurt as from the get go the Moana found themselves on the backfoot.
A low possession rate and poor handling cost the Cook Islands any chance of making the clash with the Jillaroos a contest and right from the first few minutes, the difference in quality was on show.
The Cook Islands have suffered a major blow to their side with the experience Kiana Takairangi out of the contest which will hurt the Moana losing one of their two key players with NRLW experience.
TIP: There is just too much improvement needed from the Cook Islands to make the game a relative contest, the Kiwi Ferns once they clicked the other day looked lethal and should hold too much for the Cook Islands. NZ by 42.
Referees: Rochelle Tamarua;Sideline Officials: Neil Horton, Aaron Moore;Video Referees: Jack Smith;


3. Ali Brigginshaw 10. Julia Robinson 7. Tallisha Harden 17. Shenae Ciesiolka 24. Evania Pelite 12. Tarryn Aiken 6. Emma Tonegato 19. Taliah Fuimaono 14. Lauren Brown 23. Shannon Mato 11. Jessica Sergis 22. Olivia Kernick 13. Shaylee Bent 8. Keeley Davis 9. Holli Wheeler 15. Jaime Chapman 16. Kennedy Cherrington 18. Yasmin Clydsdale 21. Keilee Joseph

5. Manon Samarra 2. Cristina Song Puche 4. Lauréane Biville 19. Zoé Pastre-courtine 23. Margot Canal 6. Elisa Ciria 7. Alice Varela 8. Jeanne Bernard 9. Cyndia Mansard 10. Gaëlle Alvernhe 11. Talis Kuresa 12. Perrine Monsarrat 1. Elisa Akpa 14. Fanny Ramos 15. Cloé Guillerot 16. Elodie Pacull 17. Maïlys Borak 20. Anaïs Fourcroy 21. Dorine Samarra
Timezone
Time
Day
Broadcaster
GMT
(UK, local)
7:30pm
Sun 6 Nov
BBC
RLWC App
CET
(Paris)
8:30pm
Sun 6 Nov
beIN Sports
AEST
(QLD)
5:30am
Mon 7 Nov
Fox 502 Kayo
AEDT
(NSW/VIC)
6:30am
Mon 7 Nov
Fox 502 Kayo
PREVIEW: Australia v France
The second of Sunday's double header in York, sees Australia wanting to put yet another stamp on the contest as they take on France.
The Jillaroos were clinical from the first minute against the Cook Islands opening the scoring after just two minutes and then continuing it at a recurring rate that the Cook Islands just couldn't match at any point during the contest which was good signs for the Jillaroos.
The return of key players and starring debuts were the best signs possible with Sam Bremner starring with four tries for Australia whilst Evania Pelite who was making her international Rugby League debut starred right from minute one.
Aussie coach Brad Donald has elected to shift his side around with Shaylee Bent, Jaime Chapman and Keilee Joseph all named to make their debuts for the Jillaroos whilst Jess Sergis, Emma Tonegato and Tallisha Harden named in the extended squad.
France were looking to make a statement in their opening match of RLWC 2021 but despite a strong but pointless start, they were quickly unable to match the Kiwi Ferns who ran rampant during the final hour of the contest.
The French will need to find some improvement in their game especially against the Australian's who have looked to hit top gear almost instantly and when the level stepped up, the French couldn't penetrate the Kiwi Ferns line which became a big issue for their attack.
A big blow for the French has come with Leila Bessahli ruled out of the contest through the concussion stand-down protocols in what is a relatively unchanged squad for the French who will be looking to use their experience against Australia.
TIP: This should be an easy win for the Jillaroos, there was nothing in their performance last week that looked like it could be matched by the French who need to improve significantly. The Jillaroos will need to have a capitulation for this game to be a contest sadly. Australia by 56.