Team Lists:
TEAMS & PREVIEWS: RLWC 2021 Women's - Week 3 Pool Matches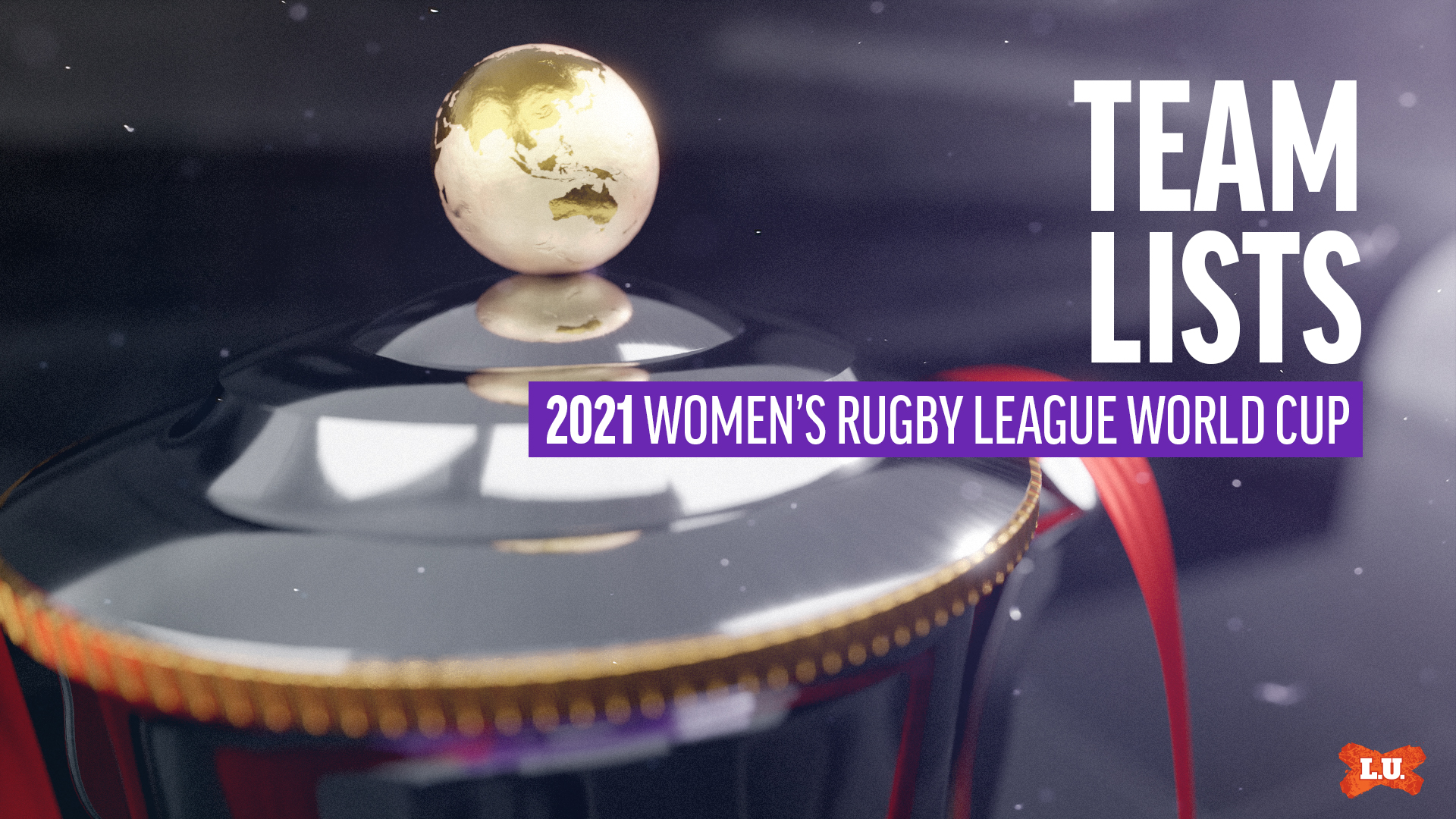 Teamlists and match officials for the third week of matches in the 2021 Women's Rugby League World Cup, being held in England, 9-11 November 2022.
Check back closer to the match for our previews of each game!
Twitter: Follow @LeagueUnlimited
Facebook: Like LeagueUnlimited - NRL & Rugby League News
---
Referees: Michael Smaill;Sideline Officials: Dean Bowmer, Geoffrey Poumes;Video Referees: James Vella;


3. Petra Woods 4. Ferris Sandboe 1. Dani Frananda 15. Nina Bui 20. Lauren Mueller 10. Laura Mariu 7. Sabrina Mcdaid 22. Ada Jane Okonkwo 9. Natalie Tam 24. Elizabeth Steele 11. Gabrielle Hindley 14. Maddy Aberg 13. Megan Pakulis 8. Kristy Sargent 12. Sarah Maguire 19. Jade Menin 21. Natasha Naismith 16. Rachel Choboter

18. Natalia Momberg 4. Daniele Soares 3. Leticia Medeiros 12. Amanda Welter 22. Edna Santini 6. Giovanna Moura 7. Maria Graf 8. Franciny Amaral 9. Patricia Bodeman 10. Paula Casemiro 11. Patricia Oliveria 17. Ana Loschi De Quadros 16. Brena Prioste 2. Tati Fernandes 13. Barbara Leal 15. Franciele Barros 23. Natalia Jonck 20. Pamella Silva
Timezone
Time
Day
Broadcaster
EST
(Toronto)
12pm
Wed 9 Nov
FITE
BRT
(Rio)
2pm
Wed 9 Nov
FITE
GMT
(UK, local)
5pm
Wed 9 Nov
BBC
RLWC App
AEST
(QLD)
3am
Thu 10 Nov
Fox 502
Kayo
AEDT
(NSW/VIC)
4am
Thu 10 Nov
Fox 502
Kayo
PREVIEW: Canada v Brazil
The final round of Pool matches for the Women's Rugby League world cup gets underway with the semi-finalists decided but there is still plenty to play for with the make-up of who plays who next week.
The opening match of Group A is a battle of the Americas with bragging rights going on the line over who is stronger, North America or South America as Canada take on Brazil with both sides looking to secure their first win of the tournament.
Canada haven't disgraced themselves in their two matches despite being heavily defeated against Papua New Guinea and England in their two matches. Over the weekend, Canada were outplayed by the vastly more experience England side who started fast and were able to outpower the Canadians.
There are a number of changes for the Canadian side with Dani Franada, Sarah Maguire, Jade Menin and Ferris Sandboe all coming into the squad whilst five players miss out from the previous match.
Brazil came into the World Cup with just two international matches under their belt in their history, but despite two heavy losses, the Amazonas have played well at times with their lack of experience being their downfall with their 72-4 loss to England and then 70-0 loss to Papua New Guinea.
The Amazonas will be looking to ensure that they continue to develop their game and the game in Brazil which can be helped by getting a victory over Canada.
Boosted by the return of captain Maria Graf after her suspension for tripping, the Amazonas have named her in the halves along with a number of changes to try and get their first win.
TIP: The Ravens should be able to get the victory, whilst the Brazilians have played well, the Canadians have been better and more experience should be able to help them take the victory over the Amazonas. Canada by 18.
---
Referees: Benjamin Casty;Sideline Officials: Rochelle Tamarua, Aaron Moore;Video Referees: James Child;


3. Francesca Goldthorp 2. Caitlin Beevers 1. Tara Stanley 4. Amy Hardcastle 5. Leah Burke 6. Georgia Roche 7. Courtney Winfield-Hill 17. Shona Hoyle 9. Tara Jones 18. Olivia Wood 11. Hollie Dodd 12. Emily Rudge 13. Jodie Cunningham 15. Vicky Whitfield 21. Keara Bennett 19. Paige Travis 8. Grace Field 22. Zoe Harris

17. Martha Molowia 23. Lisa Marie Alu 4. Shellie Long 3. Belinda Gwasamun 2. Anika Butler 6. Sera Koroi 7. Lilah Malabag 8. Elsie Albert 22. Shirley Joe 10. Gloria Kaupa 11. Emily Veivers 12. Essay Banu 13. Jessikah Reeves 14. Ua Ravu 21. Carol Humeu 16. Michelle John 5. Shae Yvonne De La Cruz 19. Talitha Kunjil
Timezone
Time
Day
Broadcaster
GMT
(UK, local)
7:30pm
Wed 9 Nov
BBC
RLWC App
AEST (QLD)
PGT (Pt Moresby)
5:30am
Thu 10 Nov
Fox 502 / Kayo
EM TV
AEDT
(NSW/VIC)
6:30am
Thu 10 Nov
Fox 502
Kayo
PREVIEW: England v PNG
The second game will have big consequences for the make-up of the semi finals as England take on Papua New Guinea in a game that will decide who finishes first and second which will be vital to see who will take on either New Zealand or Australia.
England have been dominant on the scoreboard in their two matches with a 72-4 victory over Brazil and a 54-4 victory over Canada. Despite these big wins, the Lionesses haven't necessarily had things go all their way and a Papua New Guinea side brimming with confidence will be a big test for England.
Booking a semi-final spot was an expectation for the Lionesses but the contest against Papua New Guinea will be important to get some competitive action with a game against New Zealand and England.
The English have brought the changes again after seven stars were rested as they are treating the match as a must win contest. Catilin Beevers, Jodie Cunningham, Grace Field, Amy Hardcastle and Zoe Harris are all recalled to the contest after being rested against Canada.
The Orchids have had a World Cup to remember as they have made the quarterfinals but will be looking to continue their good form pulling off an upset over the host nation England. Papua New Guinea pulled off an important 34-12 victory against Canada and then surprised a few with their efficiency against Brazil in their 70-0 victory.
A victory for PNG will be a big boost to their campaign overall given that it would've been their first week contest against Canada that would've been the deciding mark on who made
A big boost for the Orchids will be Shellie Long, Lisa Marie Alu and Emily Veivers all being returned to the side to strengthen them further. The Orchids have dropped Bertshiba Awoi, Tara Moxon and Veronica Waula from the side to allow for the return of those three players above.
---
Referees: Ben Thaler;Sideline Officials: Marcus Griffiths, Belinda Sharpe;Video Referees: Grant Atkins;


1. Elisa Akpa 2. Cristina Song Puche 3. Melanie Bianchini 4. Lauréane Biville 5. Manon Samarra 6. Elisa Ciria 7. Alice Varela 8. Jeanne Bernard 9. Cyndia Mansard 10. Gaëlle Alvernhe 12. Perrine Monsarrat 14. Fanny Ramos 15. Cloé Guillerot 17. Maïlys Borak 18. Anaelle Meunier 19. Zoé Pastre-courtine 21. Dorine Samarra 22. Louisa Tooman

1. Mackenzie Wiki 2. Beniamina Koitau 3. Terehia Matua 4. Daimzel Rongokea 8. Karol-Ann Tanevesi 9. Tetuanui Dean 10. April Ngatupuna 11. Moniqca Moale 12. Kennedy Harrison-Vahua 13. Elianna Walton 14. Jazmon Tupou Witchman 16. Alekermay Tuaana 17. Lavinia Kitai 18. Charlize Tumu-makara 19. Tehinnah-leal Tatuava 20. Mireka Dean 21. Anneka Stephens 23. Terehia Matua 24. Erikana Dean
Timezone
Time
Day
Broadcaster
CKT
(Rarotonga)
7am
Thu 10 Nov
CI TV
GMT
(UK, local)
5pm
Thu 10 Nov
BBC
RLWC App
CET
(Paris)
6pm
Thu 10 Nov
beIN Sports
AEST
(QLD)
3am
Fri 11 Nov
Fox 502
Kayo
AEDT
(NSW/VIC)
4am
Fri 11 Nov
Fox 502
Kayo
PREVIEW: France v Cook Islands
Group B action again comes to us for York and like Group A, the contests are one of pride and then one to decide who finishes where on the ladder.
The opening game of the double header sees France who are the only side in the competition yet to score a point looking to not only score a point, but also to get their first World Cup win since 2008.
Comprehensively outplayed across two games, the World Cup has been a struggle for France and despite a solid opening 20 minutes in their first match, the French have struggled up against their bigger opponents losing 46-0 to New Zealand and 96-0 to the Jillaroos.
The clash against the Cook Islands will be a big key to see where the French sit at the moment in Rugby League as they look to rebuild as a side that has lacked competitive Rugby League for a while and boost confidence.
There are five changes for the French squad with Anaelle Meunier, Gaelle Alvernhe, Louisa Tooman, Melanie Bianchini and Zoe Pastre-Courtine added to the French squad after missing the contest with Australia.
The Cook Islands pulled off a major upset in the 2017 World Cup, but at the 2021 edition of the tournament, the Cook Islands have been up against it with clashes against Australia and New Zealand that saw them fall to 74-0 and 34-4 defeats.
Class and a lack of possession hurt the Moana in their opening game as the Aussies were quick to blow them off the park to the point that they couldn't do much when they did have the ball because, they were quickly set upon by their opponents.
The Cook Islands have suffered a major loss with Kimiora Breayley-Nati out of the contest who brings the majority of their experience at the top level. Beniamina Kolatu, Erikana Dean and Tetuanui Dean all come into the squad.
TIP: This is a tough game to call, the Cook Islands have probably had the better tournament and should be able to get away with the win despite the key out of Breayley-Nati. Cook Islands by 10.
---
Referees: Todd Smith;Sideline Officials: Paki Parkinson, Robert Hicks;Video Referees: Kasey Badger;


2. Sam Bremner 10. Julia Robinson 5. Isabelle Kelly 11. Jessica Sergis 15. Jaime Chapman 12. Tarryn Aiken 3. Ali Brigginshaw 23. Shannon Mato 8. Keeley Davis 20. Caitlan Johnston 1. Kezie Apps 18. Yasmin Clydsdale 4. Simaima Taufa 16. Kennedy Cherrington 13. Shaylee Bent 14. Lauren Brown 6. Emma Tonegato

1. Apii Nicholls 2. Katelyn Vaha'akolo 24. Mele Hufanga 4. Page Mcgregor 3. Autumn-Rain Stephens-Daly 7. Raecene McGregor 23. Brianna Clark 9. Krystal Rota 10. Annetta Nuuausala 11. Roxy Murdoch 12. Amber Hall 13. Georgia Hale 14. Nita Maynard 17. Christyl Stowers 18. Otesa Pule 8. Mya Hill-Moana 15. Abigail Roache
Timezone
Time
Day
Broadcaster
GMT
(UK, local)
7:30pm
/td>
BBC
RLWC App
AEST
(QLD)
5:30am
Fri 11 Nov
Fox 502
Kayo
AEDT
(NSW/VIC)
6:30am
Fri 11 Nov
Fox 502
Kayo
NZDT
(Wellington)
8:30am
Fri 11 Nov
SparkSport
Three
PREVIEW: Australia v New Zealand
The biggest game of the World Cup thus far, comes to fruition in a battle for first spot and could be looking to avoid playing England in the semi-finals early next week.
Dominating the competition, the Jillaroos have been almost perfect across their two games managing to score 166 unanswered points in their big wins over the Cook Islands and France. The scoreline doesn't show the true dominance of the Aussies especially given against France, the Jillaroos had an almost unheard of 80% of possession for the entire contest.
The contest against the Kiwi Ferns is naturally a big step up for the Aussies in quality of opponent and they will need to ensure that they are on their game and not fall into complacency after such dominant performances.
Jillaroos coach Brad McDonald has rung the changes again with six changes including big names Sam Bremner, Isabelle Kelly and Kezie Apps all brought back into the side whilst Evania Pelite, Holli Wheeler, Olivia Kernick, Shenae Ciesolka all miss out.
The Kiwi Ferns have been dominant in their two games but have looked a step underneath the power and dominance of the Aussies in the tournament scoring less than half the points of the Jillaroos at the tournament.
It was a slow start for the New Zealanders in their opening match against France but once they found their top gear they began to dominate against the French winning 46-0. The Kiwi Ferns then had bit more of a contest than what was expected despite winning 34-4 against the Cook Islands where their completion rate was around 70% as it was against France.
The Kiwi Ferns probably haven't necessarily been at their best (to me at least) in their two matches and will need to improve their level of performance if they want to bring it to the Aussies in their final Group match. The Kiwi Ferns have the ability but there will be a big question if they can step up their game to that of the Jillaroos.
The changes have been made heavily for the Kiwi Ferns with a number of key players set to return including Apii Nicholls who starred against France, Autumn-Rain Stephens-Daly and Georgia Hale all coming back into the squad which will be a big boost for New Zealand.
TIP: It's hard to go past the Jillaroos in this one, they've been almost perfect in their performances and despite the Kiwi Ferns being their toughest opponents they should be able to see them off and I think probably quite comfortably as well. Australia by 18.