Team Lists:
TEAMS & PREVIEWS: RLWC 2021 Women's - Semi Finals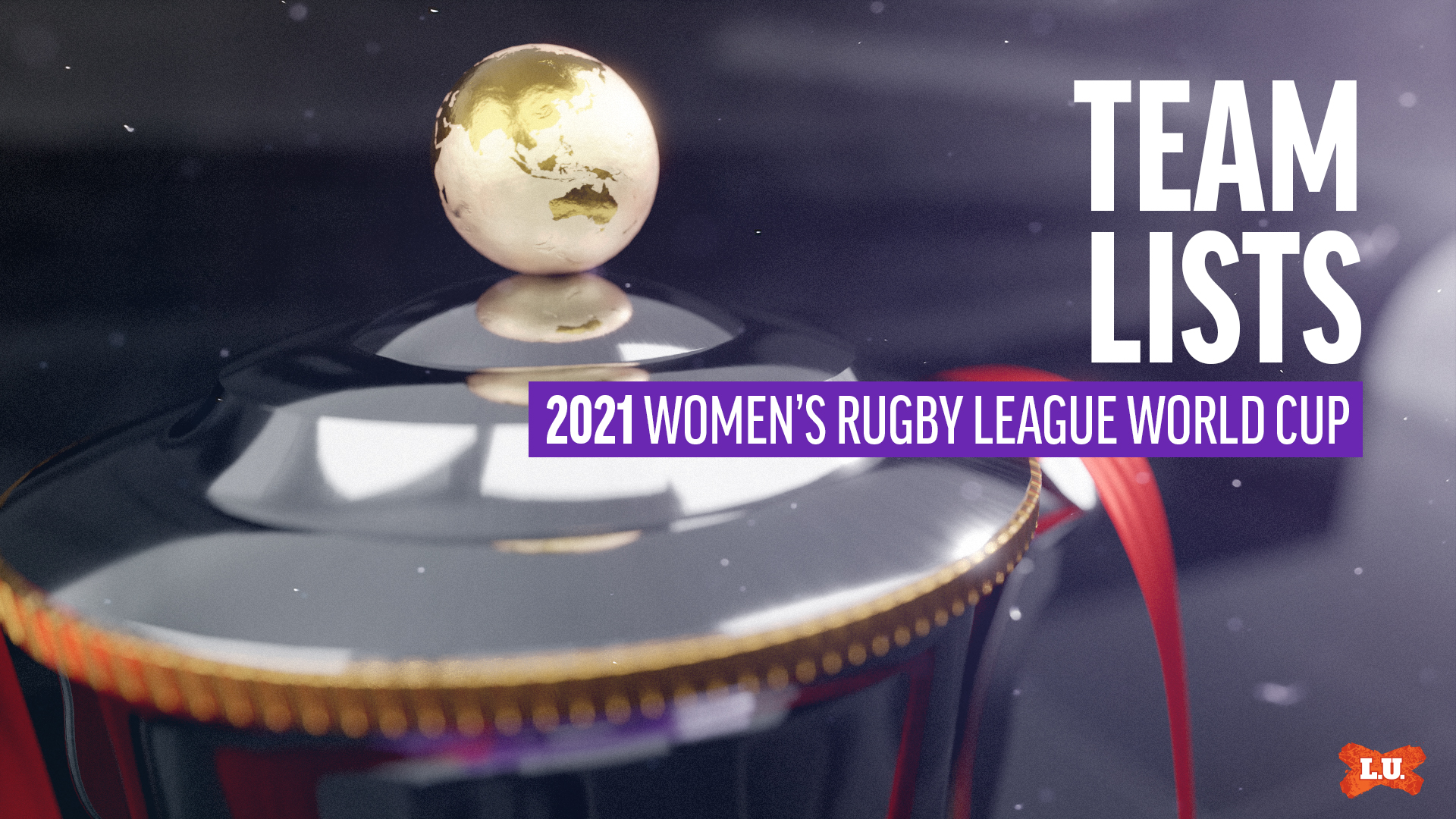 Teamlists and match officials for the 2021 Women's Rugby League World Cup Semi Finals.
Twitter: Follow @LeagueUnlimited
Facebook: Like LeagueUnlimited - NRL & Rugby League News
---
Referees: Belinda Sharpe;Sideline Officials: Rochelle Tamarua, Marcus Griffiths;Video Referees: Ben Thaler;


6. Emma Tonegato 24. Evania Pelite 5. Isabelle Kelly 15. Jaime Chapman 17. Shenae Ciesiolka 19. Taliah Fuimaono 14. Lauren Brown 7. Tallisha Harden 8. Keeley Davis 9. Holli Wheeler 22. Olivia Kernick 13. Shaylee Bent 21. Keilee Joseph 2. Sam Bremner 20. Caitlan Johnston 11. Jessica Sergis 3. Ali Brigginshaw 16. Kennedy Cherrington 1. Kezie Apps

5. Shae Yvonne De La Cruz 17. Martha Molowia 3. Belinda Gwasamun 4. Shellie Long 2. Anika Butler 6. Sera Koroi 7. Lilah Malabag 8. Elsie Albert 9. Therese Aiton 10. Gloria Kaupa 15. Bertshiba Awoi 12. Essay Banu 13. Jessikah Reeves 19. Talitha Kunjil 11. Emily Veivers 1. Tara Moxon 21. Carol Humeu 22. Shirley Joe Windanga 16. Michelle John
PREVIEW: Australia v PNG
Women's Rugby League World Cup action hits the semi final stage with a big double-header in York with Australia taking on Papua New Guinea before England take on New Zealand.
The first game sees an Aussie side that cruised through their opening two games before copping a major scare last weekend against the Kiwi Ferns in York. The Jillaroos dominated their opening game against the Cook Islands 74-0 in their opening game before a 17 try blitz against France saw them take an amazing 92-0 win.
Last week though, the Jillaroos came up in their toughest battle to date against a Kiwi Ferns side who were excellent last week as they were able to snatch a late 10-8 victory. The Aussies were far from their best as errors and the pressure of strong defence from the New Zealanders slowed down the Aussie attack which has been their biggest weapon at the tournament.
The Aussies have again wrung the changes to their squad for the Semi-Final with six players coming into the squad including Evania Pelite and Holli Wheeler coming in, whilst the likes of Simaima Taufa and Kennedy Cherrington missing out on the squad.
The PNG Orchids have been an attacking machine across the Rugby League World Cup winning their two matches against Canada and Brazil with ease before they struggled up against a rampaging England side last week. The Orchids opened their campaign with a 34-12 victory over Papua New Guinea whilst running out 70-0 winners over Brazil in their second game.
In their last match though, a gulf in class was on show when the Orchids struggled against England falling to a 42-4 defeat in Leeds. The Orchids were not at their best as their discipline struggled with a one-sided penalty count against them hurting them at key times in the contest which helped England gain momentum.
Orchids coach Ben Jeffries has made a couple of changes with veteran Therese Aiton returning to the contest for the biggest contest that PNG have ever had and will be looking to use the experience of the likes of Aiton and Elsie Albert to push the Jillaroos.
TIP: The Jillaroos probably have enough to beat the PNG Orchids in York; PNG struggled with discipline against England a quick moving attack which the Jillaroos posses and as seen in the recent PM's XIII game, the PNG side is a step below the Aussies who are much stronger than that night. Australia by 26.
---
Referees: Kasey Badger;Sideline Officials: Geoffrey Poumes, Robert Hicks;Video Referees: Grant Atkins;

3. Francesca Goldthorp 2. Caitlin Beevers 1. Tara Stanley 4. Amy Hardcastle 5. Leah Burke 6. Georgia Roche 7. Courtney Winfield-Hill 17. Shona Hoyle 9. Tara Jones 18. Olivia Wood 11. Hollie Dodd 12. Emily Rudge 13. Jodie Cunningham 8. Grace Field 15. Vicky Whitfield 19. Paige Travis 21. Keara Bennett 14. Victoria Molyneux 22. Zoe Harris

1. Apii Nicholls 2. Katelyn Vaha'akolo 24. Mele Hufanga 4. Page Mcgregor 3. Autumn-Rain Stephens-Daly 15. Abigail Roache 7. Raecene McGregor 23. Brianna Clark 9. Krystal Rota 10. Annetta Nuuausala 11. Roxy Murdoch 12. Amber Hall 13. Georgia Hale 8. Mya Hill-Moana 14. Nita Maynard 17. Christyl Stowers 18. Otesa Pule 5. Madison Bartlett 16. Charlotte Scanlan
PREVIEW: England v New Zealand
The second of the semi-finals is a coin flip contest as England look to make their first ever World Cup final in front of a home crowd and do what their men's side can't by making the final, just like the New Zealanders who also want to make the final that their men's side couldn't.
The England Lionesses came through the tournament so far undefeated with three big wins over Brazil, Canada and Papua New Guinea. The Lionesses have been impressive in their three games opening up with a 72-4 victory over Brazil before a 54-4 victory over Canada set their campaign off on the right note.
In their last match, semi-final positions were determined as England took on Papua New Guinea but it wasn't the close contest that everybody thought as the Lionesses were in cruise control for the most part in the contest with a 42-4 victory. Taking advantage of their opponents ill-discipline, the English were able to put in a strong performance.
The English side has only the one change and that sees Vicky Molyneux added to the 19 player squad from their last contest against PNG.
The Kiwi Ferns started their tournament off with two big wins against France and the Cook Islands across their two games, before being the better side in their defeat to Australia. In their opening match, New Zealand put a slowish start behind them to pull out a 46-0 victory to defeat France before yet again they weren't able to find pure dominance in their 34-4 win over the Cook Islands.
Despite being heavily out favoured, the Kiwi Ferns were the better side last week in their 10-8 defeat to the Jillaroos. The performance from New Zealand was incredible as they were able to shut down an Aussie attack that had free reign across the tournament and were pressured into mistakes last week. A rushing Kiwi Ferns defence was the difference putting the Jillaroos under pressure and ultimately it was a late try and goal kicking that proved the difference.
There is only one minor change to the Kiwi Ferns squad with Karli Hansen out of the extended squad with Madison Bartlett and Charlotte Scanlan named on the extended bench.
TIP: The performance of New Zealand against the Jillaroos puts them hard to go past here in this one, the English side will be looking to pull off an upset and their performances have been strong but I think a tough battle against the Aussies will help the Kiwi Ferns take victory whereas England haven't had the tough contest with respect to their opponents. Kiwi Ferns by 8.
---