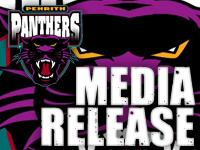 Phil Gould is joining the rugby league management team at Panthers.

Phil will work closely with Michael Leary, Shannon Donato, Jason Wrigley, Jim Jones and the management team and will have direct involvement in all aspects of rugby league and in particular the coaching and team support operation.

Phil, who coached the Bulldogs to a premiership win in 1988, played and captained the Panthers in 1976 to 1979 and coached the Panthers to two grand finals and premiership in 1991, will be with the Panthers for the next three and a half years.



---