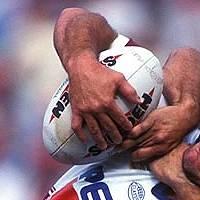 WHERE SUCCESS CAN ORIGIN-NATE State of Origin is renowned for the number of players who though struggling for form at club level, lift enormously once they don either the sky blue jersey of New South Wales or the maroon jersey of Queensland. And of late, a prime example of that has been Nate Myles.
By his own admission the Rooster forward would be unhappy with his form playing with a club that is shortening all the time for the dread wooden spoon. But lo and behold in the Origin series opener, the abrasive Maroons' second rower-cum-prop was the man-of-the-match amongst the eight interchange players, edging out the Blues' Craig Wing who inexplicably was held back till the 55-minute of the game.
It is irrelevant that the Roosters have been going "like busted's" and Myles' efforts in those games nothing to get enthused over. Yet each and every time he plays for his state he makes a significant contribution in both defence and attack. He was at it again being among the leading hit-up merchants and instigated the marvellous long-distance try to Greg Inglis with a wonderful overload.
CHOOSE NEW BLUES OR LOSE New South Wales were brave in Origin I and were the victims of some "dusty" calls but they were also the recipients of copious amounts of good fortune.
Of the three tries scored by the Blues, two came from "flukey" kicks, the second in particular by Robbie Farah was presented to him on a platter giving him a saloon passage to the tryline before picking up an unmarked Jarryd Hayne. And Hayne's in-pass as he was going over the sideline, which led New South Wales' opening try to Ben Creagh, had extreme doubt with it seemingly travelling well forward. So where do the Blues go from here?
I would be making several changes because let's not forget Queensland lost centre Justin Hodges very early in the game and with no specialist to fill the position were at significant disadvantage.
My Blues' side for Game II would be:- 1) Patten 2) McManus 3) Monaghan 4) Jennings 5) Hayne 6) Gidley (c) 7) Mullen 8) Weyman 9) Farah 10) Poore 11) Learoyd-Lahrs 12) Creagh 13) O'Donnell 14) Wing 15) Houston 16) Douglas 17) Payten, who has twice the ball skills than Kite and Bailey put together.
Six new faces and a positional switch to get a club combination in the halves. On Queensland, with Justin Hodges virtually no chance for Game II, shift Billy Slater to centre where he has some experience to get arguably the world's best fullback in Karmichael Hunt in the run-on side.
BELLY-FLOP BY BELLY-ACHE As the famous US marine Gomer Pyle (Jim Nabors) would say "surprise, surprise, surprise" - New South Wales coach Craig Bellamy has blown up deluxe over some contentious calls most notably the no-try ruling against Jarryd Hayne, which I thought was the wrong decision albeit it if he didn't touch the sideline he went perilously close, so I'm not about to "unload" on the video refs over it.
The coach with the most appropriate nickname in "Belly-ache", should stop moaning and groaning about something he has no control over and look at his own performance which was again flawed. He has form for being inept at working the interchange.
In last year's decider which was a home game for the Blues, he not only benched Brett Stewart he left him there for what seemed like an age despite the game situation "crying out" for the injection of arguably the most lethal attacking weapon in rugby league. Queensland clinched the title with a narrow 16-10 win courtesy of a slice of magic from Jonathan Thurston. This time, noted game-breaker Craig Wing was left "chained" to the interchange bench right up until the 55th minute. Joke! Privately Mal Meninga and his coaching staff would have been cheering another Bellamy blooper.
Can you replace the coach mid-series? Why not, if it means enhancing your chances of winning. Flick Bellamy and adopt Queensland's hugely successful model - something I have trumpeted for years - and appoint a Andrew Johns or a Brett Kenny as coach with Brian Smith, Ivan Cleary or John Cartwright filling the role that Neil Henry does so wonderfully well for the Maroons.
HARDLY A WEE PROBLEM When Storm pair Cooper Cronk and Brett Finch were busted urinating in public at Byron Bay recently, my first reaction was "are these people arrogant beyond belief or just plain stupid?"
Maybe it's a combination of both but in any case you got to wonder when will the "coin ever drop" with NRL players in terms of common decency? It is particularly worrying given it came hot on the heels of the Willie Mason incident - a second misdemeanour for the same offence for the big Rooster forward after he and team-mate Nate Myles were caught emptying their bladders outside a Coffs Harbour watering hole.
How appropriate that Cronk and Finch are the halves combination for Melbourne because their aimless antic is the action at best of someone with half a brain.
If you had a battle of wits with this pair they'd go into the challenge only half-prepared. Their "urine fine" which cost them $5000 each, gave new meaning to p...ing money up the wall. The only positive to come out of this unsavoury episode is it reminded me of a clever joke which I'd like to share. On board a battleship, a sailor working below picks up the phone and calls the captain: "Engine room to bridge, got a leak in the engine room." The captain replies: "permission granted".
MY FORECASTS TO THE FORE I must say my predictions have been going very nicely this year. About a month before the season started I went public with the following: "the Roosters may not come last but they are a good bet to come last". At the time the Bondi-based club was paying big bucks now Freddie's boys are one good flogging away from replacing the Sharks as outright favourites for the dreaded wooden spoon. And even though James McManus had an unhappy Origin debut I was the first commentator to mention his name for Blues' selection.
I feel the selectors should stick with the Knights winger as he was invariably left stranded by his teammates in defence and was the victim of the slippery surface of the in-goal areas of Etihad Stadium. Word on the street is he will be punted for either Brett Morris or David Williams.
I also said that Newcastle would be a genuine premiership threat. The club has beaten all of the topsides including Brisbane, the Dragons, the Bulldogs and the Titans.
My expert advice is not just confined to rugby league. I selected the Bulls of South Africa to win the Super 14 Rugby competition. They smashed the Waikato Chiefs 61-17 in the final. Just on the Bulls, that club has some awesome talent on its books.
I regard Bryan Habana as the best winger in the world - league or union. Number eight Pierre Spies is a bigger version of Sonny Bill Williams only quicker. He took an intercept in the final and raced away from a noted speedster. Their captain Victor Matfield has probably edged past the great John Eales as the best lock/second rower of the past 30 years. One of the betting agencies had South Africa at $3 to win the Tri-Nations - that's a licence to print money in my opinion.
---