Results and Scorers:
RESULTS: 2018 Mal Meninga Cup Round 4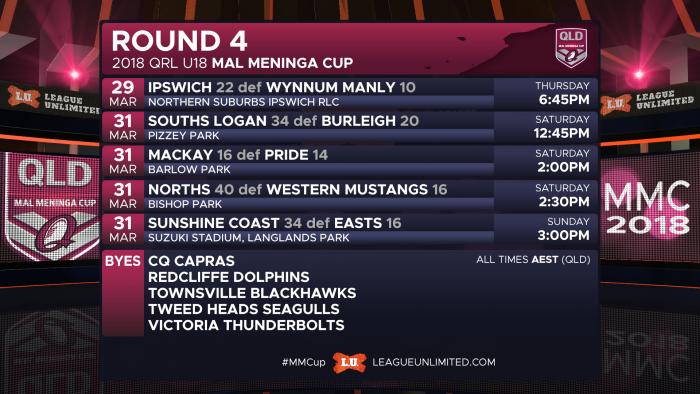 All the results and scorers from the fourth round oft he QRL under 18 Mal Meninga Cup.
All listed times are AEST (QLD).
---
RELATED: See the full list of 2018 Mal Meninga Cup Draw and Results.
---
Ipswich Jets 22 Wynnum Manly Seagulls 10
Venue: North Ipswich Reserve
Date: Thursday 29 March 2018 at 6:45pm
Ipswich Jets (22)
Tries: Matt Thompson, Thomas Casey, Lochlan Turnbull, Tom Reid
Goals: Brad Zampech 3
Wynnum Manly Seagulls (10)
Tries: Billy Armstrong, Reece Hoffman
Goals: Braden Whittaker 1
---
Burleigh Bears 20 Souths Logan Magpies 34
Venue: Pizzey Park
Date: Saturday 31 March 2018 at 12:45pm
Burleigh Bears (20)
Tries: Tahenga Tairea-Mareko, Lofi Khan-Pereira, Zach McCormack, Ronan Kapi
Goals: Jayden Campbell 2
Souths Logan Magpies (34)
Tries: David Fifita 2, Vahai Finau 2, Leevai Sutton, Fanitesi Niu, Cruise Ten
Goals: Ezra Coulston 1
---
Northern Pride 14 Mackay Cutters 16
Venue: Barlow Park
Date: Saturday 31 March 2018 at 2:00pm
Northern Pride (14)
Tries: William Messa, Phillip Musumeci
Goals: Bailey Biondi-Odo 2, Adam Hepworth 1
Mackay Cutters (16)
Tries: Garrett Smith 2, Sean Dalton
Goals: Kahlani Mooney 2
---
Norths Devils 40 Western Mustangs 16
Venue: Bishop Park
Date: Saturday 31 March 2018 at 2:30pm
Norths Devils (40)
Tries: Fruean Easthope, Zach Brooks, Cory Paix, Daejarn Asi, Logan Finn, Ethan Bullemor, Lachlan Tenison-Woods
Goals: Cory Paix 6
Western Mustangs (16)
Tries: Benji Neliman, Leslie Hartvigsen, Jake Simpkin
Goals: Richard Murray 2
---
Easts Tigers 16 Sunshine Coast Falcons 34
Venue: Suzuki Stadium, Langlands Park
Date: Saturday 31 March 2018 at 3:00pm
Easts Tigers (16)
Tries: Sebastian Winters-Chang 3
Goals: Hayden Ryan 2
Sunshine Coast Falcons (34)
Tries: John McLaughlin, Cameron Hanson, Harry Wright, Kane Jackson, Aidan Young, Joey Lowe
Goals: Aidan Young 5
---
CQ Capras, Redcliffe Dolphins, Townsville Blackhawks, Tweed Heads Seagulls and Victoria Thunderbolts had a bye this round.
---
RELATED: Click here to view the current Mal Meninga Cup ladder.