Results and Scorers:
RESULTS: 2019 Betfred Championship Round 15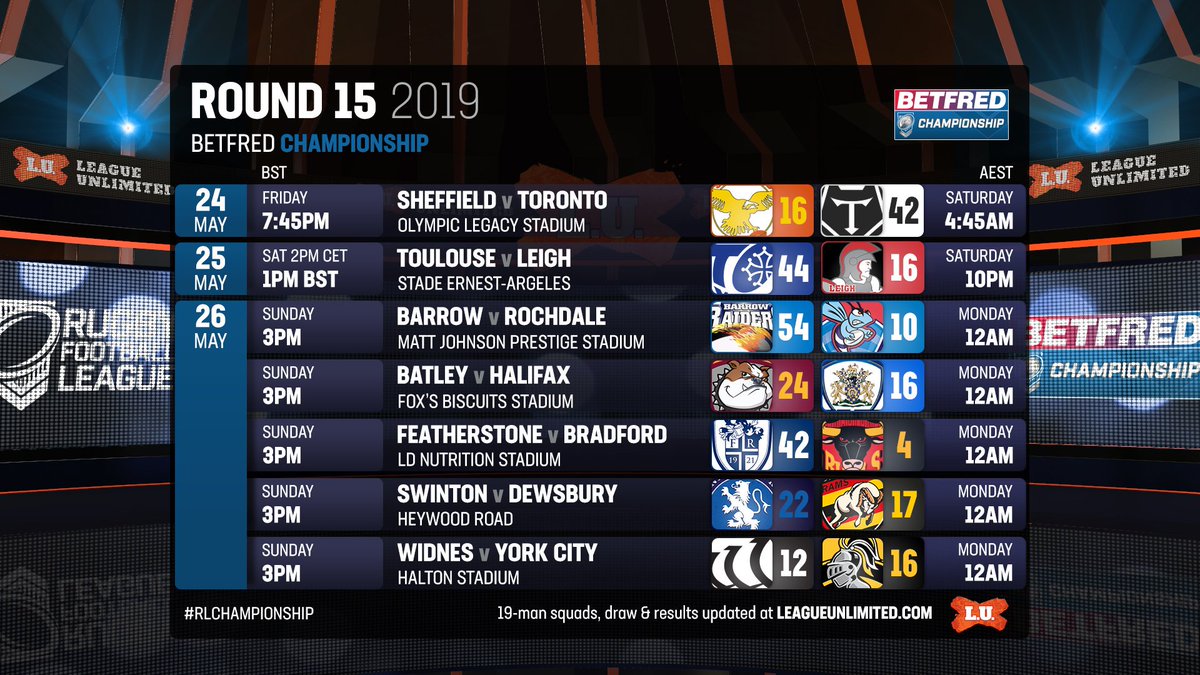 All the results and scorers from the fifteenth round of the RFL Betfred Championship.
All listed times are AEST (NSW/QLD/VIC/ACT).
---
RELATED: See the full list of 2019 Betfred Championship Draw and Results.
---
Sheffield Eagles 16 Toronto Wolfpack 42
Venue: Sheffield Olympic Legacy Stadium
Crowd: 932
Date: Saturday 25 May 2019 at 4:45am
Sheffield Eagles (16)
Tries: Ben Hellewell, Josh Guzdek, Brad Knowles
Goals: Pat Walker 2
Toronto Wolfpack (42)
Tries: Blake Wallace, Andrew Dixon 2, Liam Kay, Chase Stanley, Ricky Leutele, Nick Rawsthorne, Andy Ackers
Goals: Blake Wallace 5
---
Toulouse Olympique XIII 44 Leigh Centurions 16
Venue: Stade Ernest-Argelès
Crowd: 2235
Date: Saturday 25 May 2019 at 10:00pm
Toulouse Olympique XIII (44)
Tries: Paul Marcon 2, James Bell, Constantine Mika, Mathieu Jussaume 2, Paterika Vaivai, Stan Robin
Goals: Mark Kheirallah 6
Leigh Centurions (16)
Tries: Martyn Ridyard, Ryan Brierley, Iain Thornley
Goals: Martyn Ridyard 2
---
Barrow Raiders 54 Rochdale Hornets 10
Venue: Matt Johnson Prestige Stadium
Crowd: 1114
Date: Monday 27 May 2019 at 12:00am
Barrow Raiders (54)
Tries: Wartovo Puara Jr, Alec Susino, Deon Lewis Cross, Jake Spedding, Stargroth Amean 3, Tee Ritson, Dan Toal
Goals: Jamie Dallimore 9
Rochdale Hornets (10)
Tries: Zac Baker, Brandon Wood
Goals: Dan Abram 1
---
Batley Bulldogs 24 Halifax RLFC 16
Venue: Fox's Biscuits Stadium
Date: Monday 27 May 2019 at 12:00am
Batley Bulldogs (24)
Tries: Keenan Tomlinson 2, Lewis Galbraith, Adam Gledhill
Goals: Louis Jouffret 4
Halifax RLFC (16)
Tries: Will Sharp 2, Simon Grix
Goals: Steve Tyrer 2
---
Featherstone Rovers 42 Bradford Bulls 4
Venue: LD Nutrition Stadium
Crowd: 2903
Date: Monday 27 May 2019 at 12:00am
Featherstone Rovers (42)
Tries: Cameron King, Dane Chisholm 3, John Davies, Luke Briscoe, Conor Carey, Josh Walters
Goals: Dane Chisholm 5
Bradford Bulls (4)
Tries: Ethan Ryan
---
Swinton Lions 22 Dewsbury Rams 17
Venue: Heywood Road
Crowd: 795
Date: Monday 27 May 2019 at 12:00am
Swinton Lions (22)
Tries: Gavin Bennion 2, Matty Ashton, Liam Paisley
Goals: Rob Fairclough 3
Dewsbury Rams (17)
Tries: Andy Gabriel, Dale Morton, Rob Worrincy
Goals: Liam Finn 2
Field Goals: Michael Knowles 1
---
Widnes Vikings 12 York City Knights 16
Venue: Halton Stadium
Crowd: 3408
Date: Monday 27 May 2019 at 12:00am
Widnes Vikings (12)
Tries: Lloyd Roby, Joe Lyons
Goals: Sam Freeman 2
York City Knights (16)
Tries: Liam Harris, Taioalo Vaivai, Will Oakes
Goals: Connor Robinson 2
---
RELATED: Click here to view the current Betfred Championship ladder.