Results and Scorers:
RESULTS: 2019 Hastings Deering Colts Round 13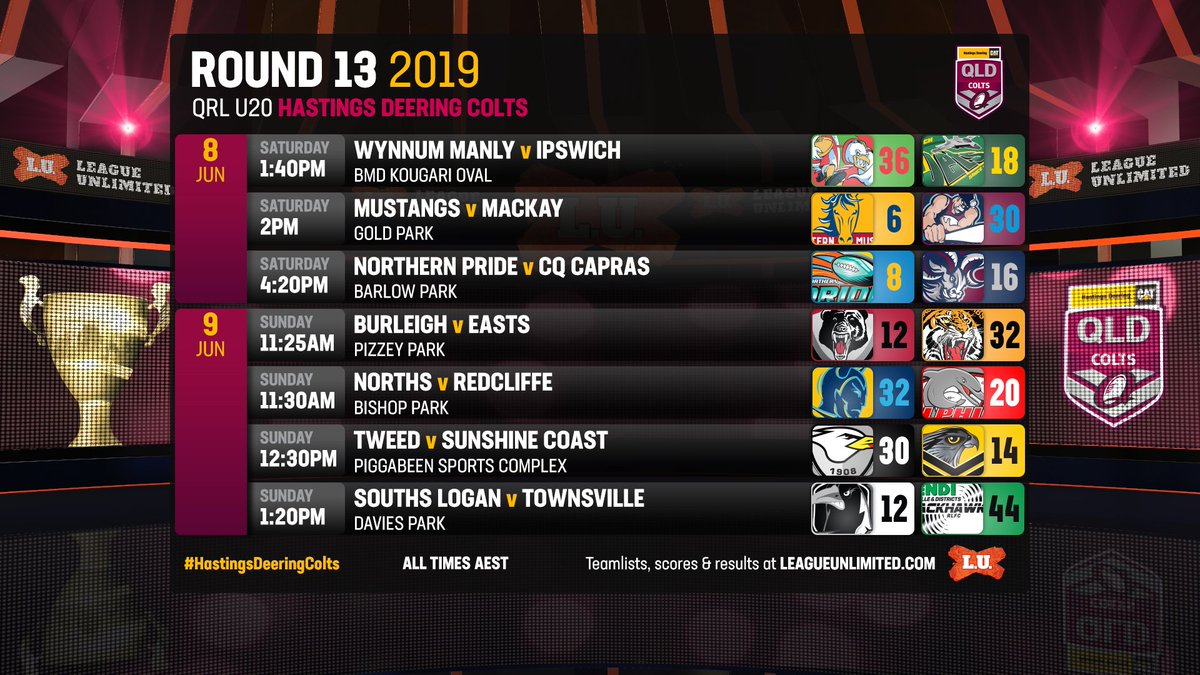 All the results and scorers from the 13th round of the QRL U20 Hastings Deering Colts.
All listed times are AEST (NSW/QLD/VIC/ACT).
---
RELATED: See the full list of 2019 Hastings Deering Colts Draw and Results.
---
Wynnum Manly Seagulls 36 Ipswich Jets 18
Venue: BMD Kougari Oval
Date: Saturday 8 June 2019 at 1:40pm
Wynnum Manly Seagulls (36)
Tries: Zane Wallace 2, Clayton Mack, Logan Pengelly, James Rboinson, Braden Whittaker
Goals: Reece Hoffman 6
Ipswich Jets (18)
Tries: Wilson Malaesilia, Josh Williams, Sam Langbein
Goals: Josh McCarroll 3
---
Western Mustangs 6 Mackay Cutters 30
Venue: Gold Park
Date: Saturday 8 June 2019 at 2:00pm
Western Mustangs (6)
Tries: Jordan Lipp
Goals: Sam Thompson 1
Mackay Cutters (30)
Tries: Ryan Molloy, Josh Smith, Brendan White, Sean Dalton, Tom Irelandes
Goals: Brendan White 5
---
Northern Pride 8 CQ Capras 16
Venue: Barlow Park
Date: Saturday 8 June 2019 at 4:20pm
Northern Pride (8)
Tries: Brandon Jackonia 2
CQ Capras (16)
Tries: Ryan Franks 2, James Busby
Goals: Travis Turnbull 2
---
Burleigh Bears 12 Easts Tigers 32
Venue: Pizzey Park
Date: Sunday 9 June 2019 at 11:25am
Burleigh Bears (12)
Tries: William Evans, Josh Somerville, Brodyn Gudgeon
Easts Tigers (32)
Tries: Solomona Faataape 3, James Price, Joel Hughes, Ben Bale
Goals: Joel Hughes 4
---
Norths Devils 32 Redcliffe Dolphins 20
Venue: Bishop Park
Date: Sunday 9 June 2019 at 11:30am
Norths Devils (32)
Tries: Jack Paterson 2, Sosefo Filipine 2, Daniel Atkinson, Michael McGrath
Goals: Josh James 4
Redcliffe Dolphins (20)
Tries: Jesse Jennings 2, Mathew Meafua, Dylan Briggs
Goals: Dylan Briggs 2
---
Tweed Seagulls 30 Sunshine Coast Falcons 14
Venue: Piggabeen Sports
Date: Sunday 9 June 2019 at 12:30pm
Tweed Seagulls (30)
Tries: Nash Geyer, Ben Liyou, Reece Butler, Juwan Compain, Cooper Hennessey
Goals: Callum Boomer 5
Sunshine Coast Falcons (14)
Tries: Gian Largiader, Aaron Nelson, Nick Ellems
Goals: Tom Dwan 1
---
Souths Logan Magpies 12 Townsville Blackhawks 44
Venue: Davies Park
Date: Sunday 9 June 2019 at 1:20pm
Souths Logan Magpies (12)
Tries: Edward Downing-Brown 2
Goals: Leevai Sutton 2
Townsville Blackhawks (44)
Tries: Adam Cook 2, Ben Condon, Riley Price, Zin Zan Martin, Ty Everett, Jack Althaus, Michael Bell
Goals: Adam Cook 6
---
RELATED: Click here to view the current Hastings Deering Colts ladder.