Results and Scorers:
RESULTS: 2019 Betfred Championship Round 24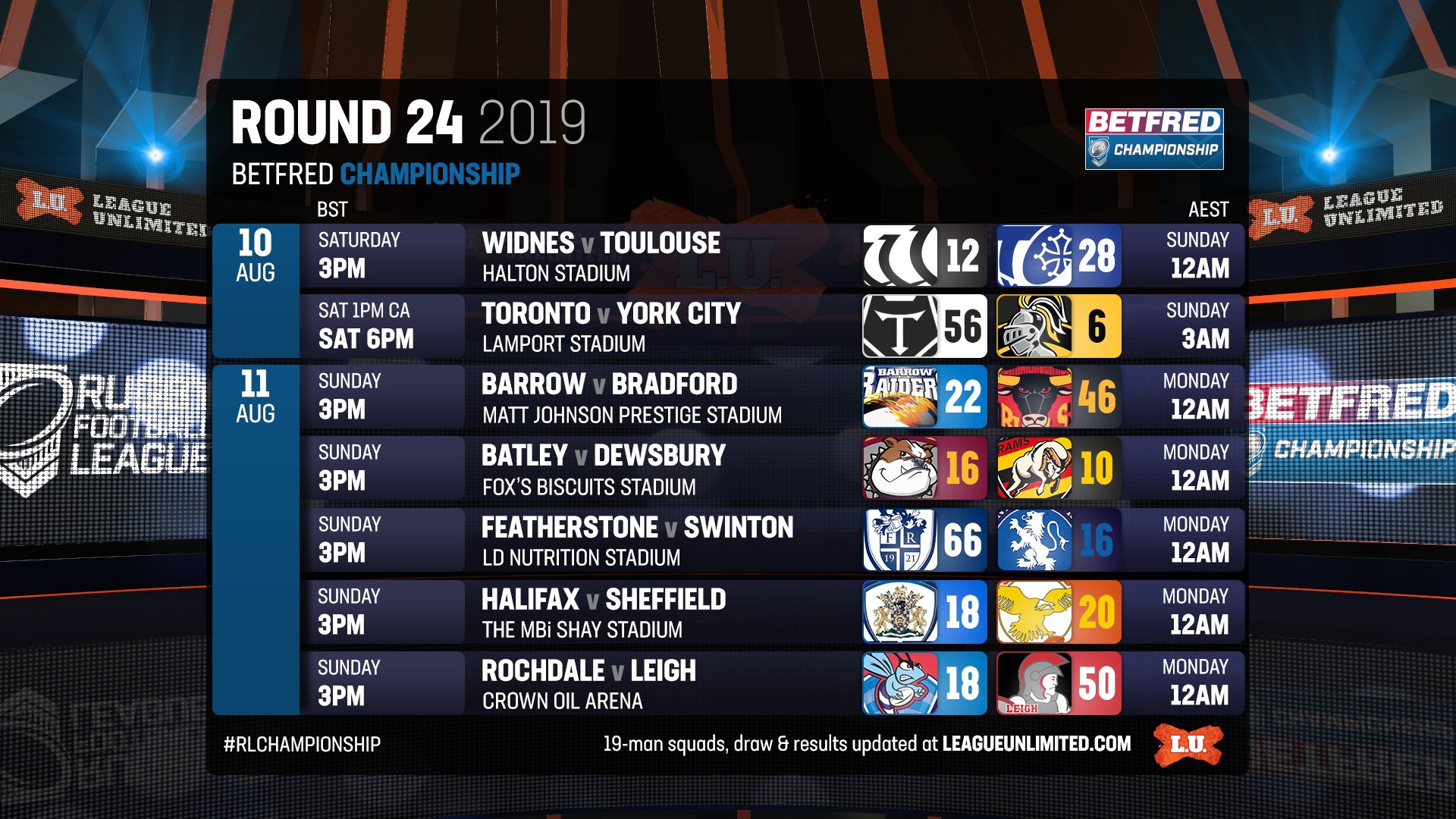 All the results and scorers from the 24th round of the UK Betfred Championship.
All listed times are AEST (NSW/QLD/VIC/ACT).
---
RELATED: See the full list of 2019 Betfred Championship Draw and Results.
---
Widnes Vikings 12 Toulouse Olympique XIII 28
Venue: Halton Stadium
Crowd: 3643
Date: Sunday 11 August 2019 at 12:00am
Widnes Vikings (12)
Tries: Jack Owens, Hep Cahill
Goals: Jack Owens 2
Toulouse Olympique XIII (28)
Tries: Taioalo Vaivai, Constantine Mika, Ilias Bergal, Joe Bretherton, Jordan Dezaria
Goals: Mark Kheirallah 4
---
Toronto Wolfpack 56 York City Knights 6
Venue: Lamport Stadium
Date: Sunday 11 August 2019 at 3:00am
Toronto Wolfpack (56)
Tries: Gareth O'Brien 3, Josh McCrone 2, Andy Ackers 2, Hakim Miloudi, Andrew Dixon, Nick Rawsthorne, Matty Russell
Goals: Gareth O'Brien 5, Blake Wallace 1
York City Knights (6)
Tries: Mike Kelly
Goals: Connor Robinson 1
---
Barrow Raiders 22 Bradford Bulls 46
Venue: Matt Johnson Prestige Stadium
Crowd: 1471
Date: Monday 12 August 2019 at 12:00am
Barrow Raiders (22)
Tries: Deon Lewis Cross, Jamie Dallimore, Adam Ford, Declan Hulme
Goals: Jamie Dallimore 3
Bradford Bulls (46)
Tries: Joe Keyes, Matt Garside, Ethan Ryan, Elliot Minchella 2, George Flanagan, Ross Oakes, Brandon Pickersgill
Goals: Joe Keyes 7
---
Batley Bulldogs 16 Dewsbury Rams 10
Venue: Fox's Biscuits Stadium
Date: Monday 12 August 2019 at 12:00am
Batley Bulldogs (16)
Tries: Wayne Reittie 2, Sam Smeaton
Goals: Dom Brabani 2
Dewsbury Rams (10)
Tries: Lucas Walshaw, Dale Morton
Goals: Liam Finn 1
---
Featherstone Rovers 66 Swinton Lions 16
Venue: LD Nutrition Stadium
Crowd: 2090
Date: Monday 12 August 2019 at 12:00am
Featherstone Rovers (66)
Tries: Cameron King 2, Wellington Albert, Callum Mclelland, Alex Sutcliffe 2, Jack Render, Jack Johnson, Conor Carey, Bradley Day 2, Josh Walters
Goals: Dane Chisholm 9
Swinton Lions (16)
Tries: Jack Hansen, Rob Fairclough, Luke Waterworth
Goals: Jack Hansen 2
---
Halifax RLFC 18 Sheffield Eagles 20
Venue: The Shay Stadium
Crowd: 1205
Date: Monday 12 August 2019 at 12:00am
Halifax RLFC (18)
Tries: Shaun Robinson, Scott Grix, Steve Tyrer
Goals: Steve Tyrer 3
Sheffield Eagles (20)
Tries: Oliver Davies, Pat Walker, Anthony Thackeray
Goals: Pat Walker 4
---
Rochdale Hornets 18 Leigh Centurions 50
Venue: Crown Oil Arena
Crowd: 1019
Date: Monday 12 August 2019 at 12:00am
Rochdale Hornets (18)
Tries: Dan Abram, Aidy Gleeson, Shaun Ainscough
Goals: Dan Abram 3
Leigh Centurions (50)
Tries: Ben Reynolds, Jack Higginson, Joe Cator, Ryan Brierley, Stefan Marsh, Toby Adamson 2, Jordan Thompson, Cory Paterson
Goals: Martyn Ridyard 7
---
RELATED: Click here to view the current Betfred Championship ladder.