Results and Scorers:
RLWC 2021 WRAP: Pool Matches - Women's Week 2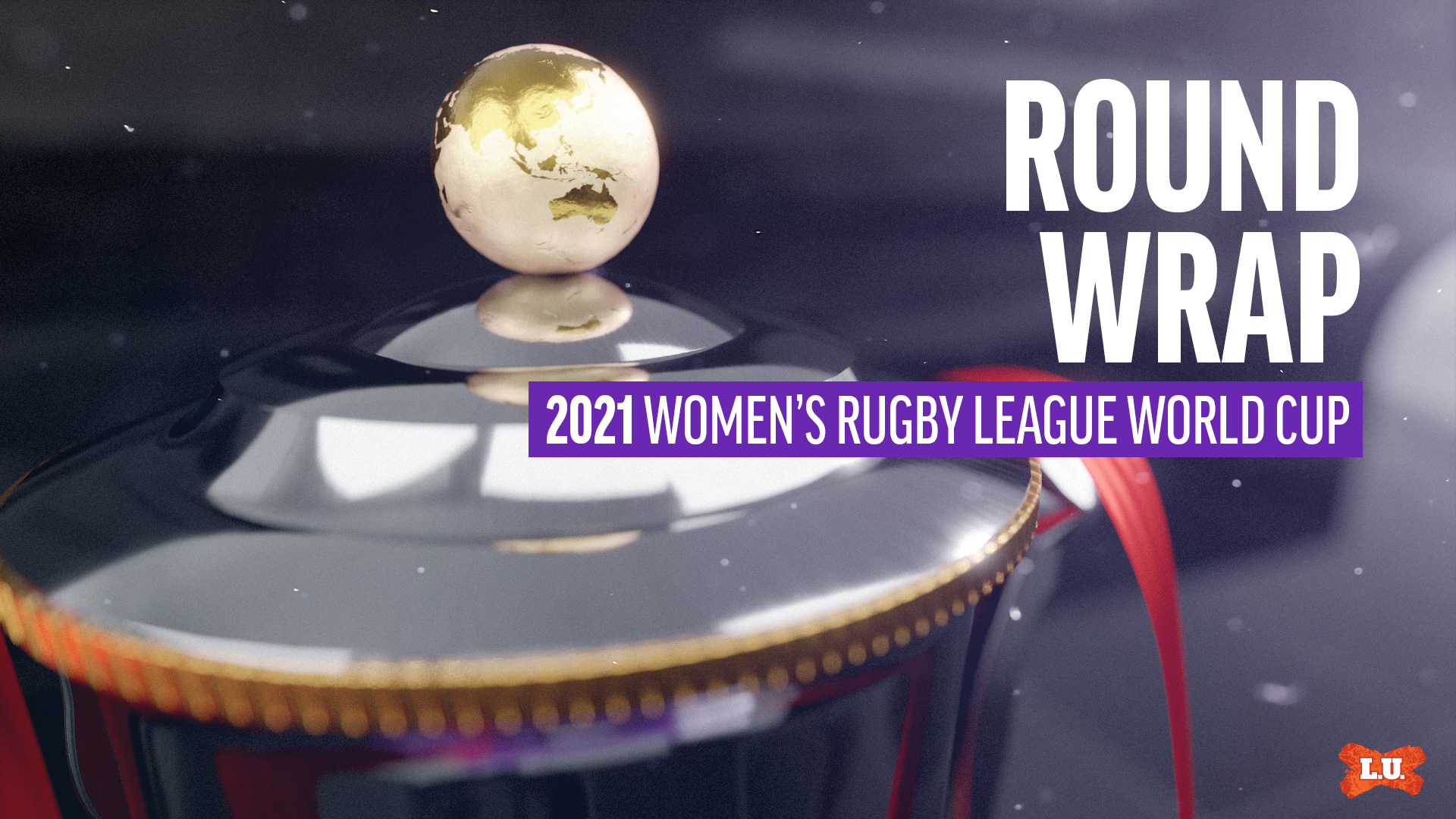 As Week 2 of the Women's Rugby League World Cup unfolds, here's your one-stop shop for results, reports and tables from each match and group.
All listed times are AEST (NSW/QLD/VIC/ACT).
---
RELATED: See the full list of 2022 2021 Women's Rugby League World Cup Draw and Results.
---
England Women 54
Canada Women 4
Venue: DW Stadium, Wigan
Crowd: 23179
Date: Saturday 5 November 2022 at 11:00pm
ENGLAND WOMEN (54)
Tries: Leah Burke (2), Tara Stanley (3), Hollie Dodd (2), Georgia Wilson, Francesca Goldthorp, Georgia Roche, Carrie Roberts
Conversions: Tara Stanley (5/10)

CANADA WOMEN (4)
Tries: Petra Woods
Conversions: Maddy Aberg (0/1)

England clip Canada wings to remain unbeaten
Justin Davies | November 6 2022 12:45AM
England made it two-from-two to start their World Cup campaign with a 54-4 win against Canada on Saturday in Wigan. 
It was another ruthless performance from the English side, led by the reigning Woman of Steel, Tara Stanley who scored a hat-trick in the 11 tries to one success which has them primed to go through the group. 
Coming off their huge win first up, England started off in the best possible style. It was a fabulous backline move which ended with Leah Burke finishing off in the corner after confirmation from the video. 
It was a scrappy opening to the contest but England found the next score. Hollie Dodds picked up a loose ball and stepped past the defence to make it 8-0 for the hosts in Wigan. 
Next it was the vision from Courtney Winfield-Hill for England's third four-pointer. She saw her winger wide open and kicked for Georgia Wilson to touch down in the right corner. 
Dodd continued her strong form in the first half. The forward ran an impressive line, brushed off the defence and scored her second four-pointer of the afternoon as England stamped their authority on the contest. 
England finished the half with a flourish. A pair of superb solo efforts from Francesca Goldthorp and Georgia Roche had them in a commanding position at 30-0 going into the break. 
Coming out of the break, Tara Stanley was feeling just fine. She picked up a quickfire double, the first came after a fantastic run from Vicky Whitfield which left her attacking a retreated defence. Her second was another solid run to add the score. 
Canada spent much of the first half on the back foot but they avoided being niled in this game. They created an error from the kick-off then Petra Woods stepped away from the defence to make it 40 points to 4. 
Not phased by having their line breached. England got back into their work and added another score. There was so much room for activities and it ended with Carrie Roberts strolling over after a good pass from Winfield-Hill. 
The reigning Woman of Steel made it a hat-trick and her fifth four-pointer of the tournament. Stanley sliced through on the right side and had the pace to beat the defenders to make it 50-4. 
It was a wonderful run from Winfield-Hill, she just weaved past the Canada defence before being caught. On last, she was on-hand to kick wide for Burke to touch down in the left corner. 
LeagueUnlimited.com Players of the Match:
3 points - Courtney Winfield-Hill
2 points - Tara Stanley
1 points - Victoria Molyneux
---
Papua New Guinea Women 70
Brazil Women 0
Venue: MKM Stadium, Hull
Crowd: 7080
Date: Sunday 6 November 2022 at 4:00am
PAPUA NEW GUINEA WOMEN (70)
Tries: Belinda Gwasamun (4), Lilah Malabag, Tara Moxon (2), Anika Butler, Elsie Albert, Jessikah Reeves, Sera Koroi, Shirley Joe, Martha Molowia, Therese Aiton
Conversions: Lilah Malabag (7/14)

BRAZIL WOMEN (0)

Orchids make history as they brush past Brazil
AJ Lucantonio | November 6 2022 8:41AM
The Papua New Guinea Orchids have made history by securing their place in the Women's Rugby League World Cup semi-finals for the first time after downing Brazil by 70-0 in Hull this afternoon.
It was an ominous start from the Orchids who knew that a victory would assure them of a historic semi-final birth and was hell-bent on making sure they did it in a convincing fashion. The scoring began inside the first five minutes of play when Belinda Gwasamun crossed for the first of her four tries when she collected a lovely offload from Shirley Joe to touch down for PNG. Nine minutes later, Tara Moxon crossed for the Orchids second try when she finished off a beautiful movement down the right-hand side. 
Things were going from bad to worse for Brazil when just five minutes later, a wayward pass was intercepted by Anika Butler and it was 12-0 (all three Orchids tries were unconverted). Brazil seemed to get the message and tidied their play up and as a result, they only conceded one more try prior to halftime. Gwasamun was able to cross for her second when she broke through the defence off a scrum movement and the Orchids had an 18-0 lead at half-time with goal-kicker Lilah Malabag finally securing her first conversion of the contest.
The second half was when things went up a gear for the PNG Orchids. The signs were menacing when rampaging Dragons forward Elsie Albert went straight through the middle of the Brazillian defence to charge over for PNG's fifth try of the contest. Off the ensuing set, lock forward Jessikah Reeves broke through and fooled the fullback Adriana Felix to race away to cross for PNG. The Orchids halves got in on the action in the next set of six when five-eighth Sera Koroi caught that Brazillian defence asleep at the line and it was 36-0 with just under half an hour to play.
Gwasamun completed her hattrick soon after as the Orchids shifted play to the left-hand side. From there, it was put on the toe by Malabag and the hat trick hero was able to win the race for the football. Down the right of the ground, it was very much the same song sheet, as clever football saw the Orchids link up with Moxon to cross for her second of the evening. Not content with a hat trick, Gwasamun crossed for her fourth just on the hour mark when she busted through the Brazillian defence to cross. 
After a brief defensive resistance, Brazil were out on their feet and unfortunately, the Orchids weren't in a forgiving mood tonight as they ran in four tries in the last fifteen minutes of play. First, Joe was able to score when Therese Aiton was able to create some second-phase play which allowed Joe to stroll through a yawning gap. Three minutes later, impressive fullback Martha Molowia joined the scorers' list when she received a pass from Joe to stroll over in the right corner. Goal kicker Malabag wanted to get in on the action, adding a try to her 7 goals from 14 attempts, before the experienced Aiton crossed to bring up the 70 point mark.
LeagueUnlimited.com Players of the Match:
3 points - Belinda Gwasamun
2 points - Elsie Albert
1 points - Martha Molowia
---
New Zealand Women 34
Cook Islands Women 4
Venue: LNER Community Stadium, York
Crowd: 3006
Date: Monday 7 November 2022 at 4:00am
NEW ZEALAND WOMEN (34)
Tries: Raecene McGregor (2), Krystal Rota, Amber Hall, Mele Hufanga (2), Annetta Nuuausala
Conversions: Laishon Albert-jones (0/4), Brianna Clark (3/3)

COOK ISLANDS WOMEN (4)
Tries: Mackenzie Wiki
Conversions: Terehia Matua (0/1)
Kiwi Ferns seal semi spot downing gallant Cook Islands
AJ Lucantonio | November 7 2022 10:04AM
The New Zealand Kiwi Ferns have sealed their place in the Women's Rugby League World Cup semi-final stage with a 34-4 victory over a gallant Cook Islands side at LNER Community Stadium in York tonight.
The Kiwi Ferns came into this one as hot favourites to secure a rampaging victory against a Cook Islands side that didn't have the levels of NRLW participation on display in the New Zealand side. But, the Cook Islands side can be very proud of their display here tonight and should consider themselves a good chance against France in their final group match.
It was an uphill battle from the get-go for the Cook Islands after losing co-captain and chief playmaker Kimiora Breayley-Nati to a game-ending head knock two minutes into the game. Without their attacking genius, the going was only going to get tougher. The New Zealand scoring began inside the first ten minutes when Dally M female player of the year Raecene McGregor crossed inside the first ten minutes of play after selling the defence a massive dummy to score. Five minutes later, the Kiwi Ferns added their second try of the contest when Krystal Rota crossed out wide, beating the cover defence for an eight-point lead.
The Cook Islands' defence was able to hold for the most part, but they conceded one more try in the first half. Rampaging forward Amber Hall found her way to the line, beating three would-be tacklers on her way to the line to set up a 14-0 advantage. The only thing not going right for the Kiwi Ferns was goal-kicking, the first two kicks of the night were unsuccessful and it was only a 14-point lead at half-time. 
New Zealand started the stronger side after the break crossing for the first two tries of the second half. McGregor continued her purple patch of form during the World Cup when the Roosters half crossed for her second try when off the back of a long break, she was able to cross out of the dummy half and extend the margin for the Kiwi Ferns. This was extended minutes later when the test debutant Mele Hufanga crossed in the corner off a sweeping play and the scoreboard was beginning to blow out.
But, give credit where it's due. The Cook Islands defence held in there and was able to reduce the gap with their first international try against New Zealand. Mackenzie Wiki's try in the corner 14 minutes from time gave the Cook Islands their first-ever points against the Kiwi Ferns. A professional foul by Maleyna Hunapo forced more defensive pressure upon the Cook Islands which they handled well for the most part until Hufanga collected her double nine minutes from time. Before Broncos NRLW prop Annetta Nu'uausala crashed over for her side's seventh try in the final minute to seal a 30 point victory for New Zealand.
LeagueUnlimited.com Players of the Match:
3 points - Raecene McGregor
2 points - Mele Hufanga
1 points - Shanice Parker
---
Australia Women 92
France Women 0
Venue: LNER Community Stadium, York
Crowd: 3006
Date: Monday 7 November 2022 at 6:30am
AUSTRALIA WOMEN (92)
Tries: Shenae Ciesiolka, Jaime Chapman (3), Jessica Sergis (4), Tarryn Aiken, Emma Tonegato, Tallisha Harden, Evania Pelite (2), Julia Robinson (3), Olivia Kernick
Conversions: Lauren Brown (10/13), Tarryn Aiken (1/2), Holli Wheeler (1/2)

FRANCE WOMEN (0)
Report to come
---
Group standings
The top two nations in each group proceed to the Semi Finals.
Group A
| | | | | | | | | | |
| --- | --- | --- | --- | --- | --- | --- | --- | --- | --- |
| Pos | Nation | P | W | D | L | F | A | Diff | Pts |
| 1 | ENG | 2 | 2 | 0 | 0 | 126 | 8 | +118 | 4 |
| 2 | PNG | 2 | 2 | 0 | 0 | 104 | 12 | +92 | 4 |
| 3 | CAN | 2 | 0 | 0 | 2 | 16 | 88 | -72 | 0 |
| 4 | BRA | 2 | 0 | 0 | 2 | 4 | 142 | -138 | 0 |
Group B
| | | | | | | | | | |
| --- | --- | --- | --- | --- | --- | --- | --- | --- | --- |
| Pos | Nation | P | W | D | L | F | A | Diff | Pts |
| 1 | AUS | 2 | 2 | 0 | 0 | 166 | 0 | +166 | 4 |
| 2 | NZL | 2 | 2 | 0 | 0 | 80 | 4 | +76 | 4 |
| 3 | CKI | 2 | 0 | 0 | 2 | 4 | 108 | -108 | 0 |
| 4 | FRA | 2 | 0 | 0 | 2 | 0 | 138 | -138 | 0 |
For comprehensive historical statistics on the Women's Rugby League World Cup, make sure you check out Rugby League Project.
---
Match Review
Following the recent round of the RLWC2021 Match Review Panel which took place on 6 November, the following players received a caution: 
Shae Yvonne De La Cruz (Papua New Guinea Women) - Other Contrary Behaviour
Lindsay Collins (Australia Men) - Other Contrary Behaviour
Match Review of Tonga v Samoa, New Zealand v Cook Islands and Australia v France TBC Monday UK time.
---
Player of the Tournament leaderboard
Our LeagueUnlimited volunteer writers assign 3-2-1 points after each match:

6 points - Raecene McGregor (New Zealand), Courtney Winfield-Hill (England)
4 points - Martha Molowia (Papua New Guinea), Tarryn Aiken (Australia)
3 points - Sam Bremner (Australia), Tara Stanley (England), Jessica Sergis (Australia), Belinda Gwasamun (Papua New Guinea)
2 points - Elsie Albert (Papua New Guinea), Mele Hufanga (New Zealand), Katelyn Vaha'akolo (New Zealand), Amy Hardcastle (England), Anika Butler (Papua New Guinea)
1 point - Jaime Chapman (Australia), Shanice Parker (New Zealand), Kezie Apps (Australia), Petra Woods (Canada), Apii Nicholls (New Zealand), Victoria Molyneux (England)
---
Next week - Week 3
Canada Women v Brazil Women
Thu 10 Nov 4:00AM at Headingley Stadium, Leeds
England Women v Papua New Guinea Women
Thu 10 Nov 6:30AM at Headingley Stadium, Leeds
France Women v Cook Islands Women
Fri 11 Nov 4:00AM at LNER Community Stadium, York
Australia Women v New Zealand Women
Fri 11 Nov 6:30AM at LNER Community Stadium, York