Team Lists:
TEAMS: NRL Pre-Season Trials - 2020 Week 2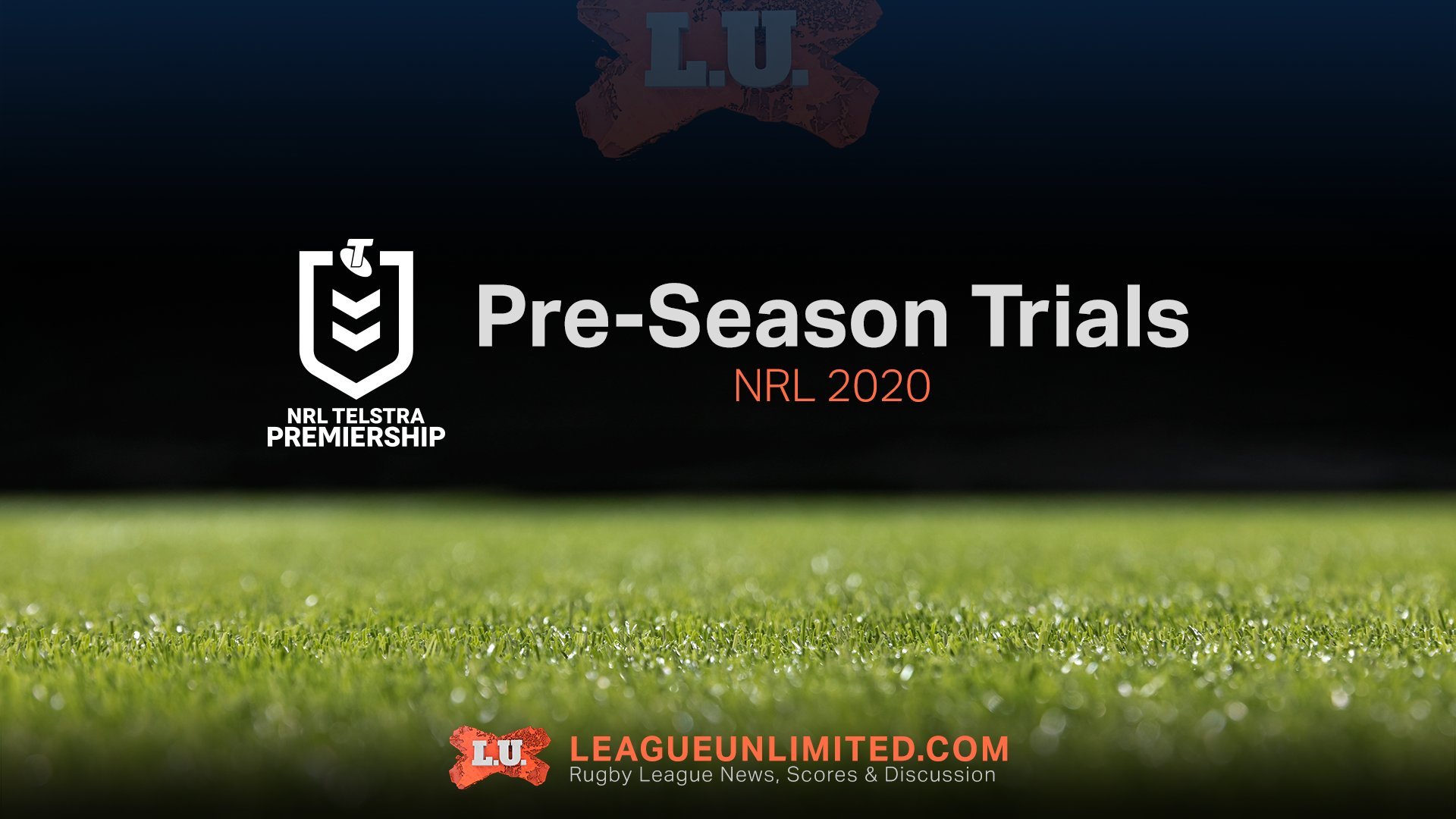 Get the teamlists and officials as they come to hand for the second week of NRL Trials which sees the bulk of clubs in action.
All times are listed in AEDT (NSW/VIC/ACT) unless otherwise noted.
Click here for All Stars squad lists.
Twitter: Follow @LeagueUnlimited
Facebook: Like LeagueUnlimited - NRL & Rugby League News
---


Daniel Alvaro, Nathan Brown, Reagan Campbell-Gillard, Rhys Davies, Levi Dodd, Haze Dunster, Elie El-Zahkam, Kane Evans, John Fonua, David Gower, George Jennings, Michael Jennings, Oregon Kaufusi, Brad Keighran, Shaun Lane, Eli Levido, Reed Mahoney, Makahesi Makatoa, Marata Niukore, Ethan Parry, Jaeman Salmon, Will Smith, Ray Stone, Peni Terepo, Stefano Utoikamanu

1. Corey Allan 2. Jaxson Paulo 3. Steven Marsters 4. Cory Denniss 5. Edene Gebbie 6. Lachlan Ilias 7. Blake Taaffe 8. Thomas Burgess 9. Josh Cook 10. Junior Tatola 11. Patrick Mago 12. Jack Johns 13. Keaon Koloamatangi 14. Ben Talty 15. Hame Sele 16. Jack Quinn 17. James Tautaiolefua 18. Patrice Siolo 19. Brad Zampech 20. Bronson Garlick 21. Jacob Gagai 22. Nick Mougios 23. Matt French 24. Trent Peoples
Match Officials
Referees: Henry Perenara, Gavin Badger, Dave Munro;Sideline Officials: Liam Nicholls, Nick Beashel;
Broadcast: NRL.com live stream

---


1. Jonus Pearson 2. Dale Copley 3. Kallum Watkins 4. Brian Kelly 5. Greg Lelesiuao 6. Toby Sexton 7. Tanah Boyd 8. Jarrod Wallace 9. Erin Clark 10. Shannon Boyd 11. Sam Stone 12. Kea Pere 13. Darius Farmer 14. Jaimin Jolliffe 15. Jerry Key 16. Tristan Powell 17. Jayden Campbell 18. Treymain Spry 19. Ioane Seiuli 20. Alofiana Khan-Pereira 21. Jed Edwards


1. Kurtis Rowe 2. Reece Tapine 3. Sami Sauiluma 4. Joshua Berkers 5. Will Evans 6. Joshua Rogers 7. Jamal Fogarty 8. Jack Buchanan 9. Jordan Scott 10. Luke Page 11. Hayden Schwass 12. Jacob Hind 13. Jack Stockwell 14. Danny Kerr 15. Blake Leary 16. Dylan Kelly 17. Jeff Lynch 18. Tyler Szepanowski 19. Ben Valeni 20. Dallas Wells 21. Conner Toia  22. Regan Ogle-Muir 23. Mickey Williams 24. Shallin Fuller 25. Locky Turnbull
Match Officials
Referees: Chris Butler, Ziggy Przeklasa-Adamski;Sideline Officials: Nick Pelgrave, Jarrod Cole;
---


1. Guy Hamilton 2. Ilikena Vudogo 3. Vaea Vaea 4. Bessie Aufaga-Toomaga 5. Jonathon Reuben 6. Darren Nicholls 7. Tyson Gamble 8. Pride Petterson-Robati 9. Kobe Hetherington 10. Jack Martin 11. Teurui Robati 12. Brendan Piakura 13. Brandon Lee 14. Cole Waaka 15. Damon Somerville 16. Joshua James 17. Mahpala Ah Chong 18. Danny Heenan 19. Darcy Maroske


1. Lachlan Maranta 2. Edward Burns 3. Jordan Drew 4. Delouise Hoeter 5. Junior Pauga 6. Pat Templeman 7. Sam Scarlett 8. Aaron Rockley 9. Mitchell Cronin 10. Lloyd Perrett 11. Matiu Love-Henry 12. Kalolo Saitaua 13. Max Elliott 14. Tristan Hope 15. Francis Tualau 16. Lachlan Lee 17. Lucky Ta'avale 18. Brody Tamarua 19. Kauri Aupouri-Puketapu 20. Dredin Sorensen McGee
Match Officials
Referees: Jacob Whitehouse, Jack Ebert;Sideline Officials: Jake Stanton, Nathan Cornick;
---


1. Rocco Berry 2. Patrick Herbert 3. Hayze Perham 4. David Fusitua 5. Edward Kosi 6. Chanel Harris-Tavita 7. Adam Keighran 8. Phillip Makatoa 9. Wayde Egan 10. Sam Lisone 11. Taane Milne 12. Eliesa Katoa 13. Lachlan Burr 14. Temple Kalepo 15. Jackson Frei 16. Adam Tuimavave-Gerrard 17. Paul Turner 18. Selestino Ravutaumada 20. Israel Ogden 21. Tom Ale 22. Setu Tu 22. Setu Tu 24. Tyler Slade 25. Preston Riki 26. Isaiah Vagana 27. King Vuniyayawa 28. Leivaha Pulu


Dan Atkinson, James Atonio, Sam Bernstrom, Aaron Booth, Sandor Earl, Tom Eisenhuth, Tino Fa'asuamaleaui, Harry Grant, Nicho Hynes, Dean Ieremia, Ryley Jacks, Cooper Johns, Max King, Brenko Lee, Chris Lewis, Trent Loiero, Siti Moceidreke, Jay Natapu, Justin Olam, Jack Peoples, Darryn Schonig, Marion Seve, Judda Turahui, Albert Vete
Match Officials
Referees: Ben Cummins, Tim Alouani-Roby;Sideline Officials: Paki Parkinson, Kiko Puhipi-Hibbs;
Broadcast: Fox League / Kayo / NRL stream

---


Tex Hoy, Hymel Hunt, Enari Tuala, Tyronne Roberts-Davis, Gehamat Shibasaki, Edrick Lee, Matt Soper-Lawler, Starford Toa, Mason Lino, Kurt Mann, Mitchell Pearce, Simi Sasagi, Bayden Searle, Lachlan Fitzgibbon, Aidan Guerra, Brodie Jones, Sione Mata'utia, Jirah Momoisea, Jayden Brailey, Luke Huth, Chris Randall, Mitch Barnett, Jack Cameron, Mathew Croker, Tim Glasby, Zac Hosking, David Klemmer, Brandon Russell, Daniel Saifiti, Jacob Saifiti, Josh King, Matt Cooper, Dylan Lucas, Mitch Black


Euan Aitken, Eddie Blacker, Adam Clune, Mathew Feagai, Max Feagai, Jackson Ford, Tyson Frizell, Luke Gale, James Graham, Ben Hunt, Jacob Host, Tim Lafai, Blake Lawrie, Hayden Lomax, Zac Lomax, Joe Lovodua, Corey Norman, Jordan Pereira, Mikaele Ravalawa, Jason Saab, Tristan Sailor, Shaun Sauni-Esau, Tariq Sims, Jayden Sullivan, Paul Vaughan, Brayden Wiliame, Tyran Wishart
Match Officials
Referees: Matt Cecchin, Jon Stone;Sideline Officials: Mark Bohan, Ben Teague;
Broadcast: NRL.com live stream

---


1. Will Hopoate 2. Jayden Okunbor 3. Reimis Smith 4. Morgan Harper 5. Jake Averillo 6. Lachlan Lewis 7. Jack Cogger 8. Renouf To'omaga 9. Sione Katoa 10. Dylan Napa 11. Joe Stimson 12. Dean Britt 13. Aiden Tolman 14. Brandon Wakeham 15. Ofahiki Ogden 16. Tui Katoa 17. Isaiah Tass 19. Bailey Biondi-Odo 20. Matt Doorey 21. James Roumanos 22. Kerrod Holland  23. Jackson Topine 24. Kayne Kalache


1. Billy Magoulias 2. Will Kennedy 3. Brock Gray 4. Joniah Lualua 5. Ronaldo Mulitalo 6. Franklin Pele 7. Jackson Ferris 8. Teig Wilton 9. Royce Hunt 10. Kyle Paterson 11. Thomas Hazelton 12. Connor Tracey 13. Cameron King 14. Sione Katoa 15. Wesley Lolo 16. Vito Tevaga 17. Lorenzo Mulitalo 18. Kayleb Milne 19. Braydon Trindall 20. Scott Sorensen 21. Siosifa Talakai  23. Toby Rudolf 24. Connor Luhan
Match Officials
Referees: Adam Gee, Todd Smith;Sideline Officials: Max Topani, Hanua Rupa;
---


Ativalu Lisati, Billy Burns, Billy Tsikrikas, Brendan Hands, Brent Naden, Brian To'o, Caleb Aekins, Daine Laurie, Dean Whare, Dylan Edwards, George Tsikrikas, Jack Hetherington, Jake Tago, Jarome Luai, Jed Cartwright, J'maine Hopgood, Josh Mansour, Kaide Ellis, Liam Martin, Lindsay Smith, Matt Burton, Moses Leota, Pat Hollis, Stephen Crichton, Tyrone May, Tyson Smoothy

Adam Doueihi, Alex Seyfarth, Austin Dias, Billy Walters, Brendan O'Hagan, Chris McQueen, Elijah Taylor, Etuale Lui, Jake Simpkin, Jock Madden, Joe Taipari, Jordin Leiu, Josh Reynolds, Logen Dillon, Luciano Leilua, Matheson Johns, Matt Eisenhuth, Michael Chee Kam, Oliver ClarkReece Hoffman, Sam McIntyre, Terrell May, Vea Tapaatoutai, William Kei, Zac Cini, Zane Musgrove
Match Officials
Referees: Ashley Klein, Grant Atkins, Phil Henderson;Sideline Officials: Jeff Younis, Michael Wise;
Broadcast: NRL.com Live Stream

---


1. Valentine Holmes 2. Murray Taulagi 3. Justin O'Neill 4. Dan Russell 5. Connelly Lemuelu 6. Scott Drinkwater 7. Jake Clifford 8. Francis Molo 9. Reece Robson 10. Jordan McLean 11. Coen Hess 12. Shane Wright 13. Jason Taumalolo 14. Reuben Cotter 15. Mitchell Dunn 16. Corey Jensen 17. Peter Hola 18. Tom Gilbert 19. Emry Pere 20. Elijah Anderson 21. Daejarn Asi


1. Jack Bird 2. Herbie Farnworth 3. Kotoni Staggs 4. Jesse Arthars 5. Xavier Coates 6. Anthony Milford 7. Brodie Croft 8. Tevita Pangai 9. Jake Turpin 10. Payne Haas 11. Alex Glenn 12. Ethan Bullemor 13. Patty Carrigan 14. Jamayne Isaako 15. Richard Kennar 16. Tesi Niu 17. Tom Dearden 18. Cory Paix 19. Thomas Flegler 20. Joe Ofahengaue 21. Rhys Kennedy  22. Jamil Hopoate
Match Officials
Referees: Chris Sutton, Belinda Sharpe;Sideline Officials: Clayton Sharpe, Wyatt Raymond;
Broadcast: NRL.com Live Stream

---