Team Lists:
NRLW TEAMS - 2022 Semi Finals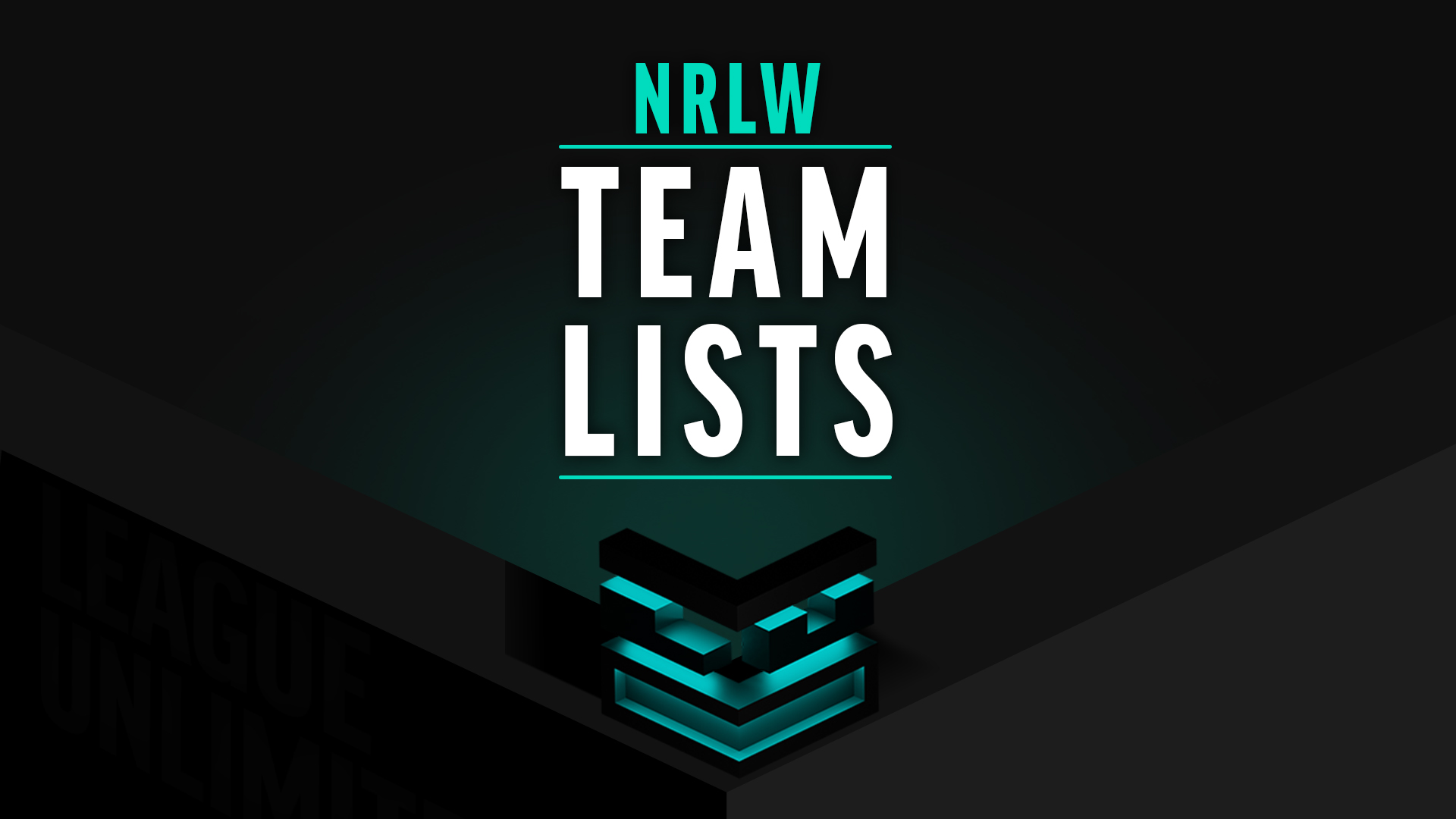 NRLW teamlists drop right here at 4pm AEST together with match official appointments - then bookmark the article and check back all weekend as squads are updated and late mail is confirmed.
Both matches will be broadcast live on Fox League, Kayo Sports, Channel 9 and 9Now.
The winners proceed to the 2022 NRL Telstra Women's Premiership on Sunday 2 October at Accor Stadium.
All times are listed in AEST (NSW/QLD/VIC/ACT) unless otherwise noted.
Twitter: Follow @LeagueUnlimited
Facebook: Like LeagueUnlimited - NRL & Rugby League News
---
2nd Semi Final (2 v 3)


Newcastle Knights v St George Illawarra Dragons
Sun September 25 2022, 2:05pm
at Suncorp Stadium, Milton
Lands of the Yuggera-Turrbal people
Referees: Kasey Badger;Sideline Officials: Rochelle Tamarua, Mitchell Currie;Video Referees: Alan Shortall;


1. Tamika Upton 2. Kiana Takairangi 3. Shanice Parker 4. Bobbi Law 5. Emmanita Paki 6. Kirra Dibb 7. Jesse Southwell 8. Caitlan Johnston 9. Olivia Higgins 10. Millie Boyle 11. Romy Teitzel 12. Yasmin Clydsdale 13. Kayla Romaniuk 14. Emma Manzelmann 15. Tayla Predebon 16. Simone Karpani 18. Caitlin Moran 17. Makenzie Weale
Changes from R5
Upton returns at fullback, pushing Parker to centre and Gentle out to the reserves.
24H warning
19. Kyra Simon 20. Tiana Davison 22. Tamsin Barber omitted
Moran replaces Weale on the bench.
Late mail
21. Jessica Gentle omitted. The Knights suffer no further changes with the people's champ in Moran coming in on the bench.


1. Emma Tonegato 2. Teagan Berry 6. Taliah Fuimaono 4. Page Mcgregor 5. Andie Robinson 19. Zali Hopkins 7. Rachael Pearson 8. Elsie Albert 9. Keeley Davis 11. Kezie Apps 16. Monalisa Soliola 12. Shaylee Bent 13. Holli Wheeler 14. Quincy Dodd 15. Talei Holmes 17. Tara McGrath-West 21. Shontelle Stowers 18. Renee Targett
Changes from R5
Apps and McGregor return after being rested in Round 5, while Dymock and Holmes are named for injury returns. Soliola is named on the bench. The five players to drop out of the 17 from last week forrm the reserves list.
24H warning
3. Keele Browne 10. Tegan Dymock 24. Chantel Tugaga are omitted.
Stowers replaces Browne in the backline, while McGrath-West comes in at prop for Dymock. Hopkins joins the bench.
Late mail
20. Aliti Namoce omitted. 
Stowers comes out of the centres and onto the bench with Fuimaono going into that position. Hopkins starts at 5/8. Apps starts at prop with with McGrath-West going back to the bench. Soliola covers Apps on the edge. Aliti Namoce is the unlucky female that misses out. Targett is the 18th player.

---
1st Semi Final (1 v 4)


Sydney Roosters v Parramatta Eels
Sun September 25 2022, 3:50pm
at Suncorp Stadium, Milton
Lands of the Yuggera-Turrbal people
Referees: Belinda Sharpe;Sideline Officials: Tori Wilkie, Jordan Morel;Video Referees: Chris Butler;


1. Sam Bremner 2. Leianne Tufuga 3. Jessica Sergis 4. Isabelle Kelly 5. Jayme Fressard 6. Zahara Temara 7. Raecene McGregor 8. Sarah Togatuki 9. Destiny Brill 10. Mya Hill-Moana 11. Shaniah Power 12. Olivia Kernick 13. Keilee Joseph 14. Jocelyn Kelleher 15. Shawden Burton 16. Kalosipani Hopoate 17. Otesa Pule 18. Joeli Morris
Changes from R5
Bremner and McGregor return after being rested in Round 5. Taylor drops to the reserves, Kelleher to the bench and Tufuga is back on the wing with Shannon Rose out of the squad. Hill-Moana is back in the forward pack, Hopoate benched, and Angelina Teakaraanga Katoa is out of the squad completely. Economos drops to reserves.
24H warning
20. Jasmine Strange 21. Chante Temara 22. Jada Taylor omitted

Late mail
19. Samantha Economos omitted.
Roosters 1-17 with Joeli Morris being the 18th player

1. Gayle Broughton 2. Zali Fay 21. Abbi Church 4. Rikeya Horne 5. Cassey Tohi-Hiku 6. Ash Quinlan 7. Tayla Preston 14. Kennedy Cherrington 15. Brooke Anderson 10. Ellie Johnston 11. Christian Pio 12. Vanessa Foliaki 13. Simaima Taufa 8. Filomina Hanisi 9. Seli Mailangi 16. Najvada George 22. Rima Butler 18. Ruby-Jean Kennard
Changes from R5
Unchanged.
24H warning
3. Tiana Penitani 18. Tess Staines 20. Rueben Cherrington omitted.
Church moves into the starting centres.

Late mail
TBA
---