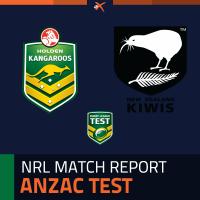 ​IN front of 32,681 fans, New Zealand have recorded a dominant 26-12 win over Australia at Suncorp Stadium, to record their first mid-season win in 17 years.
May 3rd 2015 06:48pm

THE KARI City Origin side have given up an early 10-point lead to succumb to a rampaging Country outfit in Wagga wagga on Sunday afternoon.
May 3rd 2015 07:47pm

TWO rival pacific nations looking to make a statement to the rugby league world ended with Samoa producing a frantic 18-16 win in front of 12 336 at Cbus Super Stadium on the Gold Coast.
May 2nd 2015 10:45pm

WITH the VB NSW Cup competition taking a week off, here are all the results across the various NSWRL competitions, including the Cup Reps game played in Queensland.
May 3rd 2015 07:40pm
Latest News
Latest Tweets